ZINZI DIANA - (LADY PENELOPE)
ATLANTIS STORY MAP & OPERATION HOMEPAGE

THE TARGET - Terramentals aim to steal a British Royal Navy submarine, to destroy oil wells in the North Sea, by way of drawing attention to the manifold oil discharges, and their unlawful detention, as legitimate conservation protestors.
'Zinzi Diana' is a marine scientist and anti climate change, equality activist, who is concerned that corruption in politics and the fossil fuel industry is polluting the oceans past the point of no return. Zinzi is targeted by MI6, as being a trouble maker, along with her friends Zera Masken, Max Mohune, Bartram Fox and Redan Simdo. Having singled out the North Sea Oil march organisers, they are all bundled into security transports. Then, she is roughly manhandled by the Metropolitan police during transfer, narrowly avoiding being sexually abused while in the London holding cells, but she heard her friend Zera Masken fighting off unwanted attentions, further along the block. Protestors are well aware that arrest in the UK for women, is more likely to end in some kind of abuse from detaining officers. It being endemic in the force.
Zinzi is known as 'Lady Penelope' to the Terramentals. She is a graduate from the King Abdulaziz University in Saudi Arabia, with honours, majoring in marine science. Hence, her concerns about the North Sea oil leaks.
Like 'Zera,' 'Zinzi,' has been a long time supporter of Greenpeace, Extinction Rebellion and Just Stop Oil, becoming more disillusioned as the years went by at the lack of action of successive governments, despite protest marches and the like. Noting the powerful speeches, suggestive of change, in actuality, were deceptions, designed to assuage the electorate mindful of global warming, to gain another term - for more of the same. Blah, blah, blah.
'Zinzi' teams up with 'Red' and his other activist chums to peacefully protest in London, about the oil leaks in the North Sea - and lack of punitive disincentives. This touches a raw nerve, with some high-powered MPs and military officials, who have invested heavily in oil stocks. Hence, the slap on the wrist fines, that are woefully ineffective in preventing further investment in what is seen as a fuel that will heat the planet past any safe recovery point.
'Diana' is arrested, and very roughly handled by the Metropolitan police in one of their vans, with much inappropriate touching - the officers laughing as they did so. Then when in police holding cells, she narrowly escapes being sexually assaulted. Her complaints in support of Zera's mistreatment were ignored. The officers given a get out of jail free card - to do what they liked.
Then she was framed by Chief Constable Harry Holland (Dirty Harry) under direct orders from Nick (The Devil) Johnson. Dirty Harry is told to frame the activists, for assault and criminal damage. When in fact, all they were doing was exercising their civil rights in peaceful manner. The Met had deliberately damaged public property and reported injuries and personal attacks that did not occur.
Zinzi is convicted of assault and criminal damage, and sent to prison for 12 months, with reporting restrictions, and other measures to allow Dirty Harry to keep track of the previously law abiding group. The Government use anti-terrorist and other algorithms, linked to every agency in the UK they can think of, including Interpol and bank accounts, to monitor purchase patterns, effectively to monitor and control their lives. The corrupt civil servants did not want to be found out. They had to either bury this group, or put out a contract on them. Perhaps, a step too far.
When 'Zinzi' is released from prison, she goes off the grid, with her fellow protestors. Toughened up by the experience, and realising just how corrupt the country has become - a virtual police state - she is pleased to support Redan and Max, as they help Jorges Dicaprio build a Predator HK, following the prison break from Northeye, near Bexhill and Hastings in Sussex, where his acrobat skills are put to good use.
After her friend's assault, she wears a tailored jump suit, to blend in well with her buddies. Her Terramental friends are acutely aware of her dislike of unwanted attention, and very protective of her.
Having had her life ruined by 'Dirty Harry' and 'The Devil,' 'Zinzi' has nothing to lose, and all to gain. Like 'Red' and her other Terramental allies, especially 'Zera Masken,' she aims to reveal the injustice and her sexual assault, even if she has to bend the law, as she now understands, this is how the established political parties retain control. The rules of engagement just got changed. Zinzi Diana and her activist allies study the Art of War, where she learns her enemies ways, to use them to fight UK corruption, as per the UN's SDG 16 objectives. She is no longer a Law Abiding Citizen.
The Terramentals would become privateers, and fly the Jolly Roger; skull and crossbones, pirate flag.
OPERATION NEPTUNE CAST:
| | |
| --- | --- |
| CHARACTERS: PROTAGONISTS | DESCRIPTION |
| | |
| | First Sealord, British Royal Navy |
| | United Nations' Secretary General |
| | The world's most comprehensive interactive DNA database |
| | Submariner Commander HMS Neptune (Captain) |
| | |
| | |
| | Researcher & camerwoman, good friend of John Storm |
| | The world's smallest, fastest & most powerful supercomputer |
| | Electronics & computer wizard, crew member Elizabeth Swann |
| | Blue Shield, Newcastle University, England |
| | Honest British Prime Minister, Rt Hon MP Member Parliament |
| | Fastest solar/hydrogen ship & floating laboratory |
| | Anti piracy weapon & ship security system |
| | Legal and intelligence trust manager, Swindles & Gentry |
| | The onboard AI supercomputer ship manager |
| | Senior BBC news world service anchor |
| | Ocean adventurer, marine archaeologist, Commander RN |
| | The ships cat and lucky mascot |
| | Beleaguered Monarch wrestling with UK corruption |
| | Secretary General, International Maritime Organization (IMO) |
| | Elizabeth Swann's onboard survey ROV |
| | John Storm's uncle, designer of Elizabeth Swann |
| | UNESCO sunken realms division, conservationist |
| | Lieutenant, a brave submariner HMS Neptune |
| | BBC & Sky freelance investigative reporter Caribbean regions |
| | Stricken Astute nuclear sub with Spearfish torpedoes |
| | Freelance reporter, friend of Charley Temple |
| | A marine biologist, admirer of John's work |
| | Sky News Editor, always looking for an exclusive |
| | Cleopatra's call sign to protect her royal identity |
| | Midshipman, HMS Neptune (Kings College, Uni, London) |
| | Scottish director BAE Systems, MOD contractor, whistleblower |
| | |
| | |
| --- | --- |
| CHARACTERS: ANTAGONISTS | DESCRIPTION |
| | |
| | Crafty compact acrobatic subaqua diver Terramental - 'Sly Fox' |
| | Navigator handy Terramental, biologist, video evidence |
| | Chief Executive Babcock, MOD subcontractor |
| | Chief Constable - Scotland Yard (Metropolitan Police) |
| | Dirty Harry's sidekick, (DI) fraud squad cover ups |
| | Cuban freedom fighter & Predator submersible designer |
| | Pilot of mini sub, ex air force, SAS hard man Terramental |
| | Corrupt UK Minister for Defence, oil investor |
| | Leader Terramentalists (Oxford grad. 35 tall dark Arabian) |
| Predator HK | A high speed hunter-killer submersible |
| | Corrupt Met cop who sexually assaulted & beat Zera Masken |
| | |
| | A group of protestors driven to extreme activism |
| | Stunningly attractive climate obsessed Terramental |
| | Saudi demure Terramental scientist (Lady Penelope) |
| | |
In the John Storm series of ocean awareness adventures, extreme activists use their Predator HK to steal an Astute class submarine, belonging to the British Royal Navy. The anti global warming terrorists plan to steal US and Soviet submarines, as part of their agenda to prove the futility of all out thermonuclear annihilation. Using their own illegal, weapons against the perpetrators of what they see as crimes against humanity.
In this fictional John Storm adventure, the Astute submarine commandeered, develops radiation leaks, making the vessel dangerous to life in the ocean, and eventually, those submariners operating the vessel, adding to the list of complaints of the Terramentalists.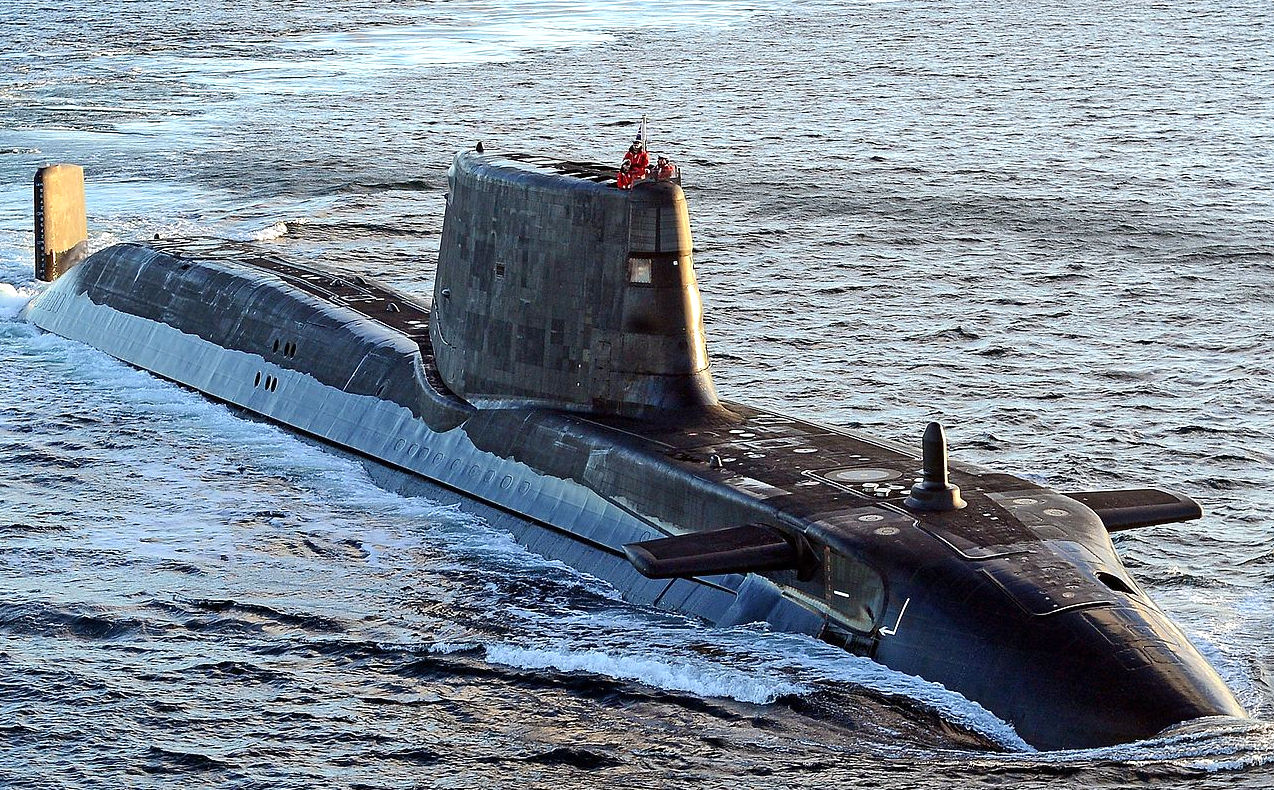 CHARACTERS | GOLD | MEDIA | MOVIES | SCREENPLAY | SUBMARINES
This website is Copyright © Cleaner Oceans Foundation Ltd., April 2023. Asserted as per the Berne Convention.
In this fictional story, the characters and events are the product of the author's imagination.