NORTH SEA OIL SPILL THE GUARDIAN
ATLANTIS STORY MAP & OPERATION HOMEPAGE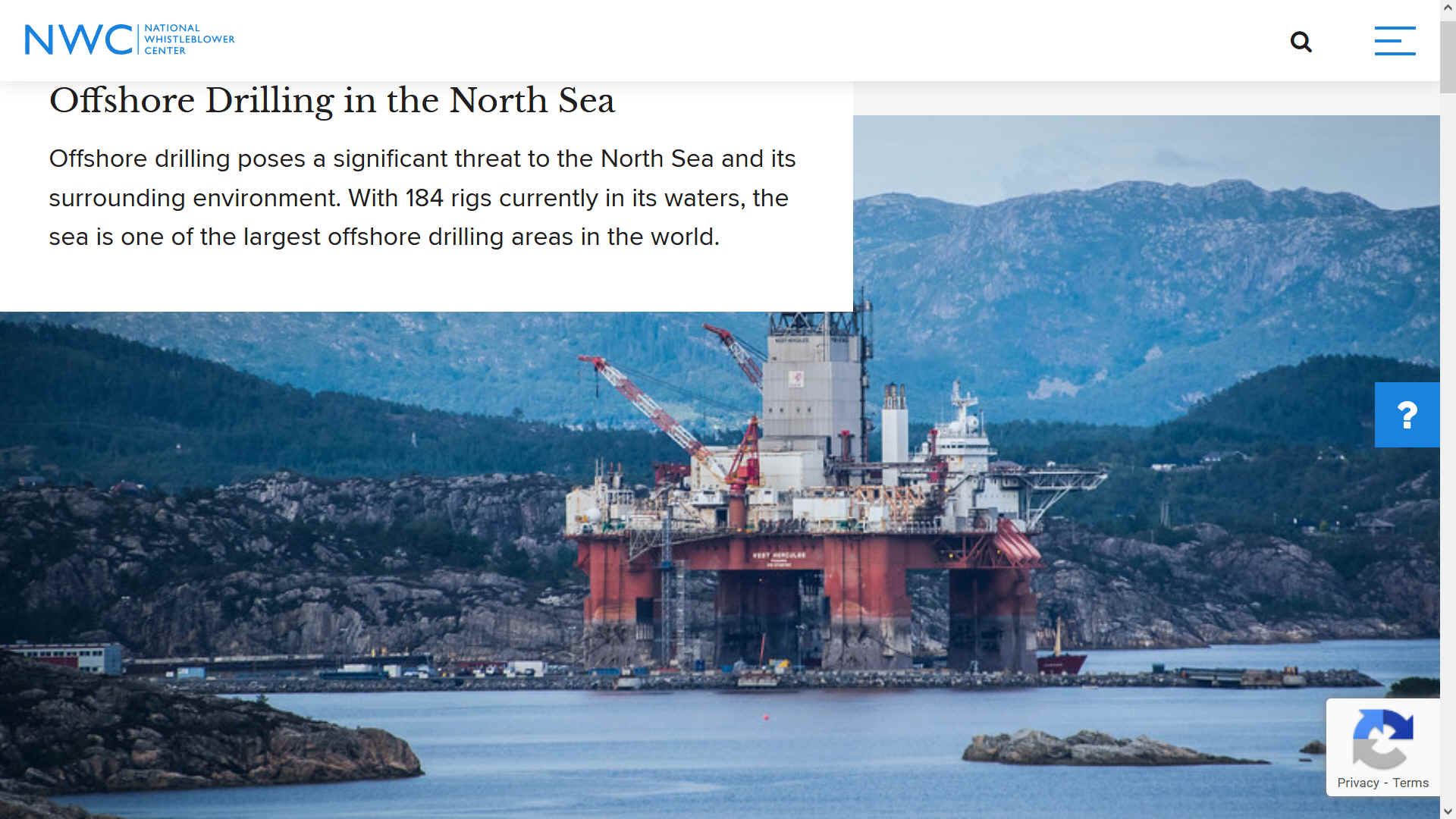 NWC NATIONAL WHISTLEBLOWER CENTER - OFFSHORE DRILLING IN THE NORTH SEA

The North Sea is a shared body of water between the United Kingdom (UK), Norway, Netherlands, Belgium, Denmark, France, and Germany. It's also home to 184 offshore oil rigs, making it one of the largest offshore drilling areas in the world.

Since the late 1960s, the North Sea region witnessed an oil boom following the Netherlands' and the United Kingdom's discovery of oil on their coastlines and out at sea. This oil boom peaked in 1999 at 2.9 million barrels per day in the UK Continental Shelf and in Norway in 2001 at 3.4 million barrels per day.

Although these offshore drilling rigs, otherwise known as the upstream sector of oil and gas, cost more to construct and maintain than land drilling, they produce much more oil per day. These rigs also come at an environmental and economic cost. Offshore drilling not only pollutes the oceans and harms the marine ecosystem, but it also pollutes the air, intensifying the effects on climate change. There is a high risk of both accidental spills as well as the release of oil, chemicals and radioactive materials to the sea through the "routine operation of production platforms" according to the Convention for the Protection of the Marine Environment of the North-East Atlantic (OSPAR).

Between 2000-2011, 4,123 separate spills were recorded in the North Sea, for which only seven oil companies were fined, according to an investigation carried out by The Guardian. Total fines resulted in £74,000 and not a single company paid more than £20,000. By 2014, oil and gas spills were increasing, with the United Kingdom alone reporting a total of 601 spills. A 14.5% increase from 2013.

In 2011, the North Sea saw one of its largest oil spills by Shell due to a leak in a flow line leading to its Gannet Alpha oil platform off of the coast of Scotland. An estimated 200 tons or 1,300 barrels spilled into the surrounding water.

Another spill occurred during 2016 in what BP called a "technical issue," admitting to a regulatory failure that that led to the discharge of 95 tons of oil within the North Sea. This oil was left in the water to disperse naturally. According to BP, no clean-up of the spill was ever enacted. BP was charged only £7000 in fines.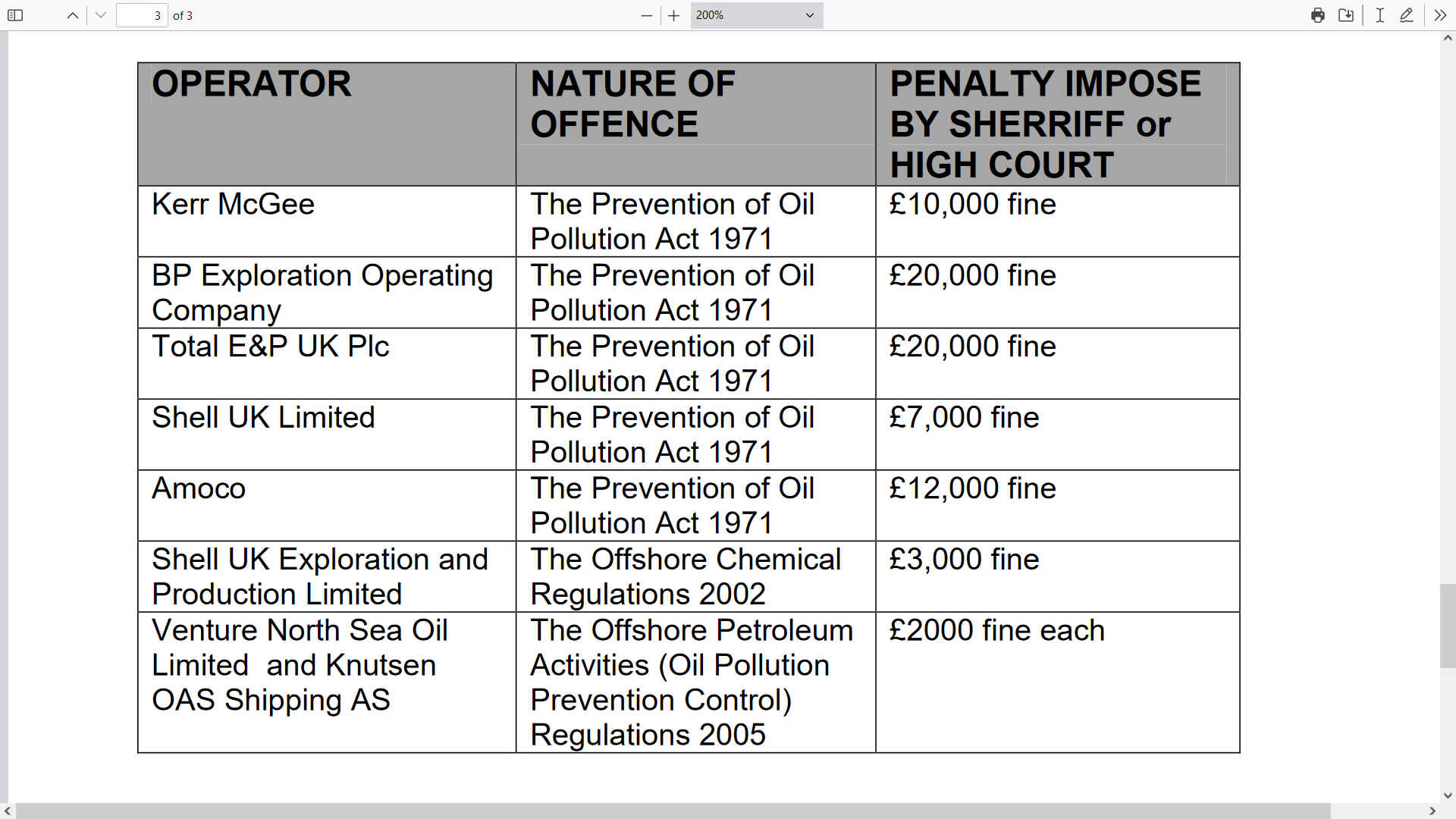 The extremely low level of fines for pollution, where it is persistent, is highly suspicious, leading the ordinary man in the street to believe that the real money exchanged hands behind the scenes. Especially where so many Council Corporations have investments in fossil fuel companies, the same applying to many Members of Parliament and the House of Lords. Fortunately, there are honest MPs and Lords who take the view that protecting our oceans is essential. In addition, there are investigative reporters, who sometimes blow the whistle as far as they are able, without getting the sack.
Department of Energy & Climate Change Our ref: 12/1349 16 October 2012
Atholl House, 86-88 Guild Street, Aberdeen AB11 6AR
T: +44 (0)1224 254111 F: +44 (0)1224 254019
E: Offshore.Inspectorate@decc.gsi.gov.uk www.decc.gov.uk
Dear

FREEDOM OF INFORMATION ACT REQUEST : OFFSHORE ENVIRONMENTAL INSPECTORATE

Thank you for your letter dated 19 September 2012 in which you requested the following information:

This my revised request for information relating to prosecutions carried out by DECC (including its previous organisational structure as DBERR and DTI) since 2000 on Operators involved in UKCS drilling and production activities:

The information requested is as follows:

1. Name of company or operator;
2. Nature of offence;
3. Penalty imposed by either the Sherriff or High Court upon conviction,

We consider that the information that you have requested constitutes environmental information for the purposes of the Environmental Information Regulations 2004 (EIR). Accordingly, your request has been dealt with under the terms of the EIR. Under these regulations, you have the right to:

• Know whether we hold the information you have requested and;
• Be provided with that information (subject to any exceptions which may apply).

DECC does hold information that falls within the scope of your request and I have included this in Appendix 1 (attached).
NORTH SEA DRILLING THREATENS THE PARIS AGREEMENT

The Paris Agreement brought together all nations and was signed in 2016 in response to the global threat of climate change. This agreement created the goal of keeping global temperatures from rising and remaining well below 2 degrees Celsius above pre-industrial levels, with a target of 1.5°C.

Fossil fuel companies have also pledged to reduce the pollution driving climate change and align themselves with the Paris Agreement, but does this mean that a meaningful transition to a carbon-constrained future is truly underway inside the industry?

In a report released by UK based non-profit Carbon Tracker in 2019, the organization warns investors that before companies can claim to be aligned with the Paris Agreement, they must meet the minimum climate limits. This means major oil companies must reduce their average emissions by 40% by 2040 compared to 2019 levels. It also means that there is very little room for new offshore oil rig projects.

In 2019, the United Kingdom had the highest emissions from oil and gas in the North Sea compared to other producers in the region, reaching 13.1 million tons of CO2, according to data collected by Rystad Energy. In comparison, Norway's total emission reached 10.4 million tons of CO2 in the North Sea, and Denmark reached 1.4 million tons in the same year. At its current trajectory, the United Kingdom and other European countries will be unable to follow through on a 2050 promise to cut their emissions to virtually zero, according to Carbon Tracker.

Further, the allowance of the development of new offshore drilling rigs is worrisome for these commitments. Norwegian oil and gas giant Equinor, along with its partners Vår Energi, ConocoPhillips, and Petoro announced in September that it would develop and operate drilling rigs in the Breidablikk field – one of the largest undeveloped oil discoveries on the Norwegian continental shelf. In the Dutch North Sea, offshore drilling contractor Maersk Drilling has secured a contract to drill two development wells as part of Project Unity. The first gas from this field is expected in 2021.

Companies that continue to sanction these new projects risk creating stranded assets or assets that are no longer able to earn an economic return. This could destroy significant shareholder value. Additionally, the current emissions goals and targets that major oil companies aim to achieve appear misleading. Many companies' carbon reduction commitments focus on "Scope 1 and 2" emissions (those resulting from oil and gas operations) rather than "Scope 3" emissions, those generated at the point of oil and gas consumption, where over 90 percent of greenhouse gas pollution from oil and gas happens.

In July 2020, the National Whistleblower Center published a report, "Exposing a Ticking Time Bomb: How Fossil Fuel Industry Fraud is Setting Us Up for a Financial Implosion – and What Whistleblowers Can Do About It." The report describes why deception about companies' preparedness for climate change represents a ticking time bomb that, if not addressed, could contribute to worldwide economic devastation. There are two types of fraud that will need to be guarded against as oil and gas companies grapple with solutions to this challenge: exaggerated commitments of future carbon reductions and fraudulent financial statements.

Whistleblowers will be invaluable in exposing actions being undertaken within oil and gas companies that contradict public pronouncements about action on climate change.


167 DEAD & NO PROSECUTIONS - Incredible to think that with such loss of life, the CPS would not push to gain a conviction. The obvious charge of Corporate Manslaughter springs to mind. Such as with the Network Rail case, and rail maintenance firm Balfour Beatty. Where six of their senior employees were to face manslaughter charges over the October 2000 Hatfield rail crash, it was announced, 9 July 2003.


THE IMPORTANCE OF ENACTING WHISTLEBLOWER LAWS

The very first offshore oil rig commissioned in the North Sea was the Sea Gem, a giant barge converted into an oil rig which capsized at sea in December of 1965, killing thirteen people.

Since then, the European Union has created stronger laws to ensure the safety of workers at sea and the clean-up of ocean pollution by enacting OSPAR, the Bonn Agreement, and the International Convention for the Prevention of Pollution from Ships (MARPOL). More recently, following the 2010 Deepwater Horizon oil spill in the Gulf of Mexico, the European Union passed the Directive on Safety of Offshore Oil and Gas Operations to establish comprehensive safety measures and ensure a clean-up response.

However, there are multiple weaknesses in the current legal regime. According to a report by the European Commission in 2018, should an accident such as Deepwater Horizon take place in the North Sea, there is currently:

- No liability in many Target States for most third-party claims for compensation for traditional damage caused by the accident;

- No regime in the vast majority of Target States to handle compensation payments; and

- No assurance in many Target States that operators, or other liable persons, would have adequate financial assets to meet such claims.

Target states include Bulgaria, Croatia, Cyprus, Denmark, France, Germany, Greece, Ireland, Italy, Latvia, Lithuania, Malta, the Netherlands, Poland, Portugal, Romania, Spain, United Kingdom, Iceland, and Norway. Only Norway has legislation that specifically compensates fisheries affected by offshore oil and gas operations and pollution.

Additionally, none of the current laws or EU regulations aimed at this type of oil pollution include whistleblower provisions. Currently, the United States is the number one enforcer of MARPOL in the world because of the whistleblower provision in the Act to Prevent Pollution from Ships (APPS). APPS was enacted to implement the provisions of MARPOL and permits federal courts to grant rewards of up to 50% of the total fines to whistleblowers whose disclosures regarding pollution on the high seas result in a successful prosecution. Whistleblowers do not need to be U.S. citizens to receive a reward.

The largest reward ever paid for an individual whistleblower was USD 2,100,000 (USA v. Omi Corporation), while USD 5,250,000 is the largest amount ever paid to a group of APPS whistleblowers from the Philippines (USA v. Overseas Shipping). In an analysis of 100 recent APPS prosecutions available on Public Access to Court Electronic Records (PACER), court records reveal that whistleblowers were responsible for 76% of all successful cases from 1993 – 2017.

Given the fossil fuel industry's enormous pressure to minimize costs and the fact that much of the work is beyond the scrutiny of casual observers, there is a high risk that environmental and worker safety violation will be concealed. Whistleblowers can play a key role in bringing wrongdoing to light.

In 2021, all 27 EU Member countries will be putting new whistleblower laws into effect following a landmark Whistleblowing Directive passed by the European Parliament in April 2019. Now is the time for European law makers to enact whistleblower laws that will protect and reward those at sea who witness and report fossil fuel companies committing fraud and polluting surrounding waters. To learn more about this new Directive, click here.

To learn more about how international whistleblowers can use U.S. laws, read The New Whistleblower's Handbook, the first-ever guide to whistleblowing. The Handbook, authored by the nation's leading whistleblower attorney, is a step-by-step guide to the essential tools for successfully blowing the whistle, qualifying for financial rewards, and protecting yourself.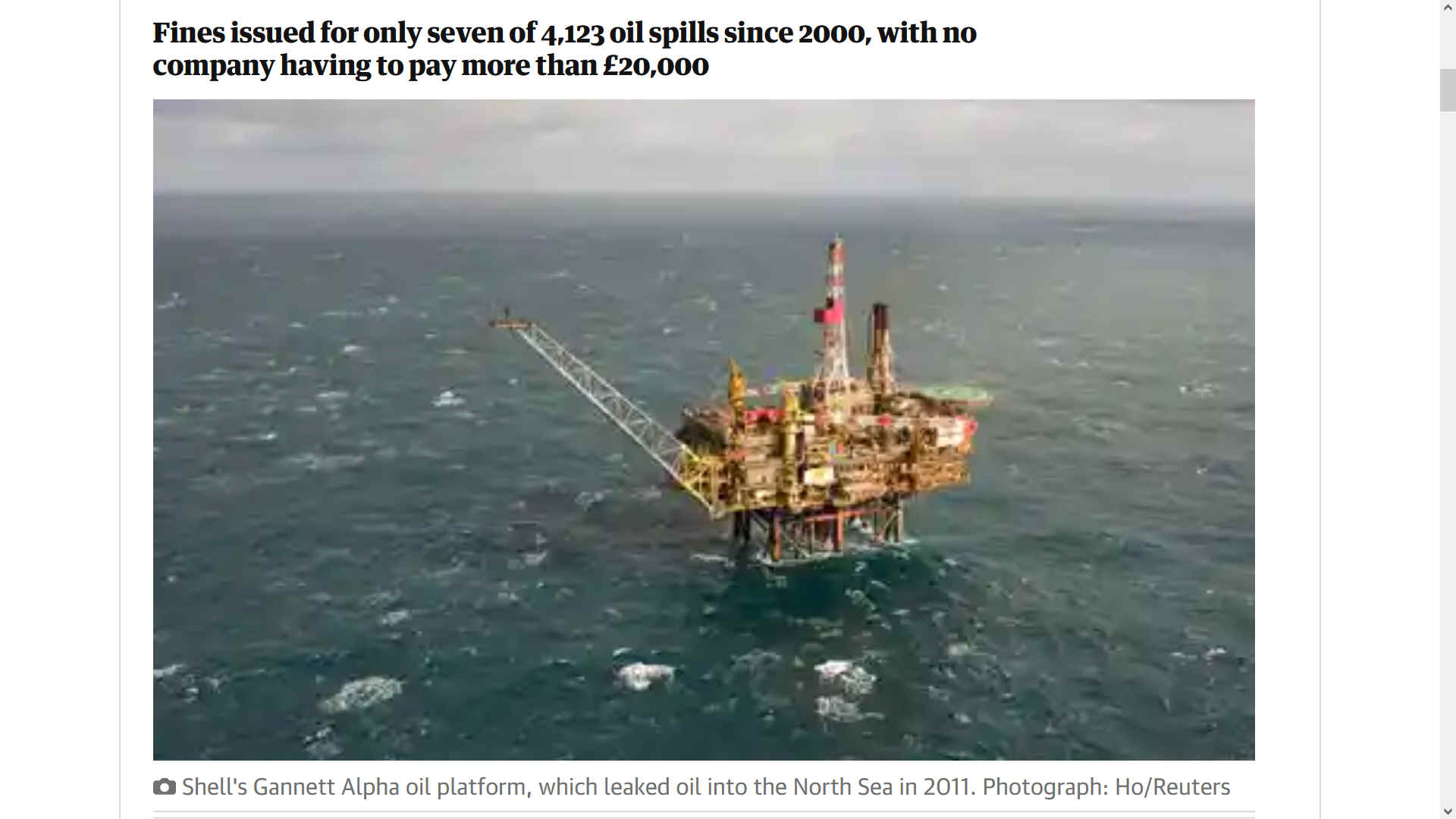 THE GUARDIAN 25 OCTOBER 2012 - OIL COMPANIES GO UNPUNISHED FOR THOUSANDS OF NORTH SEA SPILLS

Fines issued for only seven of 4,123 oil spills since 2000, with no company having to pay more than £20,000

Oil companies operating in the North Sea have been fined for oil spills on just seven occasions since 2000, even though 4,123 separate spills were recorded over the same period, the Department of Energy and Climate Change (Decc) has confirmed.

The disclosure came as Decc said on Thursday that the government had offered a "record-breaking" 167 new licences to oil and gas companies seeking to drill in the North Sea. A further 61 "blocks", or licences, are under environmental assessment.

Total fines resulting from prosecutions between 2000 and 2011 came to just £74,000 and no single oil company had to pay more than £20,000.

Two companies received fines of £20,000: BP, for causing 28 tonnes of diesel to spill into the sea in 2002 from the Forties Alpha platform, and, a year later, Total E&P, for causing six tonnes of diesel to enter the sea during a transfer between fuel tanks on the Alwyn North platform.

Information about the fines was released by Decc after a freedom of information request and further inquiries by the Guardian.

The smallest fines over this period were those imposed on two companies, Venture North Sea Oil and Knutsen OAS Shipping, of £2,000 each, after 20 tonnes of crude oil was spilt during a tanker transfer on the Kittiwake platform.

In total, 1,226 tonnes of oil were spilt into the North Sea between 2000 and 2011, according to Decc's archives. Decc said there is no "volume threshold" determining whether a company will be prosecuted over a spill at sea, although a spill of less than five tonnes is unlikely to go to court.

A tonne of crude oil is broadly equivalent to seven barrels, or, more precisely, 1,136 litres.

Decc said its inspectors, all of whom have enforcement powers, judge each case separately to assess the circumstances and the seriousness of the alleged offence.

Slightly different arrangements exist in Scotland from those in England, Wales and Northern Ireland, for pursuing a prosecution.

A Decc spokesman said: "The UK has one of the toughest and most successful oil and gas regimes in the world and we work closely with industry to ensure the highest standards of environmental protection are in place and enforced.

"There are a number of enforcement options available to Decc, with court action reserved for serious offences. On the rare occasions legal proceedings have been deemed necessary, it is for the court to decide the level of fines to hand down."

Environmental campaigners said it was worrying that Decc viewed itself as operating the global gold standard of offshore regulation, especially as oil companies were now pressing for permission to drill in extreme and vulnerable environments such as the Arctic.

Vicky Wyatt, a Greenpeace campaigner, said: "Ministers and oil companies can spout all the carefully crafted quotes they like to tell us how safe drilling at sea is. But while they're spouting these words, their rigs are all too often spouting oil into our oceans. The government should hit these companies who pollute the oceans in this way with meaningful fines.

"A few grand is not even a slap on the wrist for companies who pocket millions of pounds every hour.

"It's both staggering and wrong that some of these companies are now also drilling in the fragile and pristine Arctic, where a similar oil leak would be catastrophic."

Speaking about the issuing of new drilling licences, the energy minister, John Hayes, said: "Fortune has favoured the UK. Oil and gas from our waters provides around half the energy we need to heat our homes, fuel our cars and power our industry.

"It is the single largest industrial UK investor, supporting 440,000 jobs, and benefits the UK's trade balance to the tune of £40bn."

He added: "This successful licensing round shows we are taking the right action to offer certainty and confidence to investors. Our fiscal regime is now encouraging small fields into production and our licensing regime supports new faces as well the big players to invest. Importantly, we are guaranteeing every last economic drop of oil and gas is produced for the benefit of the UK. It is our work with industry that is cultivating this precious resource, making our seas a fertile landscape for investors for many years to come."
Fined North Sea oils spills since 2000

Kerr McGee North Sea (UK) Ltd – 22 October 2000

Release of about 400 tones crude oil to sea from subsea pipeline: £10,000 fine. Pipeline between NW Hutton platform and Hutton TLP, northern North Sea.

BP Exploration Operating Company – 2 December 2002

Release of approximately 28 tonnes diesel to sea due to accidental draining of fuel to open drain system and sea sump: £20,000 fine. Forties Alpha platform, central North Sea.

Total E&P UK PLC – 17 June 2003

Release of about 6 tonnes diesel after diesel transfered from tanks via valve not identified as dump valve: £20,000 fine. Alwyn North, northern North Sea.

Shell UK Ltd – 12 May 2003

Release of 7.5 tonnes diesel to sea during bunkering operations – return path for diesel supply system found to be closed and plant condition not as expected: £7,000 fine. Comorant Alpha, northern North Sea.

Amoco (UK) Exploration Company – 1 July 2004

Release of 31 tonne diesel to sea from day tank during bunkering operations: £12,000 fine. Lomond, central North Sea.

Shell UK Ltd – 10 November 2004

Release of 7.33 tonnes oil-based mud to sea during bunkering operations. £3,000 fine. North Cormorant, northern North Sea.

Venture North Sea Oil Ltd and Knutsen OAS Shipping AS – 5 April 2007

Release of 20 tonnes crude oil to sea from SAL [single anchor loading] during transfer onto tanker. £2,000 fine each. Kittiwake, central North Sea


https://www.whistleblowers.org/offshore-drilling-in-the-north-sea/
https://www.theguardian.com/environment/2012/oct/25/oil-companies-north-sea-spills



ATLANTIS: THE LOST CITY OF
CHAT GPT BY OPEN AI - ARTIFICIALLY INTELLIGENT SCRIPT WRITING MAN Vs MACHINES
CLAYMORE - NORTH SEA OIL RIG, OCCIDENTAL, ELF AQUITAINE, TALISMAN & REPSOL
CORONATION DAY PROTEST ARRESTS, METROPOLITAN POLICE, 6TH MAY 2023, SKY NEWS
DOUNREAY - NUCLEAR POWER & MOD TESTING STATION, RADIOACTIVE LEAKS
GOD SAVE US ALL - FROM THE KING BRITAIN DESERVES, THE GUARDIAN 3RD MY 2023
JUST STOP OIL - LONDON CLIMATE PROTESTORS 2022-2023, SUELLA BRAVERMAN DENIAL OF RIGHTS
LIAM HOLDEN, WATERBOARDING, BRITISH ARMY GUILTY OF TORTURE, GUARDIAN MARCH 2023
NATIONAL GEOGRAPHIC - 27 MAY 2021 - CROWD CONTROL, PRITI PATEL'S POLICE STATE
NAZI GERMANY - SPECIAL NAVAL OPERATIONS
NAZI GOLD - LOST TREASURES, ADOLF HITLER'S $20 BILLION, BUNKERS, TRAINS, SHIPS, THE SUN 2021
NHS COVID CONTRACTS - MEDPRO FAST TRACK VIP PAYMENTS MICHELLE MONE OFFSHORE £29M
NWC - NATIONAL WHISTLEBLOWER CENTER, FOSSIL FUEL FRAUD
OPERATION ATLANTIS - J5 TAX EVASION PROBE, EURO PACIFIC INT. BANKING, PUERTO RICO
PC DAVID CARRICK - SERIAL RAPIST, METROPOLITAN POLICE - 16 JANUARY 2023, THE GUARDIAN
PIPER ALPHA - OCCIDENTAL PETROLEUM CALEDONIA RIG EXPLODED 6 JULY 1988 KILLING 165 MEN
POLAR JOURNAL - RUSSIAN NUCLEAR SUBMARINE GRAVEYARD, KARA & NORWEGIAN SEAS
SIZEWELL - A B & C NUCLEAR POWER STATIONS, SUFFOLK, ENGLAND
THE GUARDIAN - LOST CITY OF ATLANTIS RISES AGAIN TO FUEL A DANGEROUS MYTH 27-11-22
THE GUARDIAN - HMS VANGUARD NUCLEAR REACTOR CORE GLUED BOLT HEADS FEB 2023
TITANIC - OCEANGATE EXPLORATIONS MISSING BILLIONAIRE SUBMERSIBLE 21-22 JUNE 2023
WETHERSPOONS - ASTUTE HUNTER-KILLER TRAINING MANUAL FOUND IN PUB TOILET APRIL 2023
WGA STRIKES - WRITERS GUILD OF AMERICA: POOR PAY & USING AI TO REPLACE PEOPLE MAY 23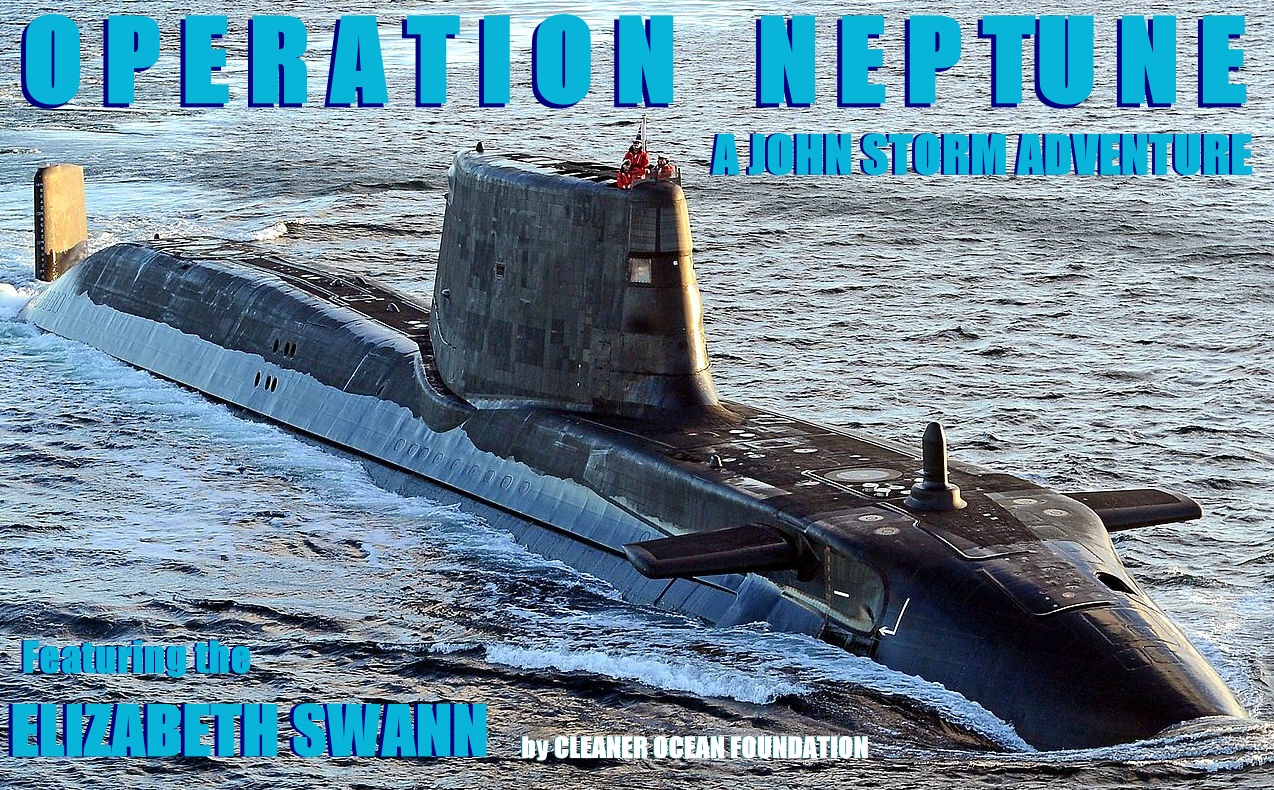 CHARACTERS | GOLD | MEDIA | MOVIES | SCREENPLAY | SUBMARINES
This website is Copyright © Cleaner Oceans Foundation Ltd., April 2023. Asserted as per the Berne Convention.
In this fictional story, the characters and events are the product of the author's imagination.