DOUNREAY SCOTTISH POWER STATION
ATLANTIS STORY MAP & OPERATION HOMEPAGE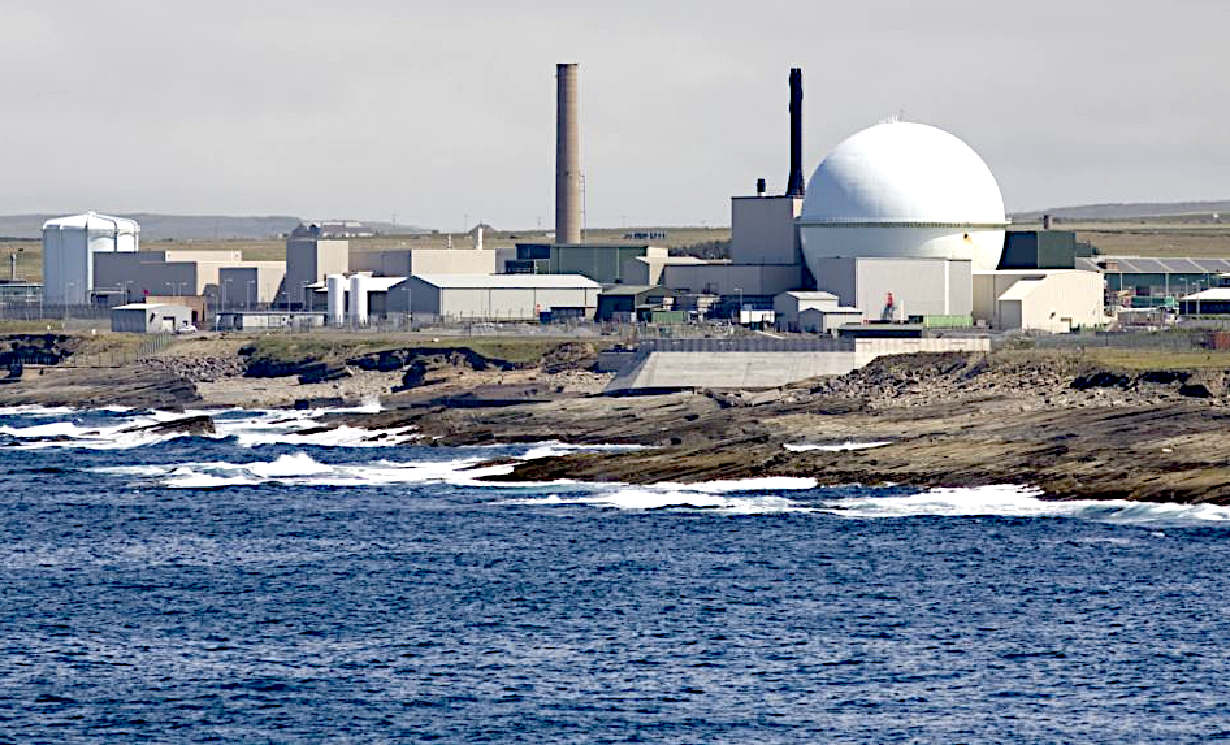 As an intelligent species, we should learn from our mistakes - and - just like 'Zero Emissions,' be heading toward 'Zero Radiation.' But there are always Red Flags to progress, in the form of vested interests. Mainly, the Red Flags, take the form of investors who have poorly judged what to invest in, and politicians, who - let's face it - lie for a living, and chase the money. It's all about the money. Consultancy back-handers and medals to seal approval from our Heads of State - formerly slave traders and pirates. But now dealing in weapons of mass destruction. So, some change, from high seas cutthroats and plantation murderers, to contaminating the planet, as the inheritance for our children.
STV NEWS 21 JULY 2022 - NUCLEAR PLANT 'SAFETY BREACHES' AS CHEMICAL LEAKS AT DECOMMISSIONED SITE

Regulator said 'clear safety breaches' had caused tritium to pour out of the prototype fast reactor earlier this year.

Nuclear regulators have chastised the operators of one of Scotland's largest decommissioned facilities over "clear safety breaches" following a chemical leak.

Emergency crews were scrambled to the Dounreay plant in the Highlands earlier this year after the prototype fast reactor suffered a fault resulting in the "excursion of a small amount of caustic liquor".

Dounreay Site Restoration Ltd (DSRL), which is charged with retiring the former nuclear complex in Caithness said no one was injured in the incident and the environmental impact was "low".

But the Office for Nuclear Regulation (ONR) said their investigation revealed a number of issues, stating procedural "shortfalls must be addressed" before work can continue on that part of the site.

A spokesperson for the watchdog said: "As a result of the incident, there were no injuries to personnel, but some minor damage to pipework and internal components.

Nuclear regulators have chastised the operators of one of Scotland's largest decommissioned facilities over "clear safety breaches" following a chemical leak.

Emergency crews were scrambled to the Dounreay plant in the Highlands earlier this year after the prototype fast reactor suffered a fault resulting in the "excursion of a small amount of caustic liquor".

Dounreay Site Restoration Ltd (DSRL), which is charged with retiring the former nuclear complex in Caithness said no one was injured in the incident and the environmental impact was "low".

But the Office for Nuclear Regulation (ONR) said their investigation revealed a number of issues, stating procedural "shortfalls must be addressed" before work can continue on that part of the site.

A spokesperson for the watchdog said: "As a result of the incident, there were no injuries to personnel, but some minor damage to pipework and internal components.
Advertisement

"The process involved very low levels of radioactivity and consequently the radiological risk to workers and the public were negligible. There was no nuclear safety consequence.

"ONR inspectors have now identified that DSRL contravened one or more relevant statutory provisions and have issued an enforcement letter to the dutyholder, seeking the necessary improvements in its arrangements to prevent a reoccurrence and return DSRL to compliance."

They added: "The regulator has instructed DSRL to implement improved arrangements before restarting its activities at the Prototype Fast Reactor Sodium Tank Farm. We continue to monitor the progress of DSRL's response."

The incident met the criteria for a "level one" event, ranking it as an "anomaly" on the International Nuclear Event Scale (INES).

It is also currently the subject of a separate investigation by the Scottish Environmental Protection Agency (Sepa).

Investigators found a small amount of a substance known as tritium, a radioactive isotope of hydrogen, historically used in a variety of industrial processes, was released during the incident.

Tritium presents a low radiological hazard.

The probe also found a separate incident resulting in the hospitalisation of one employee occurred six days after the leak.

The worker failed to adhere to safety requirements by placing his hand on a load as it was lifting, resulting in his fingers getting trapped and a trip to Caithness General Hospital before being released later that day.

A spokesperson for DSRL said: "ONR have carried out a preliminary enquiry into this incident and a Sepa investigation, under the powers of the Environment Act 1995, is ongoing.

"ONR have concluded that there are a number of issues relating to the project and have issued an enforcement letter placing regulator hold points on restarting the operation."

The plant was opened in 1955 and three reactors – the Dounreay fast reactor, prototype fast reactor and the Dounreay materials test reactor – were built over the next 20 years.

It was fully shut down in 1994, but a massive and complex clean-up operation remains ongoing.

A 2014 fire at the prototype fast reactor facility sodium tank farm led to an "unauthorised release" of a radioactive isotope.

At the time, the ONR said it had been concerned by poor compliance and "unacceptable behaviours of personnel" at the site.

A Sepa spokesperson said: "It has been established that there was a small release of process chemicals from the system and a release of tritium, which presents a low radiological hazard, occurred via an unauthorised and monitored route.

"DSRL intend to undertake additional sampling work to underpin its assessment of the release of tritium.

"Sepa's investigation of the circumstances surrounding the incident is currently ongoing. Based on the initial estimate of the tritium release provided by DSRL we consider the risk to the public or the environment to be extremely low."

[We think Zero Radiation, and Zero Leaks is the only safe situation]
DOUNREAY
Dounreay (Scottish Gaelic: Dùnrath) is a small settlement and the site of two large nuclear establishments on the north coast of Caithness in the Highland area of Scotland. It is on the A836 road nine miles (fourteen kilometres) west of Thurso.

The nuclear establishments were created in the 1950s. They were the Nuclear Power Development Establishment (NPDE) for the development of civil fast breeder reactors, and the Vulcan Naval Reactor Test Establishment (NRTE), a military submarine reactor testing facility. Both these no longer perform their original research functions and will be completely decommissioned, some of which has been in progress for a while. The two establishments have been a major element in the economy of Thurso and Caithness, but this will decrease with the progress of decommissioning.

The NPDE will enter an interim care and surveillance state by 2036, and become a brownfield site by 2336. An announcement in July 2020 that the Nuclear Decommissioning Authority (NDA) will be taking over direct management of the site from the site licence company Dounreay Site Restoration Limited (DSRL) in 2021 has alleviated fears of 560 job losses.

The NRTE is to be decommissioned under a ten-year contract starting in 2023, ending in the creation of a brownfield site, which would be transferred to the NDA.

NUCLEAR SITES

There are two nuclear sites at Lower Dounreay built on and around the site of the former airfield. The Nuclear Power Development Establishment site is owned by the Nuclear Decommissioning Authority (NDA) but was previously owned and run by the United Kingdom Atomic Energy Authority. Adjacent to this site is the Ministry of Defence Vulcan Naval Reactor Test Establishment. The two sites are best known for their five nuclear reactors, three formerly owned and operated by the UKAEA and two by the Ministry of Defence.

During the 1980s and 1990s, a visitor centre was opened in the former air traffic control tower. Visitors would be taken by bus to the PFR building where anything electronic, including watches and cameras, would be stored away securely until return. White coats were worn along with radiation badges. A guided tour through the air lock into the reactor building was then conducted, walking around the reactor core and then returning via scientists working behind thick mineral glass screens.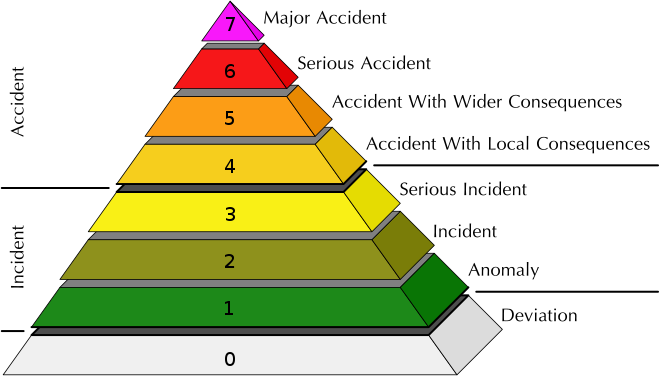 DOUNREAY MATERIALS TEST REACTOR

The first of the Dounreay reactors to achieve criticality was the Dounreay Materials Test Reactor (DMTR) in May 1958, which was a DIDO class research reactor, producing a high neutron flux. This reactor was used to test the performance of materials under intense neutron irradiation, particularly those intended for fuel cladding and other structural uses in a fast neutron reactor core. Test pieces were encased in uranium-bearing alloy to increase the already high neutron flux of this class of reactor, and then chemically stripped of this coating after irradiation. DMTR was closed in 1969 when materials testing work was consolidated at Harwell Laboratory.

DOUNREAY FAST REACTOR

The second operational reactor (although the first to commence construction) was the Dounreay Fast Reactor (DFR), which achieved criticality on 14 November 1959. Power was exported to the National Grid from 14 October 1962 until the reactor was taken offline for decommissioning in March 1977. During its operational lifespan, DFR produced over 600 million kWh of electricity.

DFR and associated facilities cost £15 million to build in late-1950s money (equivalent to £370 million in 2021). It was designed to generate 60 MW thermal power and achieve a 2% fuel burn-up. It reached 30 MWt in August 1962, and 60 MWt in July 1963 allowing it to produce its rated 14 MWe (electrical). The reactor was surrounded by a 139-foot (42 m) steel sphere, still a prominent feature of the landscape, which was constructed by the Motherwell Bridge Company.

DFR was a loop-type FBR cooled by primary and secondary NaK circuits, with 24 primary coolant loops. The reactor core was initially fuelled with uranium metal fuel stabilised with molybdenum and clad in niobium. The core was later used to test oxide fuels for PFR and provide experimental space to support overseas fast reactor fuel and materials development programmes.

It had over 5,000 breeder elements of natural uranium in stainless steel arranged in inner and outer breeder sections. Many were replaced in 1965.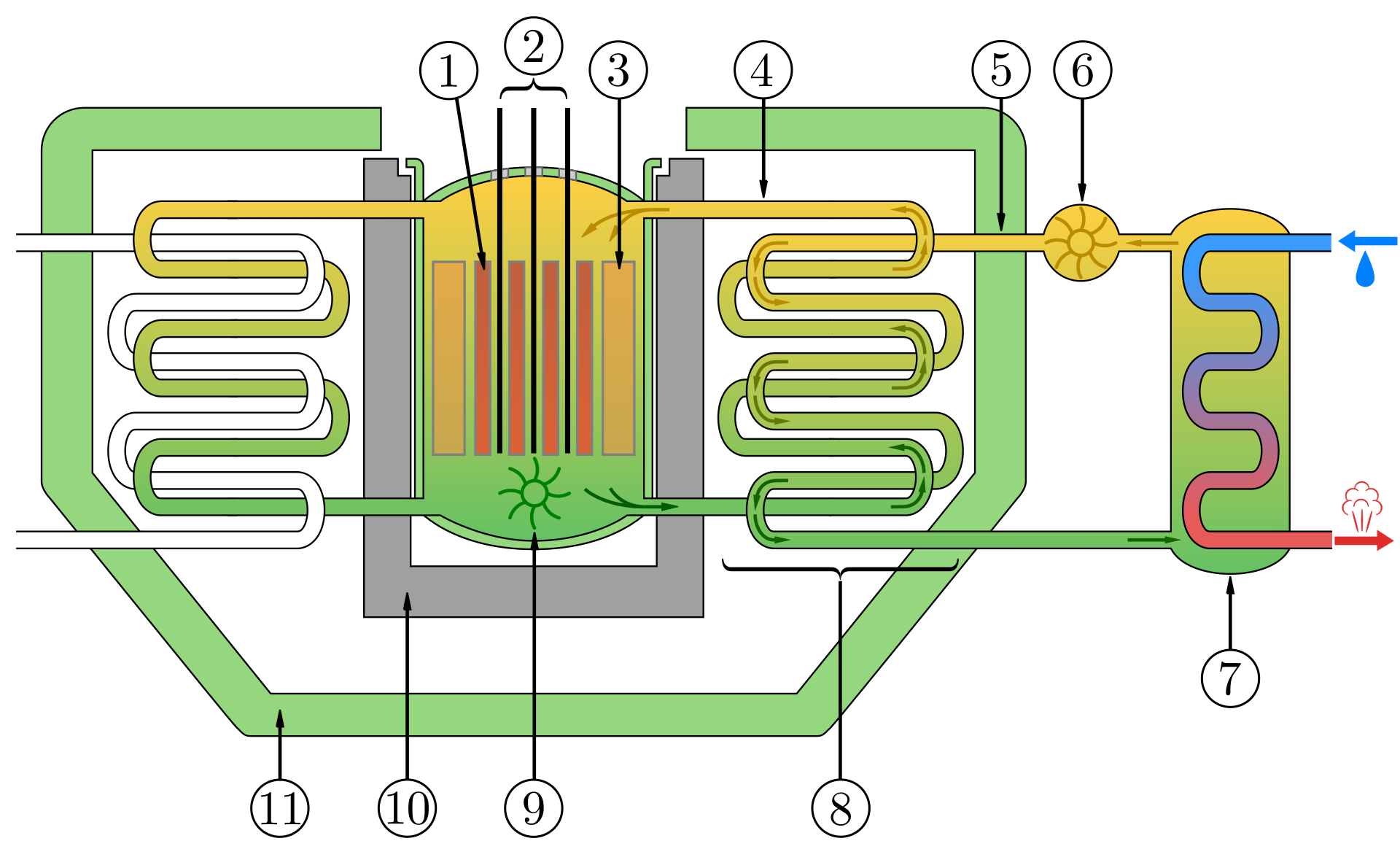 PROTOTYPE FAST REACTOR (PFR)

The third and final UKAEA-operated reactor to be built on the Dounreay site was the Prototype Fast Reactor (PFR). In 1966, it was announced that the PFR would be built at Dounreay. PFR was a pool-type fast breeder reactor, cooled by 1,500 tonnes of liquid sodium and fueled with MOX. The design output of PFR was 250 MWe (electrical).

It achieved criticality in 1974 and began supplying National Grid power in January 1975. There were many delays and reliability problems before reaching full power. It had three cooling circuits. Leaks in the sodium water steam generators shut down one and then two of the cooling circuits in 1974 and 1975. By August 1976 it had reached 500 MWt, (to produce about 166 MWe) and in 1985 it first reached its design output of 250 MWe.

In 1988, it was announced that funding for FBR research was being cut from £105 million to £10 million per year, and the PFR funding would end in 1994.

The reactor was taken offline in 1994, marking the end of nuclear power generation at the site. It had supplied 9,250 GWh in all. The lifetime load factor recorded by the IAEA was 26.9%. The control panel for the reactor was earmarked for an exhibition on the reactor at the London Science Museum in 2016.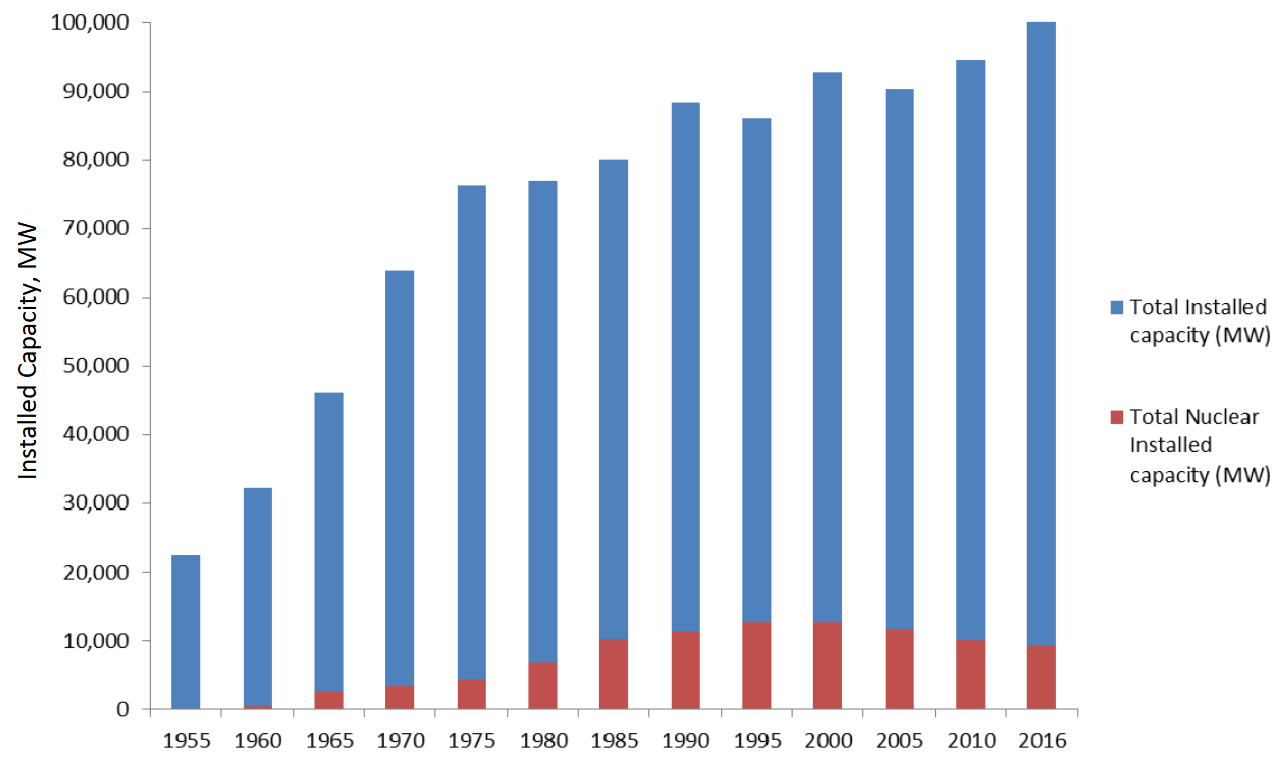 VULCAN NUCLEAR REACTOR TESTING ESTABLISHMENT (NRTE)

The Vulcan Naval Reactor Test Establishment (NRTE) (formerly HMS Vulcan) is a Ministry of Defence (MoD) establishment housing the prototype nuclear propulsion plants of the type operated by the Royal Navy in its submarine fleet. Originally it was known as the Admiralty Reactor Test Establishment (ARTE).

For over 40 years Vulcan has been the cornerstone of the Royal Navy's nuclear propulsion programme, testing and proving the operation of five generations of reactor core. Its reactors have significantly led the operational submarine plants in terms of operation hours, proving systems, procedures and safety. The reactors were run at higher levels of intensity than those on submarines with the intention of discovering any system problems before they might be encountered on board submarines.

Rolls-Royce, which designs and procures all the reactor plants for the Royal Navy from its Derby offices, operates Vulcan on behalf of the MoD and employs around 280 staff there, led by a small team of staff from the Royal Navy. Reactors developed include the PWR1 and PWR2.

In 2011, the MoD stated that NRTE could be scaled down or closed after 2015 when the current series of tests ends. Computer modelling and confidence in new reactor designs meant testing would no longer be necessary. The cost of decommissioning NRTE facilities when they become redundant, including nuclear waste disposal, was estimated at £2.1 billion in 2005. Its final reactor shut down on 21 July 2015, with post operational work continuing to 2022.

In March 2020, it was reported that tenders were being issued to decontaminate and dismantle the reactor complex under a ten-year contract, ending in the creation of a "brownfield" site, which would be transferred to the Nuclear Decommissioning Authority. This decommissioning programme would start in 2023, following the removal of all fuel to the NDA Sellafield site.

DOUNREAY SUBMARINE PROTOTYPE 1 (DSMP1)

The first reactor, PWR1, is known as Dounreay Submarine Prototype 1 (DSMP1). The reactor plant was recognised by the Royal Navy as one of Her Majesty's Submarines (HMS) and was commissioned as HMS Vulcan in 1963. It went critical in 1965. HMS Vulcan is a Rolls-Royce PWR 1 reactor plant and tested Cores A, B and Z before being shut down in 1984. In 1987, the plant was re-commissioned as LAIRD (Loss of Coolant Accident Investigation Rig Dounreay) a non-nuclear test rig, the only one of its kind in the world. LAIRD trials simulated loss of coolant accidents to prove the effectiveness of systems designed to protect the reactor in loss-of-coolant accidents.

SHORE TEST FACILITY (STF)

The second reactor, PWR2, is housed in the Shore Test Facility (STF), was commissioned in 1987, and went critical with Core G the same year. The plant was shut down in 1996, and work began to refit the plant with the current core, Core H, in February 1997. This work was completed in 2000 and after two years of safety justification the plant went critical in 2002. Vulcan Trials Operation and Maintenance (VTOM) (the programme under which Core H is tested) was completed and the reactor shut down on 21 July 2015. The reactor was then to be de-fuelled and examined, and post-operational work was to continue to 2022; the site was then to be decommissioned along with facilities at neighbouring UKAEA Dounreay.

In January 2012, radiation was detected in the reactor's coolant water, caused by a microscopic breach in fuel cladding. This discovery led to HMS Vanguard being scheduled to be refuelled and contingency measures being applied to other Vanguard and Astute-class submarines, at a cost of £270 million, before similar problems might arise on the submarines. This was not revealed to the public until 2014.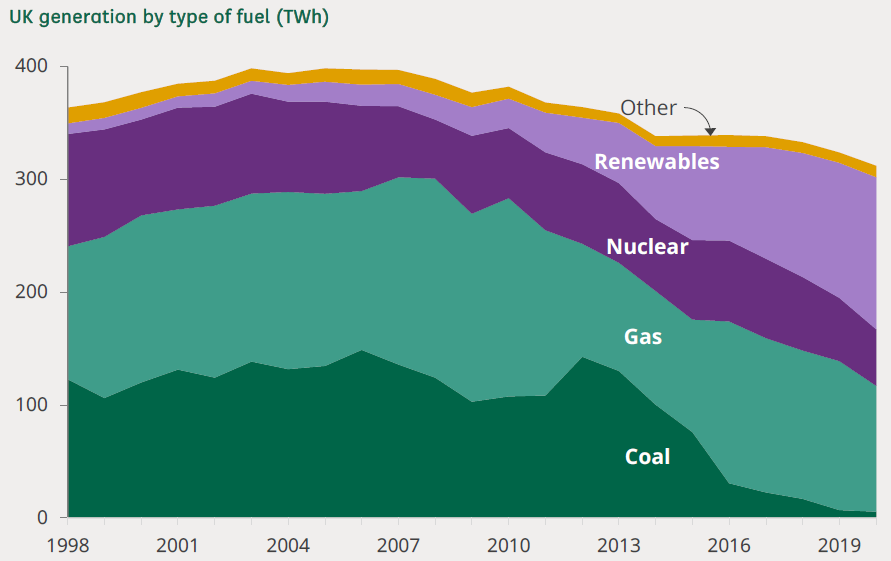 SIGNIFICANT ACCIDENTS

SODIUM EXPLOSION

A 65-metre (213 ft) deep shaft at the plant was packed with radioactive waste and at least 2 kg of sodium and potassium. On 10 May 1977, seawater, which flooded the shaft, reacted violently with the sodium and potassium, throwing off the massive steel and concrete lids of the shaft. This explosion littered the area with radioactive particles.

RADIOACTIVE FUEL SWARF

Tens of thousands of fragments of radioactive fuel escaped the plant between 1963 and 1984, resulting in fishing being banned within two kilometres (one nautical mile) of the plant since 1997. These milled shards are thought to have washed into the sea as cooling ponds were drained. As of 2011, over 2,300 radioactive particles had been recovered from the sea floor, and over 480 from the beaches. As of 2019 the 2 km ban on harvesting seafood was still in place, but there were no other restrictions.

MAJOR POWER FAILURE

Following an incident in May 1998, where a mechanical digger cut through a main power cable and interrupted the site's main and back-up electricity supplies for 16 hours, operations were halted in the Fuel Cycle Area (FCA) and a safety audit of the plant was undertaken by the UK Health and Safety Executive and the Scottish Environment Protection Agency. In September 1998, the highly critical report was published and made 143 recommendations for improvement.

The main points of concern were:

- Weak management and technical base due to organisational changes
- Over-dependence on contractors
- No comprehensive strategy for waste disposal.
- Lack of progress with decommissioning
- Lack of integration of decommissioning and waste strategies
- Poor physical condition of plant
- Scope of rapid reporting was too narrow
- Failure to work to the standards required of a modern nuclear licensee.

The final report in 2001 on the audit noted that the UKAEA had responded satisfactorily to 89 recommendations, and the remaining 54 would be responded to in the medium to long term. In November 1998, in the report Dounreay - The way ahead, the UKAEA announced a proposed timetable for accelerated decommissioning, reducing the original schedule from 100 years to 60 years. The cost was initially estimated at £4.3 billion. An accelerated decommissioning plan was welcomed by the Friends of the Earth Scotland, but the environmental group remained opposed to further fuel reprocessing at the site.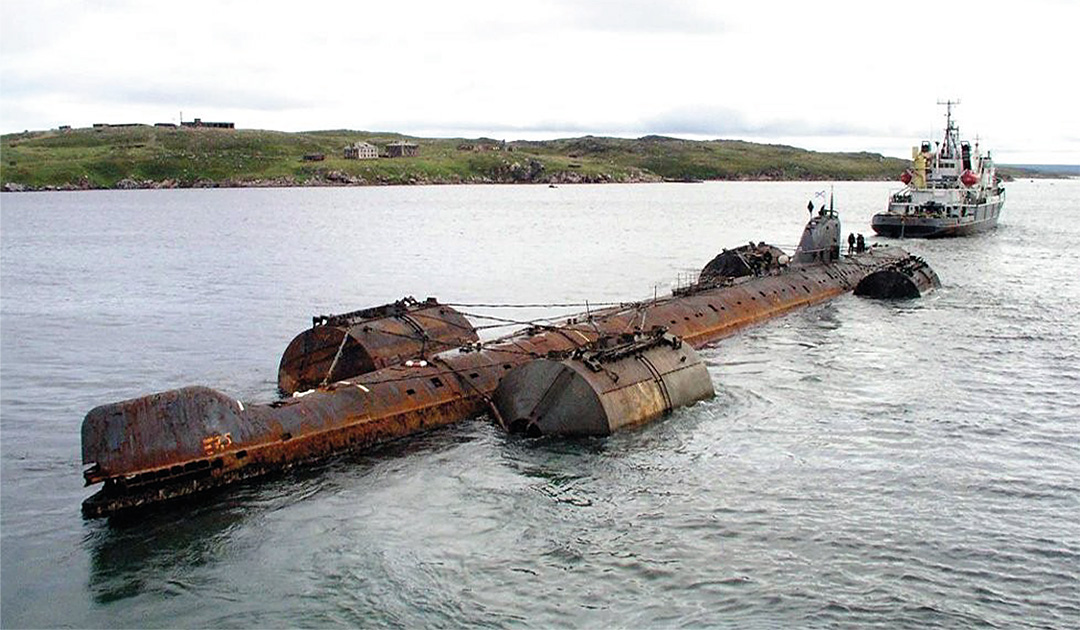 NUCLEAR DECOMMISSIONING AUTHORITY OWNERSHIP

On 1 April 2005, the Nuclear Decommissioning Authority (NDA) became the owner of the site, with the UKAEA remaining as operator. Decommissioning of Dounreay was initially planned to bring the site to an interim care and surveillance state by 2036, and as a brownfield site by 2336, at a total cost of £2.9 billion.

A new company called Dounreay Site Restoration Limited (DSRL) was formed as a subsidiary of the United Kingdom Atomic Energy Authority (UKAEA) to handle the decommissioning process. By May 2008, decommissioning cost estimates had been revised. Removal of all waste from the site was expected to take until the late 2070s to complete, and the end-point of the project was scheduled for 2300.

Apart from decommissioning the reactors, reprocessing plant, and associated facilities, there were five main environmental issues to be dealt with:

1. A 65-metre-deep (213 ft) shaft used for intermediate-level nuclear waste disposal was contaminating groundwater, and would be threatened by coastal erosion in about 300 years. The shaft was never designed as a waste depository, but was used as such on a very ad hoc and poorly monitored basis, without reliable waste disposal records being kept. It was originally used to construct a tunnel for the sea discharge pipe. Later use of the shaft as a convenient waste depository had resulted in one hydrogen gas explosion caused by sodium and potassium wastes reacting with water. At one time it was normal for workers to fire rifles into the shaft to sink polythene bags floating on water.

2. Irradiated nuclear fuel particles on the seabed near the plant, estimated to be about several hundreds of thousands in number, caused by old fuel rod fragments being pumped into the sea. The beach had been closed since 1983 due to this. In 2008, a clean-up project using Geiger counter-fitted robot submarines was planned to search out and retrieve each particle individually. Particles were still being washed ashore at Sandside Bay beach and one particle at a popular tourist beach at Dunnet in 2006. In 2012, a two million becquerel particle was found at Sandside beach, twice as radioactive as any particle previously found.

3. 18,000 m3 (640,000 cu ft) of radiologically contaminated land, and 28,000 m3 (990,000 cu ft) of chemically contaminated land.

4. 1,350 m3 (48,000 cu ft) of high and medium active liquors and 2,550 m3 (90,000 cu ft) of unconditioned intermediate-level nuclear waste in store.

5. 1,500 tonnes (1,700 short tons) of sodium, of which 900 tonnes (990 short tons) are radioactively contaminated from the Prototype Fast Reactor.

Historically, much of Dounreay's nuclear waste management was poor. On 18 September 2006, Norman Harrison, acting chief operating officer, predicted that more problems will be encountered from old practices at the site as the decommissioning effort continues. Some parts of the plant are being entered for the first time in 50 years.

In 2007, UKAEA pleaded guilty to four charges under the Radioactive Substances Act 1960 relating to activities between 1963 and 1984, one of disposing of radioactive waste at a landfill site at the plant between 1963 and 1975, and three of illegally dumping radioactive waste and releasing nuclear fuel particles into the sea, resulting in a fine of £140,000.

In 2007 a new decommissioning plan was agreed, with a schedule of 25 years and a cost of £2.9 billion, a year later revised to 17 years at a cost of £2.6 billion.

Due to the uranium and plutonium held at the site, it is considered a security risk and there is a high police presence.

In 2013, the detail design of the major project to decommission the intermediate-level waste shaft was completed, and work was to begin later in the year. The work would include the recovery and packaging of over 1,500 tonnes of radioactive waste. As of 2013, the "interim end state" planned date had been brought forward to 2022–2025. In March 2014, firefighters extinguished a small fire in an area used to store low-level nuclear waste.

On 7 October 2014, a fire on the PFR site led to a "release of radioactivity via an unauthorised route". The Office for Nuclear Regulation (ONR) concluded that "procedural non-compliances and behavioural practices" led to the fire, and served an improvement notice on Dounreay Site Restoration Limited. In 2015, decommissioning staff expressed a lack of confidence in management at the plant and fear for their safety.

In 2016, the task of dismantling the PFR core commenced. Plans were also announced to move about 700 kg (1,500 lb) of waste Highly Enriched Uranium to the United States.

On 7 June 2019, there was a low-level radioactive contamination incident that led to the evacuation of the site. A DSRL spokesman said: "There was no risk to members of the public, no increased risk to the workforce and no release to the environment".

On 23 December 2019, the NDA announced completion of the transfer of all plutonium from Dounreay to Sellafield, where all significant UK stocks of plutonium are now held.

On 20 August 2020, a new date for the site to become available for other uses was announced of 2333, as part of a new draft strategy for reclamation.

In April 2019, Dounreay Site Restoration Limited (DSRL) awarded six framework contracts for decommissioning services at Dounreay. The total value of these contracts is estimated to be £400 million.
[Potentially contaminating their own and seafood for other nations, for which, compensation would normally be required, as per the BP rulings in the Deepwater Horizon disaster. But in the UK, there is no sign of recompense.]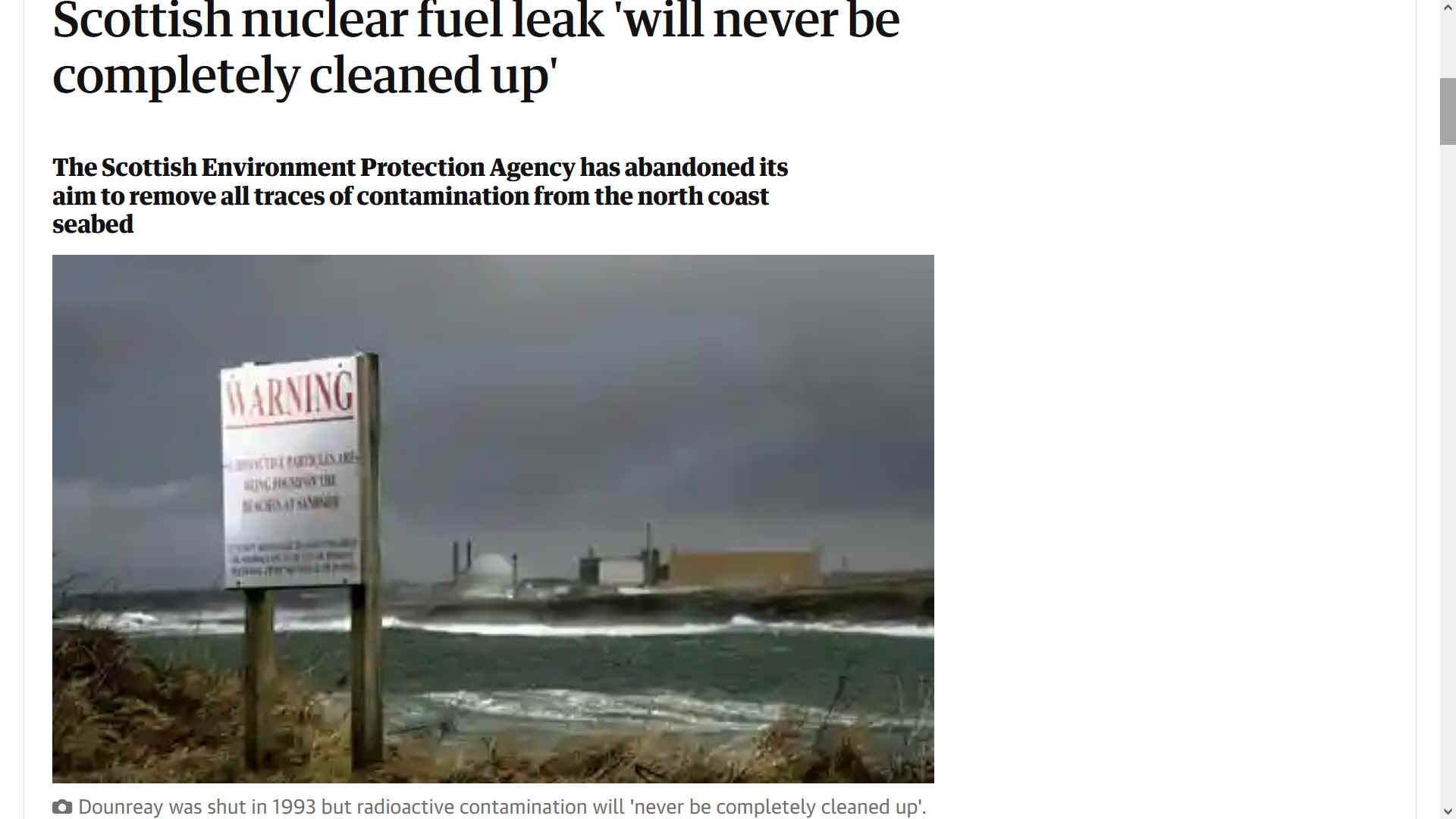 THE GUARDIAN 21 SEPTEMBER 2011 - SCOTTISH NUCLEAR FUEL LEAK 'WILL NEVER BE COMPLETELY CLEANED UP'

The Scottish Environment Protection Agency has abandoned its aim to remove all traces of contamination from the north coast seabed.

Radioactive contamination that leaked for more than two decades from the Dounreay nuclear plant on the north coast of Scotland will never be completely cleaned up, a Scottish government agency has admitted.

The Scottish Environment Protection Agency (Sepa) has decided to give up on its aim of returning the seabed near the plant to a "pristine condition". To do so, it said, could cause "more harm than good".

At a board meeting in Stirling on Tuesday, the Scottish government's environmental watchdog opted to encourage remediation "as far as is practically achievable" but to abandon any hope of removing all the radioactive pollution from the seabed.

Tens of thousands of radioactive fuel fragments escaped from the Dounreay plant between 1963 and 1984, polluting local beaches, the coastline and the seabed. Fishing has been banned within a two-kilometre radius of the plant since 1997.

The most radioactive of the particles are regarded by experts as potentially lethal if ingested. Similar in size to grains of sand, they contain caesium-137, which has a half-life of 30 years, but they can also incorporate traces of plutonium-239, which has a half-life of over 24,000 years – meaning that is the time period for half of the material to break down.

The particles are milled shards from the reprocessing of irradiated uranium and plutonium fuel from two long-defunct reactors. They are thought to have drained into the sea with discharges from cooling ponds.

In 2007, Dounreay, which is now being decommissioned, pleaded guilty at Wick sheriff court to a "failure to prevent fragments of irradiated nuclear fuel being discharged into the environment". The plant's operator at the time, the UK Atomic Energy Authority, was fined £140,000.

Since 2008, over 2,300 radioactive particles have been recovered from the seabed, with 351 removed by a remotely operated underwater vehicle this summer. Since 1983, over 480 particles have also been found on three local beaches and the Dounreay foreshore.

Sepa recommended in 1998 that the seabed around Dounreay should be returned to a "pristine condition". Since then, it pointed out, the contamination had been extensively investigated and new regulations on radioactively contaminated land had come into force.

"It is now widely accepted that a literal return to a pristine condition is a far from simple or even achievable concept," a Sepa spokeswoman told the Guardian.

"Trying to achieve it might also cause more harm than good. There is the potential that ecosystems may be destroyed on trying to get to something which does not pose a significant hazard."

An expert committee set up by Sepa warned in 2006 that disturbing the seabed could cause particles to escape and be swept ashore, putting members of the public at risk. The most radioactive particle found "could have had life-threatening consequences if it had been ingested", the committee said.

Sepa's board agreed to change its policy to encourage further remediation "provided that this achieves more good than harm and accepting that at some sites it will not be practical to return the land to a pristine condition".

Dounreay, which is now managed by a consortium including the UK engineering firm Babcock, welcomed Sepa's new policy. It was still aiming to remove "the majority of the most hazardous particles, together with the removal of any other particles encountered," said the site's senior project manager, Phil Cartwright.

"The best practicable environmental option, which was welcomed by the government agencies, is focused on doing more good than harm and was publicly discussed on the basis that it would never be possible to retrieve every particle."

Friends of the Earth Scotland, however, attacked the development. "Once again, we see the nuclear industry causing a problem it can't solve, and dumping the cost and consequence on the rest of us," said the environmental group's chief executive, Stan Blackley.

"Nuclear power is neither safe, clean, cheap nor low-carbon and it continues to cause problems and cost the taxpayer a hidden and open-ended fortune. Let's learn from our past mistakes and consign it to a lead-lined dustbin."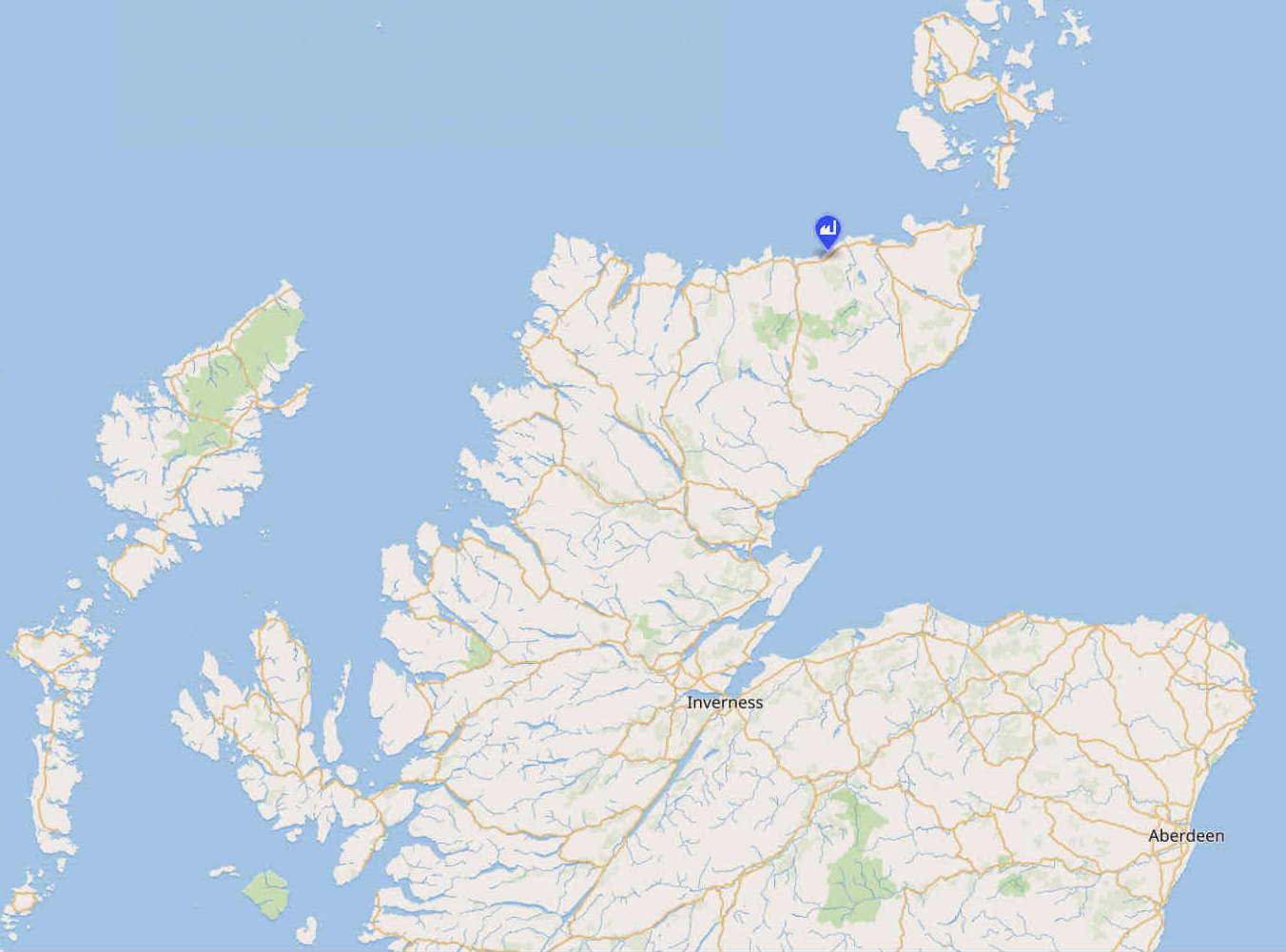 NUCLEAR LEAKS IN THE UK

Windscale, Cumbria, 1957: Fire at a military plutonium reactor spread radioactive contamination over large parts of England and Europe

Dounreay, Caithness, 1963-84: Tens of thousands of radioactive particles from old reactors contaminated the shoreline and the seabed

Sellafield, Cumbria, 1983: The government advised people not to swim or use beaches along 10 miles of coastline after a radioactive leak from a reprocessing plant

Chapelcross, Dumfriesshire, 2000-05: 126 radioactive particles from defunct reactors found on the shore of the Solway Firth

Sellafield, Cumbria, 2006-11: 1,233 radioactive particles and pebbles contaminated by historic leaks found and removed from nearby beaches

Dalgety Bay, Fife, 1990-2011: Hundreds of radioactive remnants from the luminous dials of second world war aircraft removed from foreshore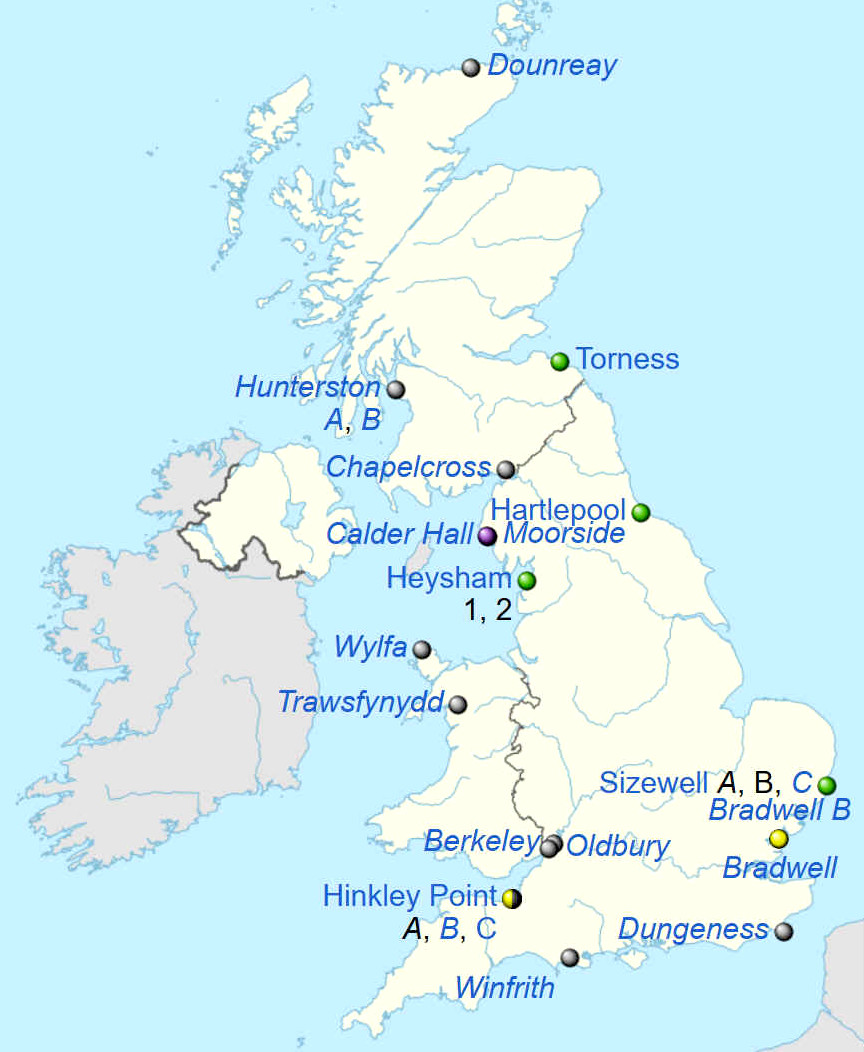 The British nuclear energy programme and the MOD's naval and missile development, are inextricably linked - leading to serious conflicts of interest, when it comes to procurement fraud, and zero emission sustainable energy, to tackle climate change. This entanglement gives members of parliament the reason to mislead the public, and a get out of jail free card - simply because there is no transparency. It is a hole in the ground into which taxpayers continuously pour money. There are far cheaper zero radiation alternatives. But the armed forces like measuring the size of their genitals against other vision-less nations, and strutting around in fancy gold trimmed uniforms, to compete on the worlds stage as though the UK still had an Empire. Meantime, the British Isles continue to be irradiated and fish contaminated.
https://www.theguardian.com/environment/2011/sep/21/scottish-nuclear-leak-clean-up
https://news.stv.tv/highlands-islands/watchdog-raps-decommissioned-dounreay-nuclear-power-plant-site-operators-over-chemical-leak
https://polarjournal.ch/en/2020/06/15/arctic-nuclear-waste-should-be-recovered/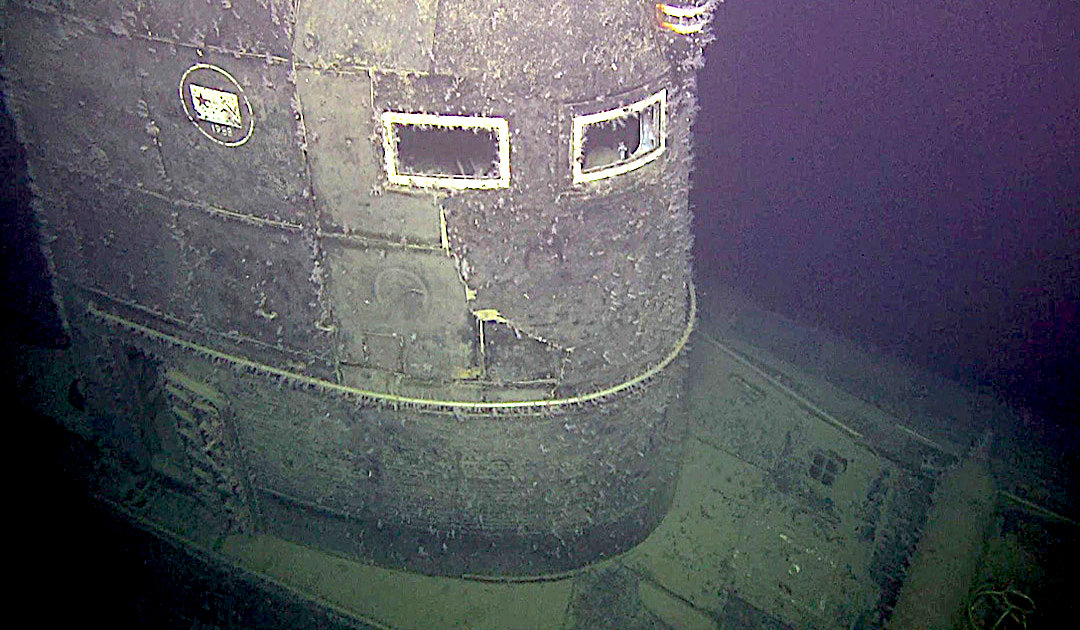 ATLANTIS: THE LOST CITY OF
CHAT GPT BY OPEN AI - ARTIFICIALLY INTELLIGENT SCRIPT WRITING MAN Vs MACHINES
CLAYMORE - NORTH SEA OIL RIG, OCCIDENTAL, ELF AQUITAINE, TALISMAN & REPSOL
CORONATION DAY PROTEST ARRESTS, METROPOLITAN POLICE, 6TH MAY 2023, SKY NEWS
DOUNREAY - NUCLEAR POWER & MOD TESTING STATION, RADIOACTIVE LEAKS
GOD SAVE US ALL - FROM THE KING BRITAIN DESERVES, THE GUARDIAN 3RD MY 2023
JUST STOP OIL - LONDON CLIMATE PROTESTORS 2022-2023, SUELLA BRAVERMAN DENIAL OF RIGHTS
LIAM HOLDEN, WATERBOARDING, BRITISH ARMY GUILTY OF TORTURE, GUARDIAN MARCH 2023
NATIONAL GEOGRAPHIC - 27 MAY 2021 - CROWD CONTROL, PRITI PATEL'S POLICE STATE
NAZI GERMANY - SPECIAL NAVAL OPERATIONS
NAZI GOLD - LOST TREASURES, ADOLF HITLER'S $20 BILLION, BUNKERS, TRAINS, SHIPS, THE SUN 2021
NHS COVID CONTRACTS - MEDPRO FAST TRACK VIP PAYMENTS MICHELLE MONE OFFSHORE £29M
NWC - NATIONAL WHISTLEBLOWER CENTER, FOSSIL FUEL FRAUD
OPERATION ATLANTIS - J5 TAX EVASION PROBE, EURO PACIFIC INT. BANKING, PUERTO RICO
PC DAVID CARRICK - SERIAL RAPIST, METROPOLITAN POLICE - 16 JANUARY 2023, THE GUARDIAN
PIPER ALPHA - OCCIDENTAL PETROLEUM CALEDONIA RIG EXPLODED 6 JULY 1988 KILLING 165 MEN
POLAR JOURNAL - RUSSIAN NUCLEAR SUBMARINE GRAVEYARD, KARA & NORWEGIAN SEAS
SIZEWELL - A B & C NUCLEAR POWER STATIONS, SUFFOLK, ENGLAND
THE GUARDIAN - LOST CITY OF ATLANTIS RISES AGAIN TO FUEL A DANGEROUS MYTH 27-11-22
THE GUARDIAN - HMS VANGUARD NUCLEAR REACTOR CORE GLUED BOLT HEADS FEB 2023
TITANIC - OCEANGATE EXPLORATIONS MISSING BILLIONAIRE SUBMERSIBLE 21-22 JUNE 2023
WETHERSPOONS - ASTUTE HUNTER-KILLER TRAINING MANUAL FOUND IN PUB TOILET APRIL 2023
WGA STRIKES - WRITERS GUILD OF AMERICA: POOR PAY & USING AI TO REPLACE PEOPLE MAY 23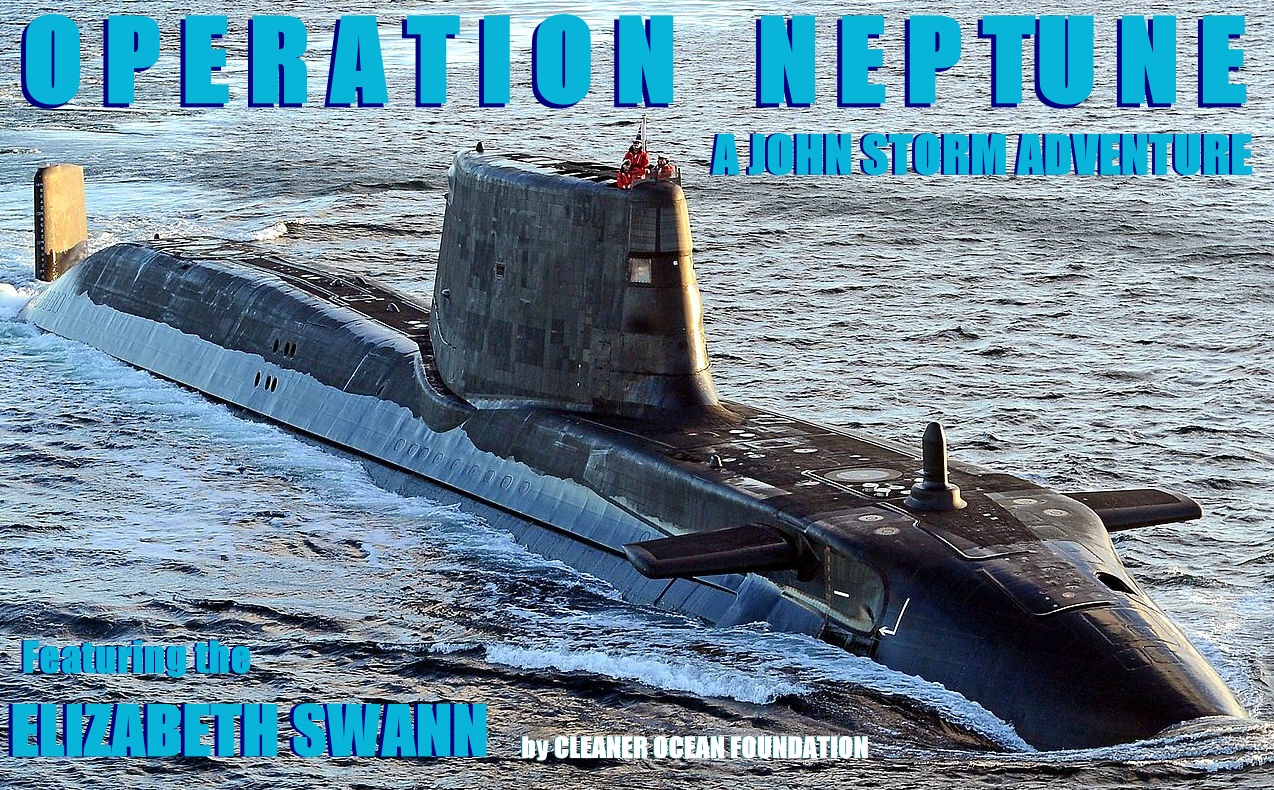 CHARACTERS | GOLD | MEDIA | MOVIES | SCREENPLAY | SUBMARINES
This website is Copyright © Cleaner Oceans Foundation Ltd., April 2023. Asserted as per the Berne Convention.
In this fictional story, the characters and events are the product of the author's imagination.