INVESTIGATION ROYAL NAVY REACTORS
ATLANTIS STORY MAP & OPERATION HOMEPAGE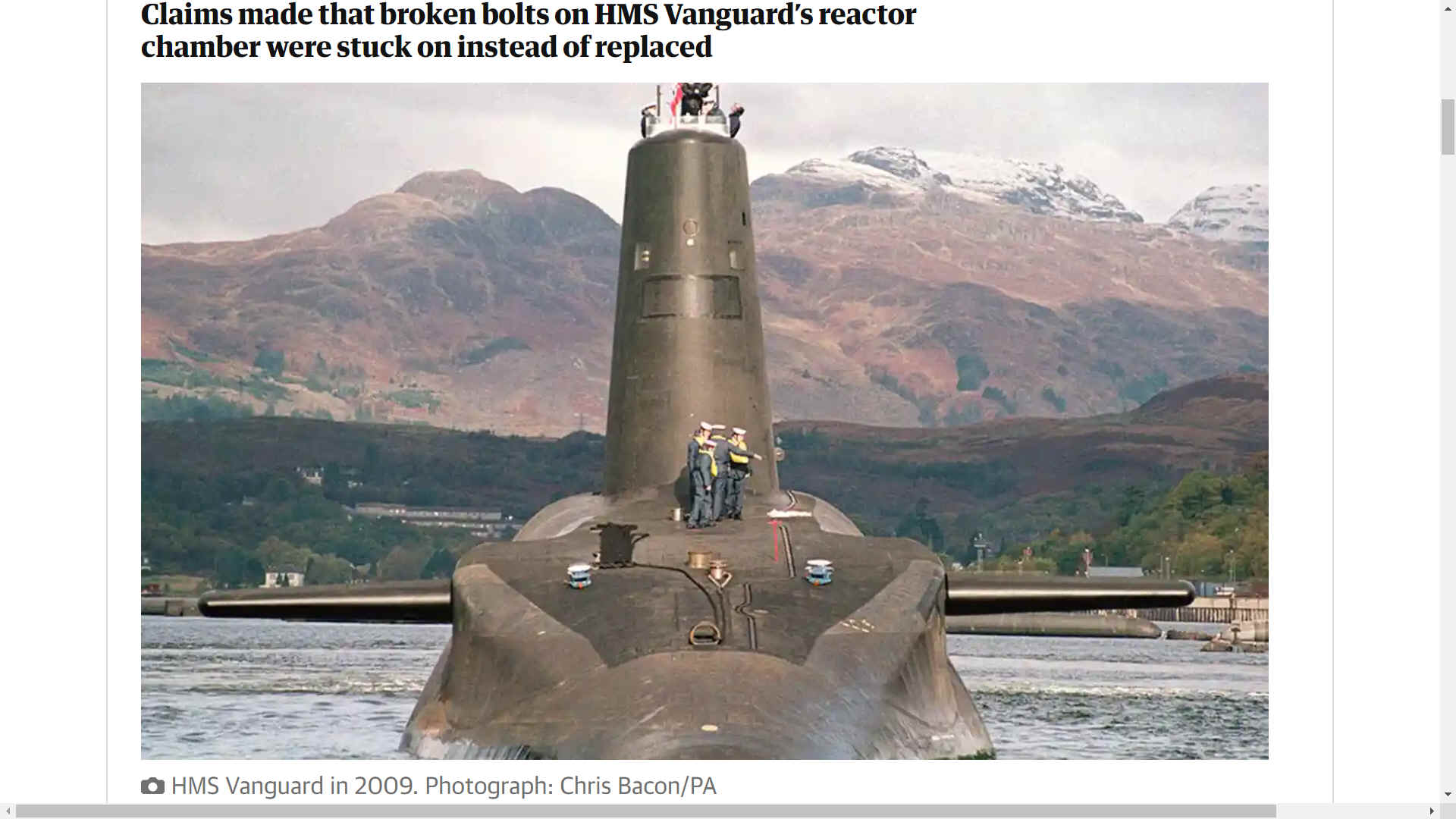 REACTOR BOLTS STUCK ON WITH GLUE - THE GUARDIAN FEB 2023

Claims made that broken bolts on HMS Vanguard's reactor chamber were stuck on instead of replaced.

The British Royal Navy has ordered an urgent investigation amid claims that workers on a Trident nuclear armed submarine fixed broken bolts in the vessel's reactor chamber using glue.

The faulty repairs on the cooling pipes aboard HMS Vanguard were found after one of the bolts fell off during an inspection, the Sun reported.

The bolt heads originally came off due to over-tightening. But, rather than replacing the damaged shafts, staff at the defence contractor Babcock implemented a quick fix and glued them back on.

Engineers at the contractor reported it as a procedural glitch after the problem was found, but did not mention the botched nature of the repair.

A navy source told the newspaper: "It's a disgrace. You can't cut corners with nuclear. Standards are standards. Nuclear standards are never compromised."

The glued bolts held insulation in place on the coolant pipes in the nuclear reactor and were found just as workers were set to fire it up to full power for the first time, the newspaper reported.

Investigators will trawl records of repairs to find out when the bodged work occurred and who was ultimately responsible.

The Ministry of Defence spokesperson said that a "defect" was found on HMS Vanguard when in dry dock and that it was "promptly reported and fixed".

The spokesperson said the defence secretary, Ben Wallace, met the chief executive of Babcock, David Lockwood, "to seek assurances about future work".

Babcock is the MoD's second-largest contractor and has multi-billion pound contracts to maintain the navy's Astute and Vanguard sub fleets.

A spokesperson for the company said: "Any quality-related issue is a huge disappointment, but our own robust inspection processes discovered the issue. There was no safety or operational impact from the work."

The Guardian reported in December last year of safety fears as the submarines had been deployed at sea for record-breaking periods of five months each.

Rob Forsyth, who helped command Polaris nuclear submarines in the 1970s, said the lengthy patrol times could lead to "boredom, complacency and an inevitable drop-off in standards".

HMS Vanguard is one of four nuclear submarines that form part of the UK's continuous at sea deterrent. The vessels are always out on patrol and are poised to strike in the unlikely event that Britain is hit with a nuclear attack.

An MoD spokesperson said: "As part of a planned inspection, a defect was found from work done in the past when HMS Vanguard was in dry dock. It was promptly reported and fixed."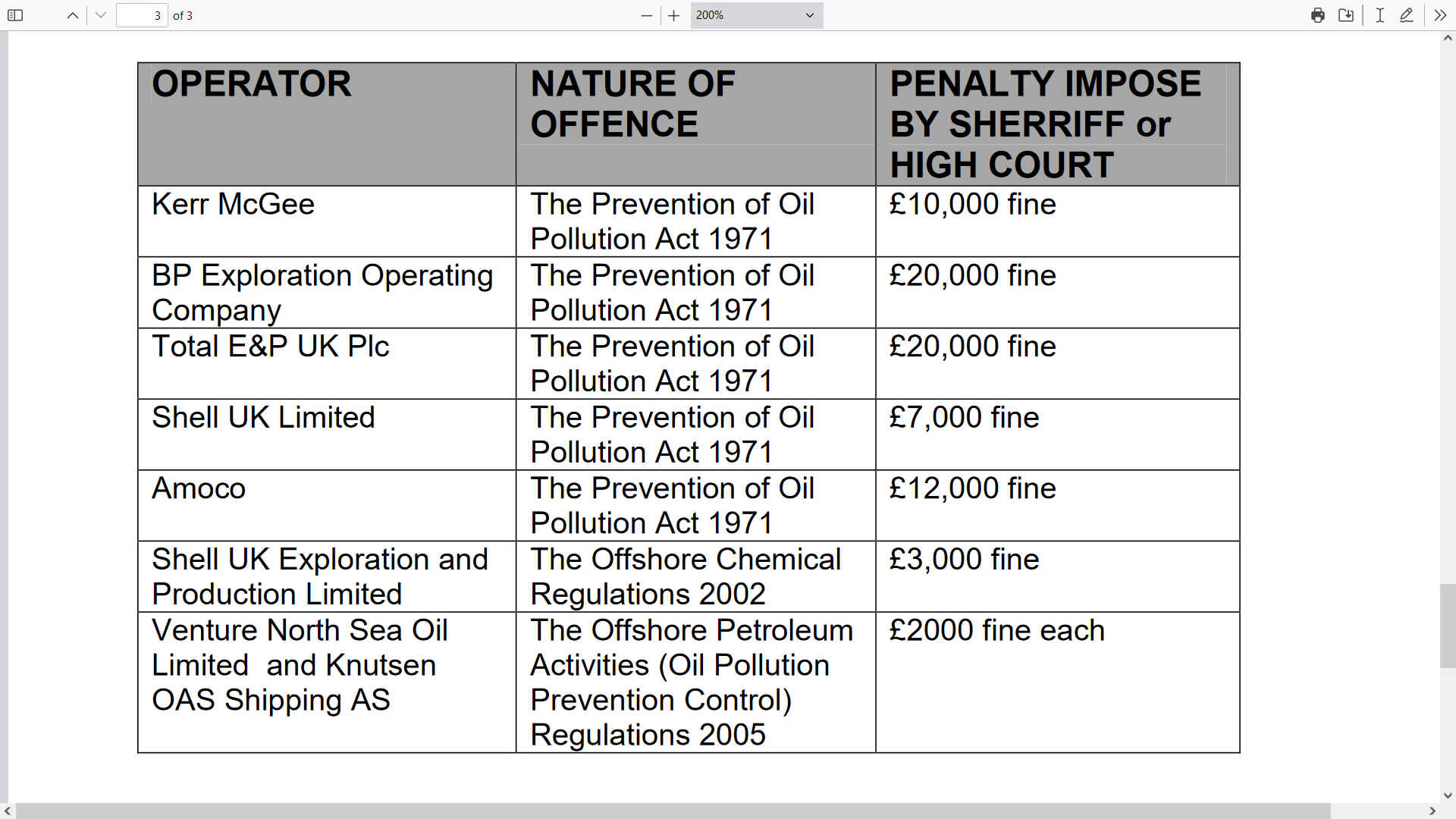 The extremely low level of fines for pollution, where it is persistent, is highly suspicious, leading the ordinary man in the street to believe that the real money exchanged hands behind the scenes. Especially where so many Council Corporations have investments in fossil fuel companies, that same applying to many Members of Parliament and the House of Lords. Fortunately, there are honest MPs and Lords who take the view that protecting our oceans is essential. In addition, there are investigative reporters, who sometimes blow the whistle as far as they are able, without getting the sack.

https://www.theguardian.com/uk-news/2023/feb/01/royal-navy-orders-investigation-into-nuclear-submarine-repaired-with-glue
https://www.theguardian.com/uk-news/2023/mar/24/liam-holden-waterboarded-tortured-british-army-belfast-high-court-rules
https://www.whistleblowers.org/offshore-drilling-in-the-north-sea/
https://www.theguardian.com/environment/2012/oct/25/oil-companies-north-sea-spills


ATLANTIS: THE LOST CITY OF
CHAT GPT BY OPEN AI - ARTIFICIALLY INTELLIGENT SCRIPT WRITING MAN Vs MACHINES
CLAYMORE - NORTH SEA OIL RIG, OCCIDENTAL, ELF AQUITAINE, TALISMAN & REPSOL
CORONATION DAY PROTEST ARRESTS, METROPOLITAN POLICE, 6TH MAY 2023, SKY NEWS
DOUNREAY - NUCLEAR POWER & MOD TESTING STATION, RADIOACTIVE LEAKS
GOD SAVE US ALL - FROM THE KING BRITAIN DESERVES, THE GUARDIAN 3RD MY 2023
JUST STOP OIL - LONDON CLIMATE PROTESTORS 2022-2023, SUELLA BRAVERMAN DENIAL OF RIGHTS
LIAM HOLDEN, WATERBOARDING, BRITISH ARMY GUILTY OF TORTURE, GUARDIAN MARCH 2023
NATIONAL GEOGRAPHIC - 27 MAY 2021 - CROWD CONTROL, PRITI PATEL'S POLICE STATE
NAZI GERMANY - SPECIAL NAVAL OPERATIONS
NAZI GOLD - LOST TREASURES, ADOLF HITLER'S $20 BILLION, BUNKERS, TRAINS, SHIPS, THE SUN 2021
NHS COVID CONTRACTS - MEDPRO FAST TRACK VIP PAYMENTS MICHELLE MONE OFFSHORE £29M
NWC - NATIONAL WHISTLEBLOWER CENTER, FOSSIL FUEL FRAUD
OPERATION ATLANTIS - J5 TAX EVASION PROBE, EURO PACIFIC INT. BANKING, PUERTO RICO
PC DAVID CARRICK - SERIAL RAPIST, METROPOLITAN POLICE - 16 JANUARY 2023, THE GUARDIAN
PIPER ALPHA - OCCIDENTAL PETROLEUM CALEDONIA RIG EXPLODED 6 JULY 1988 KILLING 165 MEN
POLAR JOURNAL - RUSSIAN NUCLEAR SUBMARINE GRAVEYARD, KARA & NORWEGIAN SEAS
SIZEWELL - A B & C NUCLEAR POWER STATIONS, SUFFOLK, ENGLAND
THE GUARDIAN - LOST CITY OF ATLANTIS RISES AGAIN TO FUEL A DANGEROUS MYTH 27-11-22
THE GUARDIAN - HMS VANGUARD NUCLEAR REACTOR CORE GLUED BOLT HEADS FEB 2023
TITANIC - OCEANGATE EXPLORATIONS MISSING BILLIONAIRE SUBMERSIBLE 21-22 JUNE 2023
WETHERSPOONS - ASTUTE HUNTER-KILLER TRAINING MANUAL FOUND IN PUB TOILET APRIL 2023
WGA STRIKES - WRITERS GUILD OF AMERICA: POOR PAY & USING AI TO REPLACE PEOPLE MAY 23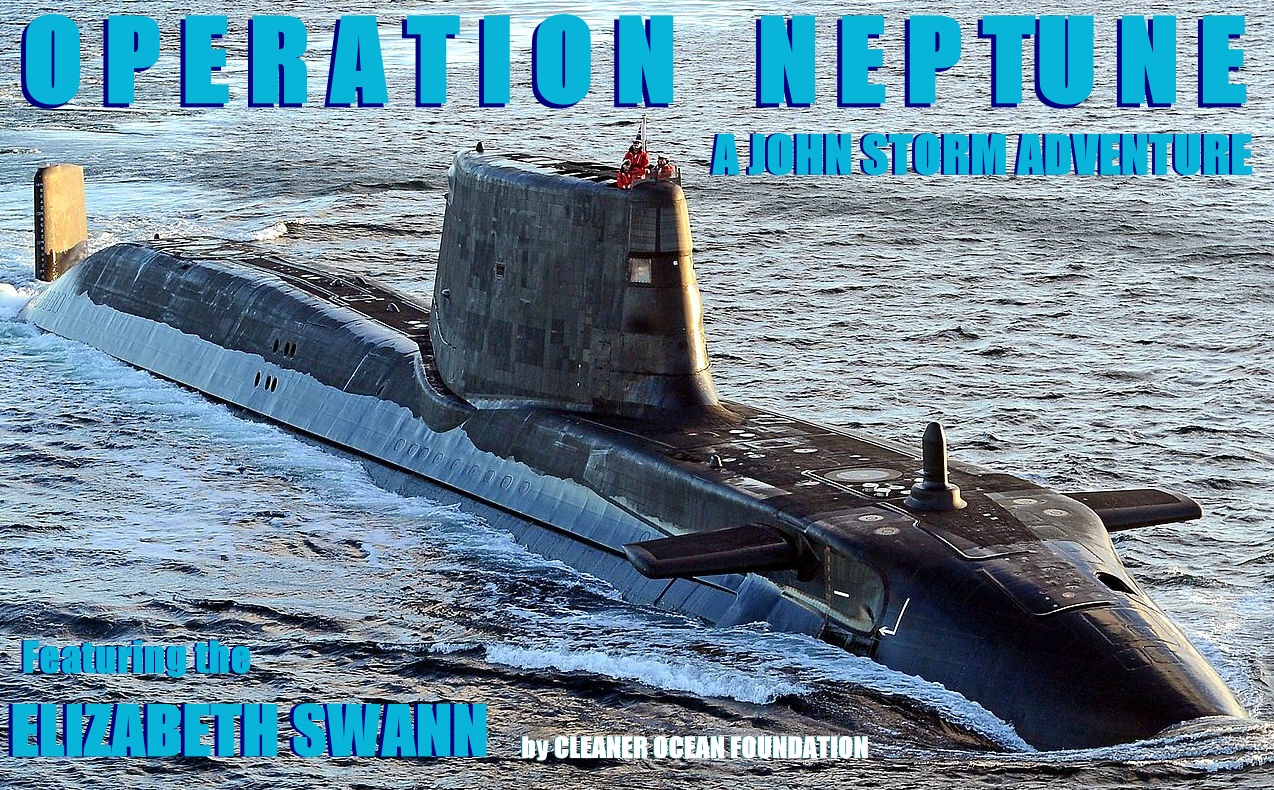 CHARACTERS | GOLD | MEDIA | MOVIES | SCREENPLAY | SUBMARINES
This website is Copyright © Cleaner Oceans Foundation Ltd., April 2023. Asserted as per the Berne Convention.
In this fictional story, the characters and events are the product of the author's imagination.