PC DAVID CARRICK - SERIAL RAPIST MET. POLICE
ATLANTIS STORY MAP & OPERATION HOMEPAGE
Today (16th January 2022) a police officer with the Metropolitan Police, David Carrick, has admitted to 49 rape and sexual offences against 12 women.

Carrick exploited his position as a police officer to abuse women in the most horrific of ways, and intimidated them into silence by telling them no one would believe them.

The Metropolitan Police, who were aware of allegations but took no action, have admitted to errors, stating that he should never have been allowed to join the force and they had failed to spot the threat he posed to women.

In October 2022, the National Police Chiefs Council (NPCC) and College of Policing published a review of themes, learnings and recommendations on police-perpetrated violence against women and girls. In November His Majesty's Inspectorate of Constabulary and Fire & Rescue Services (HMICFRS) published its report on vetting, misconduct, and misogyny in the police service, highlighting the scale of the problem and making a number of recommendations. We urge the Met Police and other forces to address these failings as a matter of urgency by implementing these recommendations with transparency.

THE GUARDIAN 16 JANUARY 2023 - ELITE METROPOLITAN POLICE OFFICER DAVID CARRICK REVEALED AS SERIAL RAPIST

An elite Metropolitan police officer waged a campaign of terror and humiliation against women for two decades, committing 48 rapes to become one of the worst sex offenders in modern history.

The force ignored eight warnings about PC David Carrick's abusive behaviour, leading Downing Street to warn faith in the police had been "shattered" and the force's new commissioner to say the leadership "should have been more determined to root out such a misogynist".

The shocking revelations of the sadistic attacks admitted by Carrick against 12 women, came as the detectives who brought the 48-year-old to justice made clear they believe there are even more victims and urged them to come forward.

Police and prosecutors said he exploited his status as a Met officer to put victims at ease then, as they tried to leave him, threatened that their claims against a serving officer would be disbelieved.

On Monday, Carrick pleaded guilty to the remaining charges against him at Southwark crown court, bringing a total of 49 charges covering 85 serious offences, with the voice of his victims yet to be heard.

The Guardian has obtained the first account from a woman who described how the firearms officer sent her selfies from work in his uniform – some showing his Met issue gun – and later threatened to murder her saying: "I can kill you without leaving any evidence."

She claimed that he restrained her with his police-issue handcuffs and boasted that he was a powerful man who guarded the prime minister. The woman said he coerced her into staying in the relationship by convincing her he would plant drugs in her car, threatening: "Who are they going to believe?"

The woman spoke to detectives from Hertfordshire constabulary, who investigated Carrick, but chose not to make a formal complaint because she did not want to relive her agony during a potentially brutal court hearing.

The Met has admitted errors in failing to spot Carrick's escalating danger during his 20 years of service. Britain's biggest police force was told about nine incidents from 2000 to 2021, including eight alleged attacks or clashes Carrick had with women before the arrest that led to his convictions.

No action was taken, with the women either refusing to formally complain or withdrawing their cooperation from the police investigation.

Alarm bells also failed to ring within the force, which promoted Carrick in 2009 from patrolling the streets to being a member of an elite armed unit, the parliamentary and diplomatic protection command, guarding embassies, Downing Street and the Houses of Parliament.

One incident took place before Carrick joined the Met in 2001. The Guardian understands another, in 2002, included an allegation that he had bitten a woman's shoulder after their relationship ended, and came during his probation period, when it would have been easier to dismiss him.

A court earlier heard that before one alleged attack on a woman in September 2020, Carrick, from Stevenage in Hertfordshire, flashed his police warrant card to make the woman feel safe, bragged about guarding the prime minister, and said his work nickname was "bastard Dave".

Police and prosecutors say Carrick sought to dominate and humiliate his victims, forcing some into a tiny understair cupboard where they were forced to stay naked for hours.

He verbally abused the women, calling one his "slave", and used sexual violence to degrade them, including urinating on some of them.

The Met said it should have spotted the threat Carrick posed to women during his time in the force from 2001, when he first passed the force's vetting procedure. In 2009, he was given a gun, and despite the complaints against him he passed vetting again in 2017.

Sir Mark Rowley, Met commissioner since September, vowed to reform the force "at speed". He said: "We have failed. And I'm sorry. He should not have been a police officer.

"We failed as investigators where we should have been more intrusive and joined the dots on this repeated misogyny over a couple of decades. And as leaders, our mindset should have been more determined to root out such a misogynist.

"I apologise to all of David Carrick's victims. And I also want to say sorry to all of the women across London who feel we've let them down."

Barbara Gray, an assistant commissioner at the Met, said the force was reviewing every past claim of domestic abuse or sexual offence against about 1,000 of the Met's 45,000 officers and staff.

DCI Iain Moor, who led the investigation into Carrick by Hertfordshire constabulary, said: "He invested time in developing relationships with women to sustain his appetite for degradation and control. The coercive nature of his offending undermined his victims in the most destructive way.

"Many of the rape offences came with violence against the victim, who would have been physically injured."

Carrick pleaded not guilty to the rape of the woman whose complaint led to his arrest in October 2021, and to a charge of illegally having an imitation firearm.

He will be sentenced on 6-7 February and faces a long prison sentence.

Some of the offences took place in London, but most were in Hertfordshire, where Carrick now lives, with the local force's investigation leading to Carrick's convictions.

Carrick met some women via dating apps, others were acquaintances or women he met in real life. One woman was attacked during a three-year relationship with the Met officer.

Moor said Carrick's abuse of his position cast a "big cloud" over policing. "These victims are now survivors and have showed incredible bravery and courage by coming forward," he added.

The investigation into Carrick started when a woman alleged he had raped her after a date on Tinder. Peter Burt of the CPS said: "She was the trigger."

She came forward on 1 October 2021, after she saw extensive publicity following a Met officer's conviction for the rape and murder of Sarah Everard. She said she was anally raped by Carrick a year earlier.

In July 2021 another woman alleged Carrick raped her. He was arrested but the Met declined to suspend him, instead placing him on restricted duties and taking away the gun.

The woman withdrew cooperation from the police investigation and, weeks later in September 2021, the Met admits restrictions on Carrick were lifted and he was cleared to go back to his sensitive role and get his gun back.

Harriet Wistrich, of the Centre for Women's Justice, said: "All these revelations in the context of the wider picture that has been revealed of misogyny within the Met is seriously undermining of women's confidence in the police …

"[Carrick's] crimes, along with a significant number of other Met police officers, reveals the a deeply rotten misogynistic culture that has been allowed to exist within the Met."

The Met said it would start the process of formally sacking Carrick on Tuesday. He served in the army before joining Britain's largest police force.

Now the reporting restrictions have been lifted, the Guardian can reveal that part of the reason Cressida Dick was ousted as Met commissioner in February 2022 by the London mayor, Sadiq Khan, was the Carrick scandal, as details emerged of his offending and possible Met errors.
[Governments routinely fail to investigate inconvenient crimes to protect high up fraudsters in the civil service, making the police an accessory after the fact - where it is a crime to fail to investigate a crime. The last thing you want to do is report a crime to a police officer in London or Sussex. You could become a victim of more crimes against the person. Police and Council officers have virtual immunity from prosecution. Perpetuating cases of injustice - as there is no right of appeal in the UK - a violation of Article 13 of the European Convention of Human Rights and Fundamental Freedoms - Article 13 being deliberately excluded from the Human Rights Act 1998 - specifically to deny an effective remedy to those wronged by the system. Article 8 of the UN's Universal Declaration.]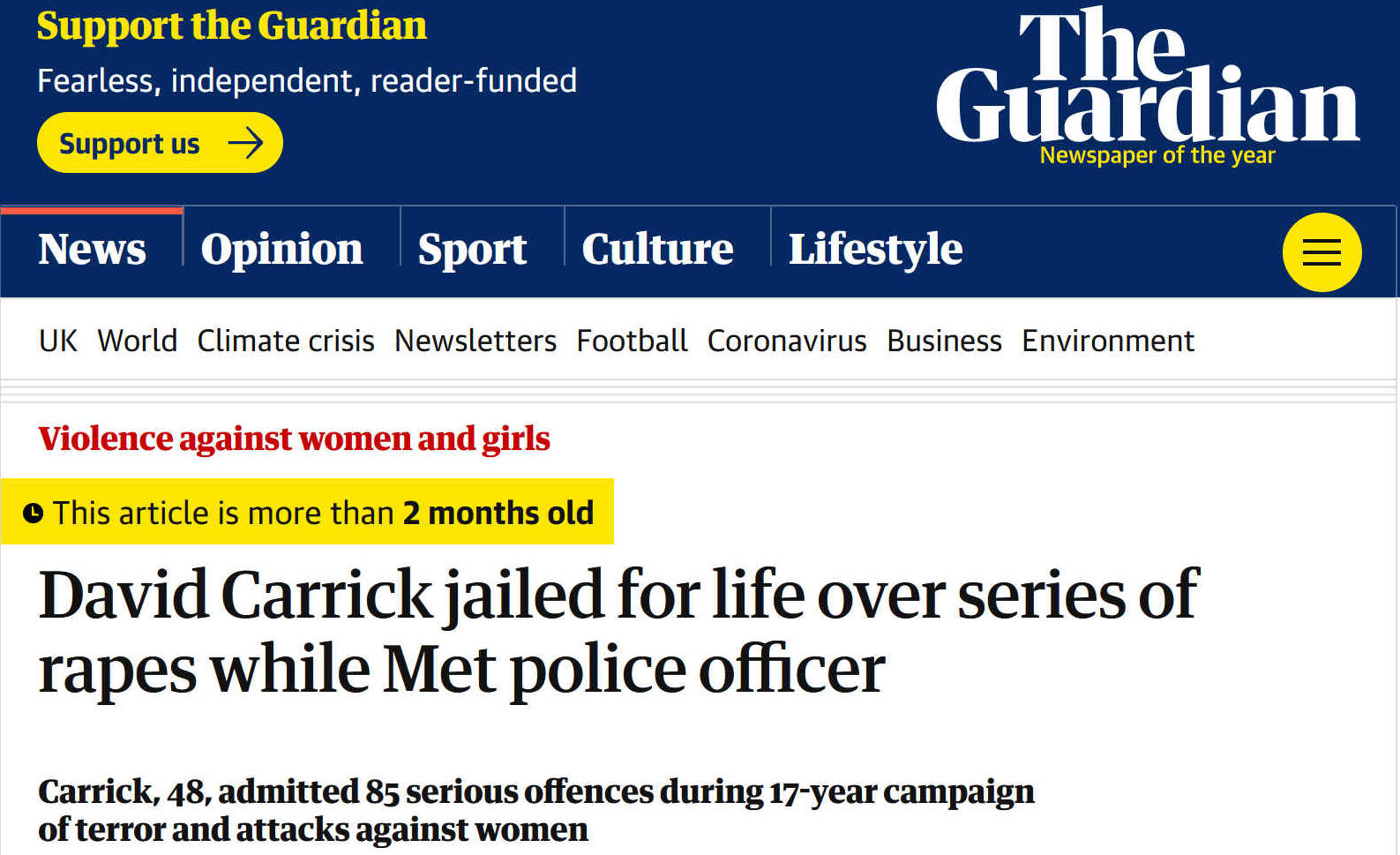 THE GUARDIAN 7 FEBRUARY 2023 - DAVID CARRICK JAILED FOR LIFE OVER SERIES OF RAPES WHILE MET POLICE OFFICER

Carrick, 48, admitted 85 serious offences during 17-year campaign of terror and attacks against women.

David Carrick, who believed his position as a Metropolitan police officer made him "untouchable" as he raped, assaulted and inflicted "irretrievable destruction" on at least 12 women before intimidating them into silence, has been jailed for life.

The firearms officer, entrusted to guard parliament and diplomatic sites after the Met missed clue after clue about the danger he posed, will spend at least 30 more years in prison for his 17-year spree of crimes.

Carrick, 48, stood in the dock at Southwark crown court, watched in person and via a video link by his victims, to be told by the judge that he was the latest high-profile example of a "malign" abuse of power by a man against women.

Carrick, who had pleaded guilty to 85 serious offences including 48 rapes, was finally brought to justice after a woman decided in October 2021 to report the attack on her, almost immediately after another Met officer was jailed for murdering Sarah Everard.

The judge, Mrs Justice Cheema-Grubb, who ordered Carrick to appear in person for sentencing, said: "You behaved as if you were untouchable. You were bold and at times relentless, trusting that no victim would overcome her shame and fear to report you. For nearly two decades you were proved right."

A spokesman for the attorney general's office confirmed that it had received multiple complaints about the leniency of the sentencing. He added: "The case will of course be considered for referral to the court of appeal."

Victim after victim had told the court they were too scared to report him. The judge said Carrick had taken "monstrous advantage" of his position as a police officer, which gave him "exceptional powers to coerce and control" and that he had betrayed his oath to protect the public and caused "irretrievable devastation".

Cheema-Grubb said of the women Carrick had attacked: "These women are not weak or ineffectual. They were victims of your criminal mindset. The malign influence of men like you in positions of power stands in the way of a revolution of women's dignity."

Media coverage of the single complaint in October 2021 that resulted in Carrick being arrested led others to come forward and allowed a case so compelling to be built that he eventually pleaded guilty.

Police believe more victims are yet to be discovered and their investigation into Carrick remains active. It is hoped the case signals to women that the risk of the police, prosecution service and courts failing them is outweighed by the justice it can bring.

The judge added: "It is remarkable that with one woman being driven to report an allegation against you, despite your position and power, others felt able to act. Even today, courage calls to courage everywhere and its voice cannot be denied."

Carrick must serve a minimum term of 32 years minus the time he has spent in custody before he can be considered for release.

As the judge began her remarks, Carrick, in a dark grey jacket and tie, looked at her, but his gaze dropped to the floor as she detailed his crimes, his face expressionless.

Cheema-Grubb said the former Met firearms officer faced a "spectacular downfall" and would endure a "difficult time in custody", which would last until he is 78 years old, at the earliest.

Carrick had pleaded guilty to 85 serious offences, including rapes, sexual assaults, false imprisonment, and coercive and controlling behaviour, which included locking the women in small cupboards and whistling at them as if they were a dog.

In all, he carried out attacks on 12 women between 2003 and 2020, all of which took place while he was a Met police officer. Some he met online via dating apps; others he attacked after at first appearing charming and luring them into relationships.

He joined the Met in 2001 and was selected in 2009 to carry a gun and guard parliamentary and diplomatic sites.

The Met has said he should never have been a police officer, with a series of women making complaints against him, yet the force failed to spot the danger he posed.

The government has ordered an inquiry into the Carrick scandal, and Cheema-Grubb said his position as a police officer was an aggravating factor: "This violent sexual offending against women commenced almost immediately after you became a police constable, and you referred to your job when offending."

The judge said in one attack – the first he was sentenced for – he told a woman she was safe with him because he was a police officer, before raping her while holding a firearm to her head. In other attacks, he used police-issue handcuffs to restrain the women, and sent a photo of his police gun to another, warning her: "Remember I'm the boss."

Cheeema-Grubb said Carrick used "police-issue items, to assert authority and force compliance", as well as telling the women that any complaint against him – a serving Met officer – would be disbelieved, even telling one: "I am the law."

The sentencing hearing heard powerful testimony from survivors on Monday, with one describing him as evil and others saying he destroyed their lives or left them feeling suicidal.

Cheema-Grubb said: "There is powerful and compelling evidence of irretrievable devastation in the lives of those you abused.

"Denial, anger, hatred, betrayal, shame, self-blame and fear of being labelled a victim, are common emotions. You have shaped their lives, deprived them of the ability to trust men and form relationships. Some have damaged mental health and suffer loneliness. They continue to question their own judgment. They don't trust the police."

She said Carrick had attempted suicide after his arrest out of self-pity rather than remorse. During his attacks, the sounds of the women suffering excited him, she said, and that he turned into a "monster" after drinking alcohol.

Carrick's case has rocked already frayed trust and confidence in the Met, as one in an already long list of policing scandals.

After the sentencing, Ruth Davison, the chief executive of Refuge, which supports survivors of domestic violence, called for radical change and said: "This case further exposes the rank misogyny within the police force. Survivors who themselves were police officers spoke of the male-dominated culture in the police that protected this perpetrator.

"They spoke of their fear of not being believed, or mocked, if they reported the atrocious crimes that had been committed against them."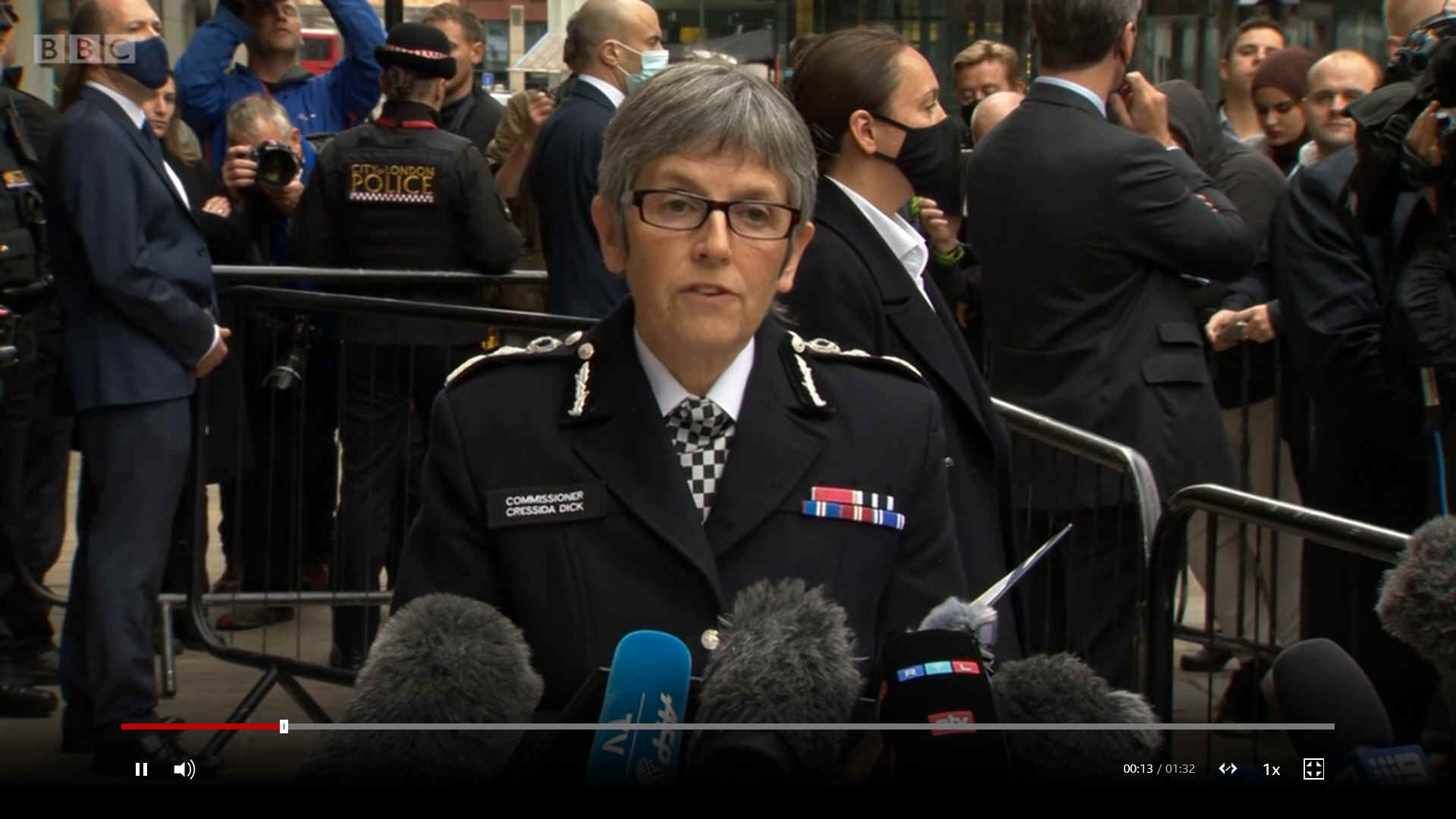 The home secretary, Suella Braverman, said "the crimes of David Carrick are a scar on our police", adding: "There is no place in our police for such heinous and predatory behaviour." She did not mention any specific policing reforms and said she awaited the outcome of the inquiry.

Yvette Cooper, the shadow home secretary, said: "A major overhaul of police standards is desperately needed, but there has been a serious failure by Conservative ministers to take action. We owe it to the victims in this hideous case to take the strongest action on police standards."

The Met commissioner, Sir Mark Rowley, described Carrick as "evil" and acknowledged the damage to the force – Britain's largest – which he vowed to reform. "He exploited his position as a police officer in the most disgusting way … We weren't rigorous enough in our approach and as a result we missed opportunities to identify the warning signs over decades," he said.

"I and tens of thousands of officers and staff in the Met are horrified by this man's crimes and recognise this will shake Londoners' trust too. We have let down women across London but we are more determined than ever to put it right."

The mayor of London, Sadiq Khan, gave his backing to reforms under way under Rowley: "I want to reassure the public and all the brave officers and staff who want to speak out that under the new commissioner any allegation of misconduct will be taken seriously and handled sensitively."

Peter Burt, of the Crown Prosecution Service, accepted that the criminal justice system had failed survivors of sexual violence, but that the jailing of Carrick showed the need for people to come forward.

He said: "We know there are victims of other rape and serious sexual offences out there and that many of you may be worried about being believed or whether you'll ever see justice done. We hope seeing Carrick, a prolific abuser, manipulator and rapist, behind bars will encourage other women to come forward, knowing we will do all we can to hold the person responsible to account for their crime."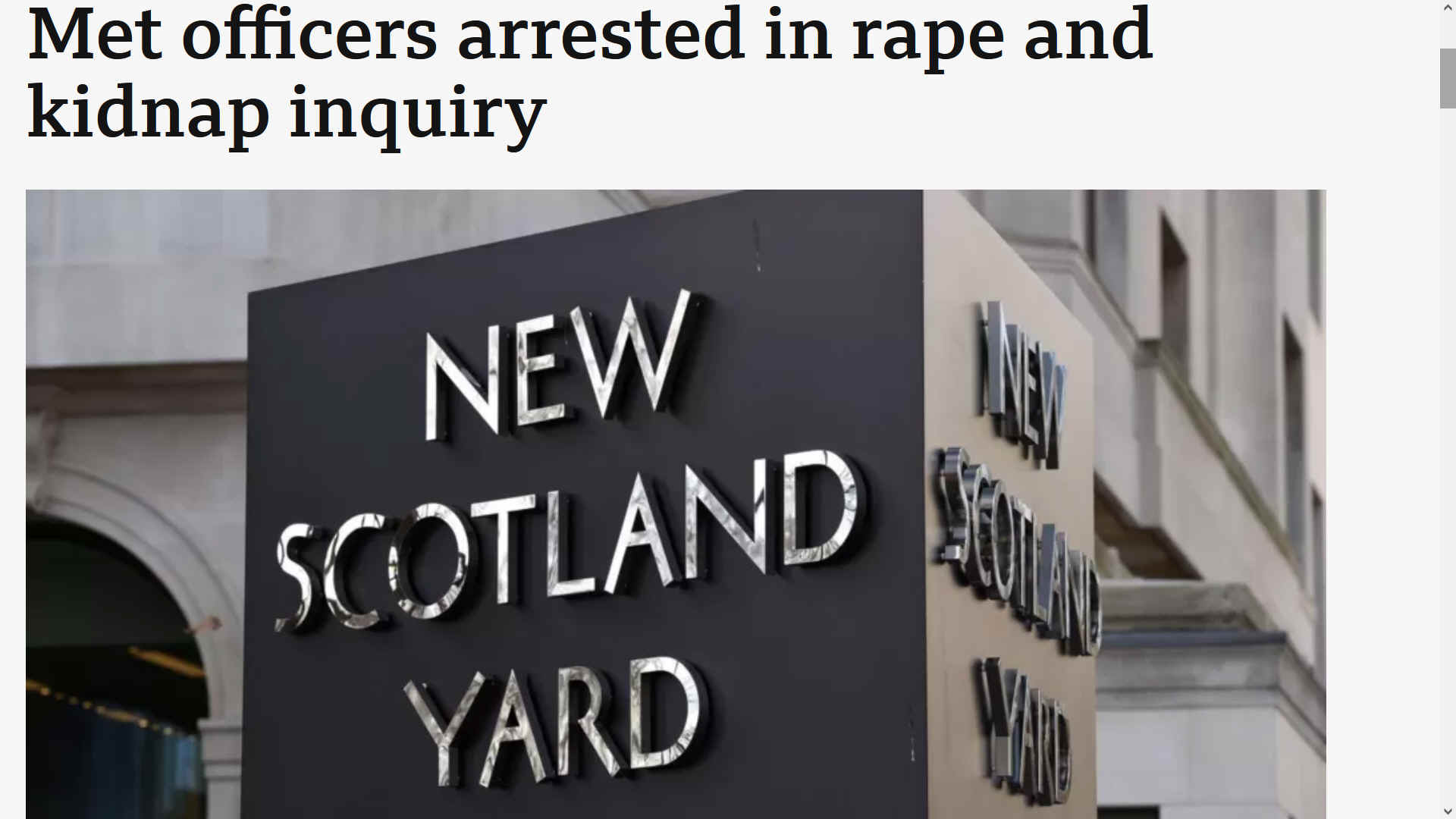 BBC NEWS 3 MAY 2023 - MET OFFICERS ARRESTED IN RAPE AND KIDNAP INQUIRY

Two serving Metropolitan Police officers have been arrested following an alleged kidnap and rape.

The Met said it follows an incident that "began in Kingston" in south-west London on Sunday while the officers were off-duty.

A third man, who is not a police officer, was arrested on suspicion of kidnap.

The force said both officers have been suspended from duty and the case has been referred to the police watchdog and the Met's directorate of professional standards.

In a statement, the Met said a woman is being supported by specially trained officers.

A spokesperson said one officer was arrested on Sunday on suspicion of kidnap, rape and common assault, and after consulting with the Crown Prosecution Service (CPS), was bailed to return on a date in June in relation to the rape.

He was released with no further action in relation to the other alleged offences.

The second officer was arrested on suspicion of kidnap and possession of class A drugs, but was released with no further action following consultation with the CPS.

The third man was also released with no further action.

It comes as Met Commissioner Sir Mark Rowley said the force has redeployed dozens of officers from tackling serious crime and terrorism to investigate Met officers suspected of wrongdoing.

The Met began rechecking staff accused of domestic abuse and sexual violence in the 10 years to April 2022 following the conviction of David Carrick, a Met officer who carried out a series of rapes during his career, and the jailing of Wayne Couzens for the rape and murder of Sarah Everard.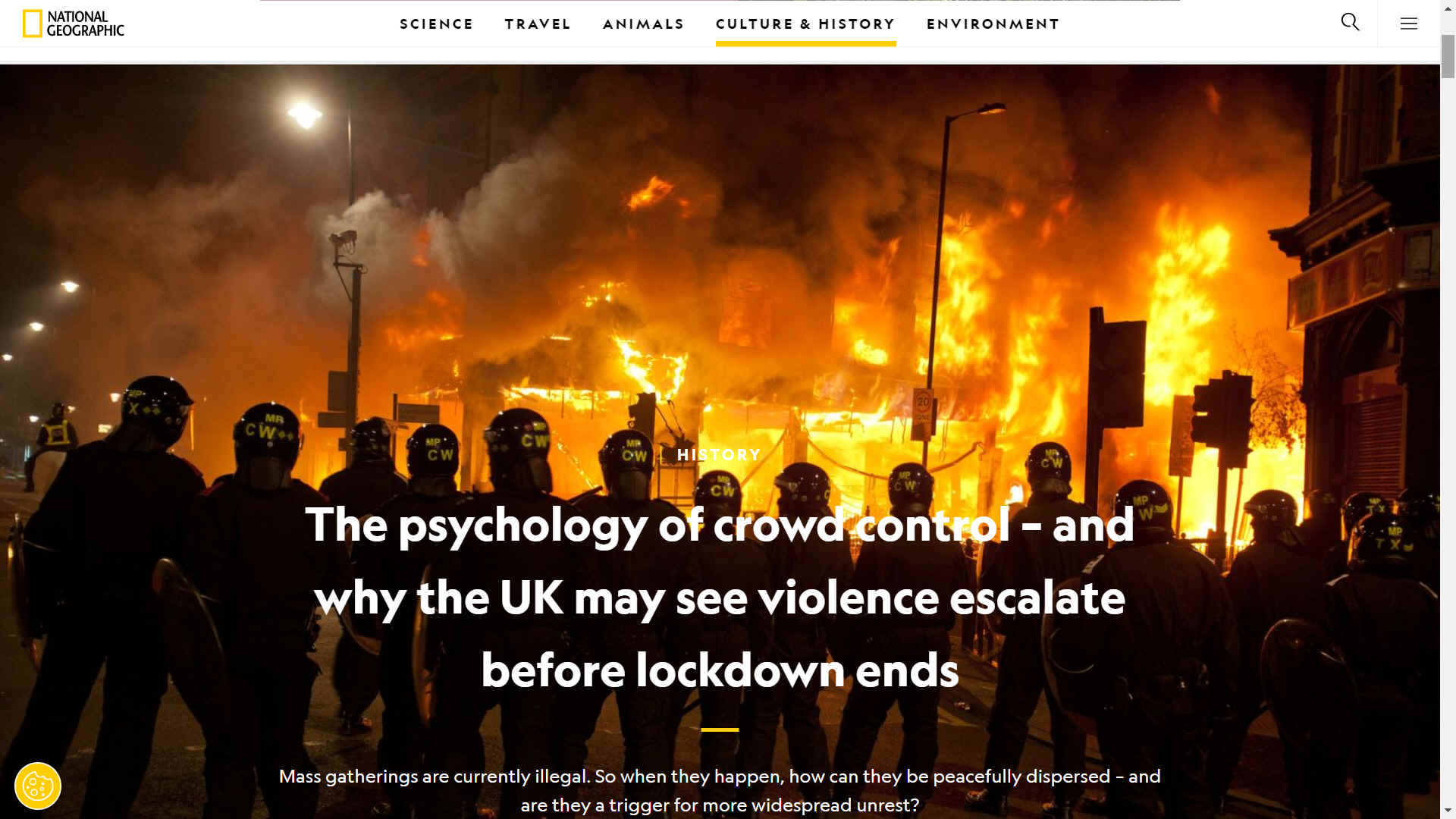 https://www.bbc.co.uk/news/articles/cyd8m51zpj1o
https://www.bbc.co.uk/news/uk-64642620
https://www.theguardian.com/uk-news/live/2023/may/06/coronation-king-charles-westminster-abbey-queen-camilla-william-harry-live-updates
https://rapecrisis.org.uk/news/met-police-officer-david-carrick-admits-to-being-serial-rapist/
https://www.theguardian.com/uk-news/2023/jan/16/metropolitan-police-officer-david-carrick-revealed-as-serial-rapist

ATLANTIS: THE LOST CITY OF
CHAT GPT BY OPEN AI - ARTIFICIALLY INTELLIGENT SCRIPT WRITING MAN Vs MACHINES
CLAYMORE - NORTH SEA OIL RIG, OCCIDENTAL, ELF AQUITAINE, TALISMAN & REPSOL
CORONATION DAY PROTEST ARRESTS, METROPOLITAN POLICE, 6TH MAY 2023, SKY NEWS
DOUNREAY - NUCLEAR POWER & MOD TESTING STATION, RADIOACTIVE LEAKS
GOD SAVE US ALL - FROM THE KING BRITAIN DESERVES, THE GUARDIAN 3RD MY 2023
JUST STOP OIL - LONDON CLIMATE PROTESTORS 2022-2023, SUELLA BRAVERMAN DENIAL OF RIGHTS
LIAM HOLDEN, WATERBOARDING, BRITISH ARMY GUILTY OF TORTURE, GUARDIAN MARCH 2023
NATIONAL GEOGRAPHIC - 27 MAY 2021 - CROWD CONTROL, PRITI PATEL'S POLICE STATE
NAZI GERMANY - SPECIAL NAVAL OPERATIONS
NAZI GOLD - LOST TREASURES, ADOLF HITLER'S $20 BILLION, BUNKERS, TRAINS, SHIPS, THE SUN 2021
NHS COVID CONTRACTS - MEDPRO FAST TRACK VIP PAYMENTS MICHELLE MONE OFFSHORE £29M
NWC - NATIONAL WHISTLEBLOWER CENTER, FOSSIL FUEL FRAUD
OPERATION ATLANTIS - J5 TAX EVASION PROBE, EURO PACIFIC INT. BANKING, PUERTO RICO
PC DAVID CARRICK - SERIAL RAPIST, METROPOLITAN POLICE - 16 JANUARY 2023, THE GUARDIAN
PIPER ALPHA - OCCIDENTAL PETROLEUM CALEDONIA RIG EXPLODED 6 JULY 1988 KILLING 165 MEN
POLAR JOURNAL - RUSSIAN NUCLEAR SUBMARINE GRAVEYARD, KARA & NORWEGIAN SEAS
SIZEWELL - A B & C NUCLEAR POWER STATIONS, SUFFOLK, ENGLAND
THE GUARDIAN - LOST CITY OF ATLANTIS RISES AGAIN TO FUEL A DANGEROUS MYTH 27-11-22
THE GUARDIAN - HMS VANGUARD NUCLEAR REACTOR CORE GLUED BOLT HEADS FEB 2023
TITANIC - OCEANGATE EXPLORATIONS MISSING BILLIONAIRE SUBMERSIBLE 21-22 JUNE 2023
WETHERSPOONS - ASTUTE HUNTER-KILLER TRAINING MANUAL FOUND IN PUB TOILET APRIL 2023
WGA STRIKES - WRITERS GUILD OF AMERICA: POOR PAY & USING AI TO REPLACE PEOPLE MAY 23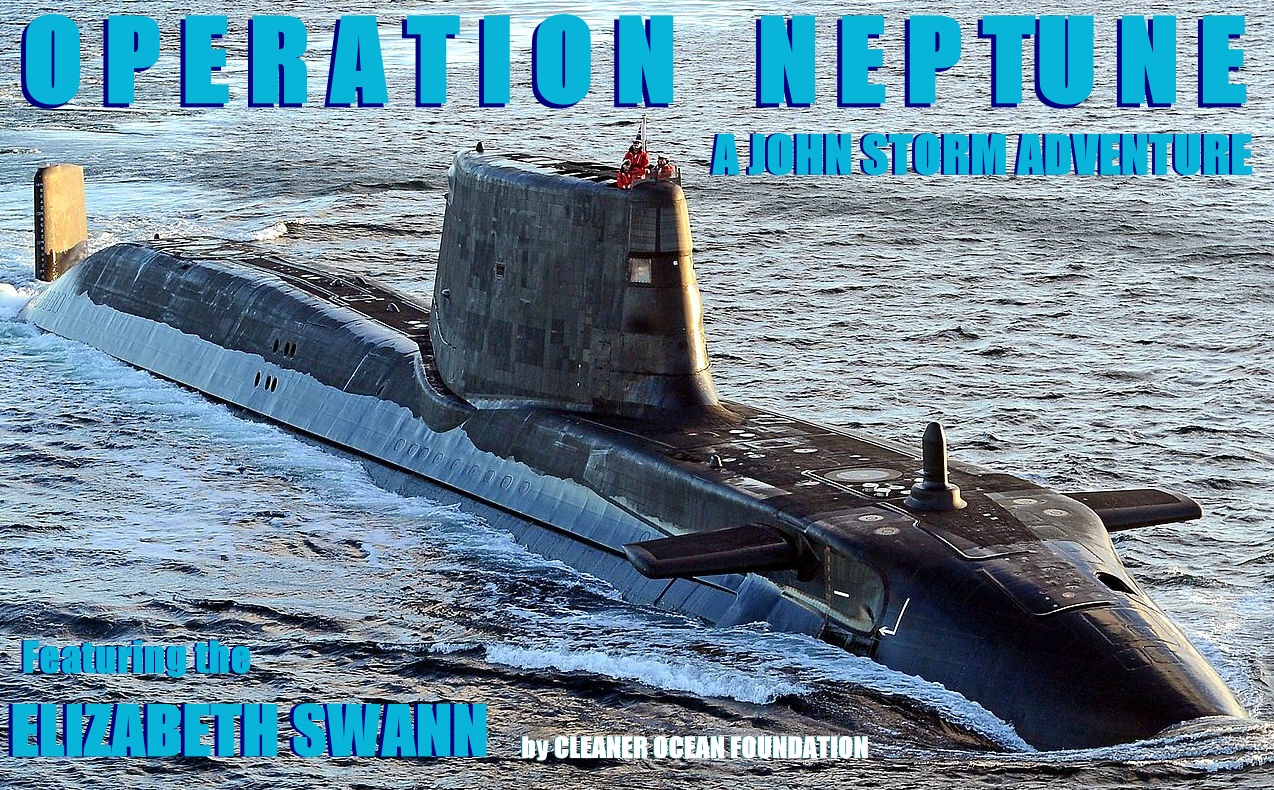 CHARACTERS | GOLD | MEDIA | MOVIES | SCREENPLAY | SUBMARINES
This website is Copyright © Cleaner Oceans Foundation Ltd., April 2023. Asserted as per the Berne Convention.
In this fictional story, the characters and events are the product of the author's imagination.