DIRTY HARRY - MET CHIEF CONSTABLE
ATLANTIS STORY MAP & OPERATION HOMEPAGE

THE TARGET - Terramentals aim to steal a British Royal Navy submarine, to destroy oil wells in the North Sea, by way of drawing attention to the manifold oil discharges, and their unlawful detention, as legitimate conservation protestors.
Chief Constable Harry Holland is the Metropolitan police Chief Constable operating out of Scotland Yard. He is known as 'Dirty Harry' after the Clint Eastwood films. He is a Masonic Grand Masterwith powerful connections, all the way up through the Crown Prosecution Service (CPS), through the Courts (Masonic Judges) to the very top. He controls every aspect of high level fraud in the United Kingdom. Tasked with keeping it that way.
Inspector Shaun Flanagan is Dirty Harry's right hand flunky, he and Sergeant Gordon Scotford are tasked with setting up the North Sea oil protestors, and burying them. The Chief Constable knows that Scotford laid into Zera Masken, sexually assaulting her, because of course, their free lives had effectively been terminated when The Devil Johnson and Sir Rodney at MI6 had given them carte blanche in destroying their futures. Hence, Scotford used this knowledge to add to his list of abused women. Dirty Harry is crooked up to his neck, including if necessary - but as a last resort; murder.
The cover up of the Royal Navy's procurement fraud, and the pollution of the North Sea, collide when the Terramentals are released from prison, since they can no longer hold them, but will try to find a way to either re-convict with another frame up, for spitting on the grass - or whatever, or otherwise keep them on a short leash.
The Chief Constable suspects that when Zera and Zinzi are released, Gordon Scotford may decide to hunt them down, with the intention of silencing them permanently. At that point he has to decide to interfere, fearful in case Scotford decides to turn on them as a whistleblower. In which case the matter goes to MI6 as a black op.
Harry is divorced, working his way through the female ranks and secretaries, who are fool enough to be seduced, as part of a career move. His roving eye is the reason his wife, an analyst in a different anti-terrorism section, left him.

Harold, is tall, slightly overweight man who dresses impeccably, when not in uniform. He is balding, with dark hair and grey tinges. He has a rather large nose, Sherlock Holmes style. He also suffers from hemorrhoids, from a rich diet, a condition that makes him somewhat irritable at times, and occasionally incapacitates him - much to his annoyance.

Harry's passion is a game of golf at the weekend, usually Sunday, when the crime rate has dropped. This helps him to reduce his cholesterol level - even though his game is average. He can always kid himself, and expand on the one or two lucky shots on the green, at the 19th hole. Yes, Harold likes a whisky and soda or two. The Famous Grouse, or sometimes, a good single malt - when the going gets tough.

He drives a cherished Jaguar E-Type, often too fast for built up London, even when sounding his siren. He has spent years and buckets of taxpayers cash on restoring this vehicle.
OPERATION NEPTUNE CAST:
| | |
| --- | --- |
| CHARACTERS: PROTAGONISTS | DESCRIPTION |
| | |
| | First Sealord, British Royal Navy |
| | The world's most comprehensive interactive DNA database |
| | Submariner Commander HMS Neptune (Captain) |
| | |
| | |
| | Researcher & camerwoman, good friend of John Storm |
| | The world's smallest, fastest & most powerful supercomputer |
| | Electronics & computer wizard, crew member Elizabeth Swann |
| | Blue Shield, Newcastle University, England |
| | Honest British Prime Minister, Rt Hon MP Member Parliament |
| | Fastest solar/hydrogen ship & floating laboratory |
| | Anti piracy weapon & ship security system |
| | Legal and intelligence trust manager, Swindles & Gentry |
| | The onboard AI supercomputer ship manager |
| | Senior BBC news world service anchor |
| | Ocean adventurer, anthropologist, & marine archaeologist |
| | The ships cat and lucky mascot |
| | Beleaguered Monarch wrestling with UK corruption |
| | Elizabeth Swann's onboard survey ROV |
| | John Storm's uncle, designer of Elizabeth Swann |
| | UNESCO sunken realms division, conservationist |
| | Lieutenant, a brave submariner HMS Neptune |
| | BBC & Sky freelance investigative reporter Caribbean regions |
| | Stricken Astute nuclear sub with Spearfish torpedoes |
| | Freelance reporter, friend of Charley Temple |
| | A marine biologist, admirer of John's work |
| | Sky News Editor, always looking for an exclusive |
| | Cleopatra's call sign to protect her royal identity |
| | Midshipman, HMS Neptune (Kings College, Uni, London) |
| | Scottish director BAE Systems, MOD contractor, whistleblower |
| | |
| | |
| --- | --- |
| CHARACTERS: ANTAGONISTS | DESCRIPTION |
| | |
| | Crafty compact acrobatic subaqua diver Terramental - 'Sly Fox' |
| | Navigator handy Terramental, biologist, video evidence |
| | Chief Executive Babcock, MOD subcontractor |
| | Chief Constable - Scotland Yard (Metropolitan Police) |
| | Dirty Harry's sidekick, (DI) fraud squad cover ups |
| | Cuban freedom fighter & Predator submersible designer |
| | Pilot of mini sub, ex air force, SAS hard man Terramental |
| | Corrupt UK Minister for Defence, oil investor |
| | Leader Terramentalists (Oxford grad. 35 tall dark Arabian) |
| Predator HK | A high speed hunter-killer submersible |
| | Corrupt Met cop who sexually assaulted & beat Zera Masken |
| | |
| | A group of protestors driven to extreme activism |
| | Stunningly attractive climate obsessed Terramental |
| | Saudi demure Terramental scientist (Lady Penelope) |
| | |
In the John Storm series of ocean awareness adventures, extreme activists use their Predator HK to steal an Astute class submarine, belonging to the British Royal Navy. The anti global warming terrorists plan to steal US and Soviet submarines, as part of their agenda to prove the futility of all out thermonuclear annihilation. Using their own illegal, weapons against the perpetrators of what they see as crimes against humanity.
In this fictional John Storm adventure, the Astute submarine commandeered, develops radiation leaks, making the vessel dangerous to life in the ocean, and eventually, those submariners operating the vessel, adding to the list of complaints of the Terramentalists.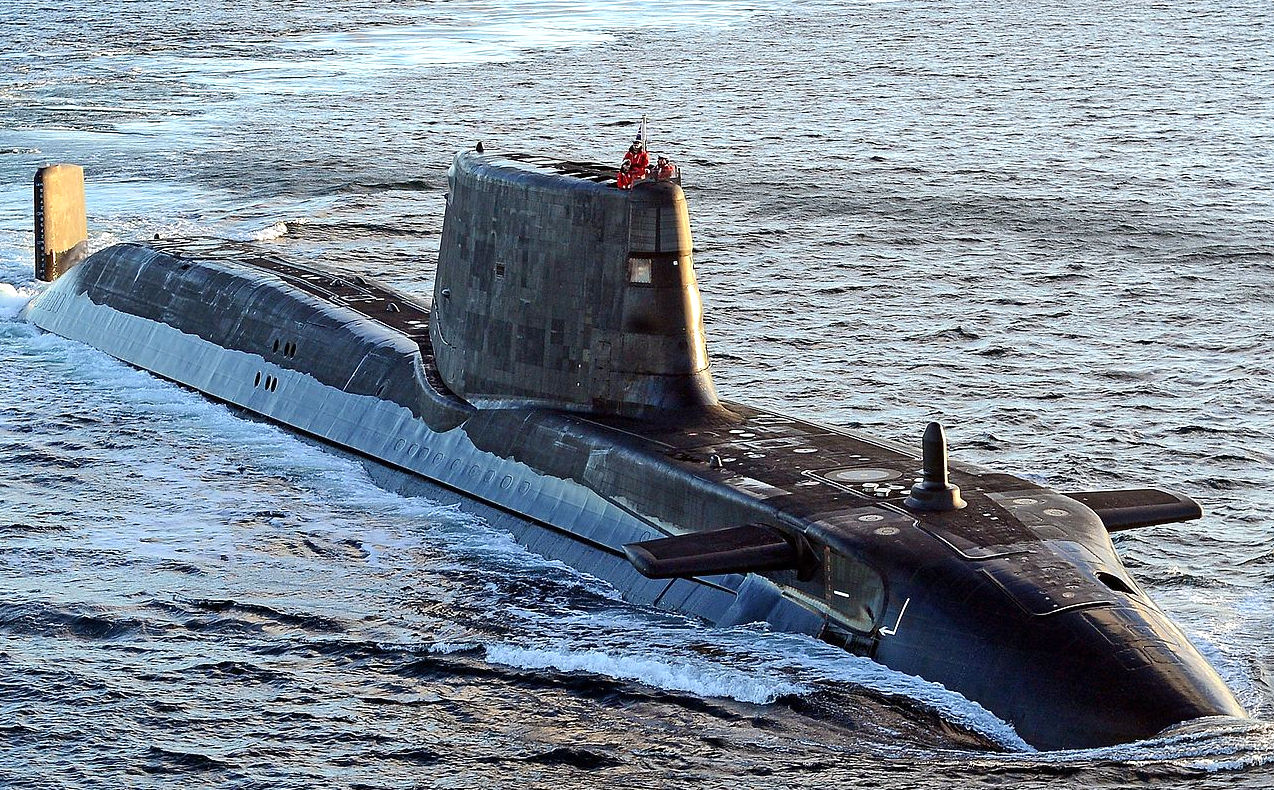 CHARACTERS | GOLD | MEDIA | MOVIES | SCREENPLAY | SUBMARINES
This website is Copyright © Cleaner Oceans Foundation Ltd., April 2023. Asserted as per the Berne Convention.
In this fictional story, the characters and events are the product of the author's imagination.