EDWARD THOMAS - PRIME MINISTER
ATLANTIS STORY MAP & OPERATION HOMEPAGE

THE TARGET - Terramentals aim to steal a British Royal Navy submarine, to destroy oil wells in the North Sea, by way of drawing attention to the manifold oil discharges, and their unlawful detention, as legitimate conservation protestors.
Edward John Thomas (Honest Johnson) is the British Prime Minister in this original story - he is a fictional character. He was (fictionally) appointed by King Charles III with the aim of tackling the escalating National Debt (£2.7 trillion @ 2023) and cost of living and energy crises, that crashed the NHS and other public services, affecting public transport with potholes and ruts in highways across the land. Six years earlier, 2018, the national debt stood at £1.786 trillion, or 85.2% of GDP, a £1 trillion rise in six years of gross incompetence.
In addition, where councils are having to fend off years of institutionalised discrimination and imbalance their elitist house buildings caused, that is now coming back to haunt them from two-tier renting society they created, due to the deliberate failure to supply affordable homes.
The economy, as usual, was in a dreadful state, no matter how they tried, the Prime Ministers they appointed before 'Honest John' just kept on borrowing, getting the very much divided, United Kingdom, into hotter water, with little chance of repayment.
It was clear to the the PM that corruption in Parliament, Police, in the Military, NHS, and in Councils all across the land was out of control. Unlike the King, he is more than willing to admit to that, in his quest to root out profiteering and install transparent practices, to help prevent MPs and Councillors, in particular, from undermining the system - aiming for more social equality.
PRIME MINISTERS CORNERED - From 1979 to 2023. This represents 40 years of ingrained corruption and negligent administrations. The Prime Minister of the United Kingdom is the leader of His Majesty's Government. They chair Cabinet meetings. It is the highest civil office in the United Kingdom.

The appointment of a prime minister by the monarch is based on advice. However, though the advice is technically informal, the monarch would create a constitutional crisis if they did not comply. Therefore, in practice, what is decided in the House of Commons is the decisive event. The voters elect Members of Parliament (MPs), and the MPs choose the prime minister. The system grew in stages as the Commons grew in power and the monarch's authority. Margaret Thatcher was the inflation queen @ 21.9% At the beginning of her reign, debt was around 50% of GDP, 103% in 2021, under Boris Johnson.
The PM is dead against just the illusion of justice and fair play - in stiff upper lip tradition. He wants to see actual justice and fair play, and restore civil rights to everyone, protestors included.
The Prime Minister gamely takes on board that Scotland Yard would stoop to fabricating evidence to convict innocent protestors. Naturally, he is disappointed to learn that one of his nuclear submarines has been hijacked, reflecting the level of dissent in the UK. Also that the bedrock assumption that his military are solid, is obliterated - as proven by the random act of stealing one Astute class submarine - statistically revealing how vulnerable the UK actually is. He could not have found that out without the actions of the Terramentals, as well he knows.
Then as the unfolding drama reveals, the level procurement fraud and undeclared fossil fuel investments, that are prolonging the transition to renewables - 'Honest Johnson' vows to banish such contrivances from the land. Hopeful that such disinfecting will give the UK a fighting chance to become a clean energy exporter.
OPERATION NEPTUNE CAST:
| | |
| --- | --- |
| CHARACTERS: PROTAGONISTS | DESCRIPTION |
| | |
| | First Sealord, British Royal Navy |
| | United Nations' Secretary General |
| | The world's most comprehensive interactive DNA database |
| | Submariner Commander HMS Neptune (Captain) |
| | |
| | |
| | Researcher & camerwoman, good friend of John Storm |
| | The world's smallest, fastest & most powerful supercomputer |
| | Electronics & computer wizard, crew member Elizabeth Swann |
| | Blue Shield, Newcastle University, England |
| | Honest British Prime Minister, Rt Hon MP Member Parliament |
| | Fastest solar/hydrogen ship & floating laboratory |
| | Anti piracy weapon & ship security system |
| | Legal and intelligence trust manager, Swindles & Gentry |
| | The onboard AI supercomputer ship manager |
| | Senior BBC news world service anchor |
| | Ocean adventurer, marine archaeologist, Commander RN |
| | The ships cat and lucky mascot |
| | Beleaguered Monarch wrestling with UK corruption |
| | Secretary General, International Maritime Organization (IMO) |
| | Elizabeth Swann's onboard survey ROV |
| | John Storm's uncle, designer of Elizabeth Swann |
| | UNESCO sunken realms division, conservationist |
| | Lieutenant, a brave submariner HMS Neptune |
| | BBC & Sky freelance investigative reporter Caribbean regions |
| | Stricken Astute nuclear sub with Spearfish torpedoes |
| | Freelance reporter, friend of Charley Temple |
| | A marine biologist, admirer of John's work |
| | Sky News Editor, always looking for an exclusive |
| | Cleopatra's call sign to protect her royal identity |
| | Midshipman, HMS Neptune (Kings College, Uni, London) |
| | Scottish director BAE Systems, MOD contractor, whistleblower |
| | |
| | |
| --- | --- |
| CHARACTERS: ANTAGONISTS | DESCRIPTION |
| | |
| | Crafty compact acrobatic subaqua diver Terramental - 'Sly Fox' |
| | Navigator handy Terramental, biologist, video evidence |
| | Chief Executive Babcock, MOD subcontractor |
| | Chief Constable - Scotland Yard (Metropolitan Police) |
| | Dirty Harry's sidekick, (DI) fraud squad cover ups |
| | Cuban freedom fighter & Predator submersible designer |
| | Pilot of mini sub, ex air force, SAS hard man Terramental |
| | Corrupt UK Minister for Defence, oil investor |
| | Leader Terramentalists (Oxford grad. 35 tall dark Arabian) |
| Predator HK | A high speed hunter-killer submersible |
| | Corrupt Met cop who sexually assaulted & beat Zera Masken |
| | |
| | A group of protestors driven to extreme activism |
| | Stunningly attractive climate obsessed Terramental |
| | Saudi demure Terramental scientist (Lady Penelope) |
| | |
In the John Storm series of ocean awareness adventures, extreme activists use their Predator HK to steal an Astute class submarine, belonging to the British Royal Navy. The anti global warming terrorists plan to steal US and Soviet submarines, as part of their agenda to prove the futility of all out thermonuclear annihilation. Using their own illegal, weapons against the perpetrators of what they see as crimes against humanity.
In this fictional John Storm adventure, the Astute submarine commandeered, develops radiation leaks, making the vessel dangerous to life in the ocean, and eventually, those submariners operating the vessel, adding to the list of complaints of the Terramentalists.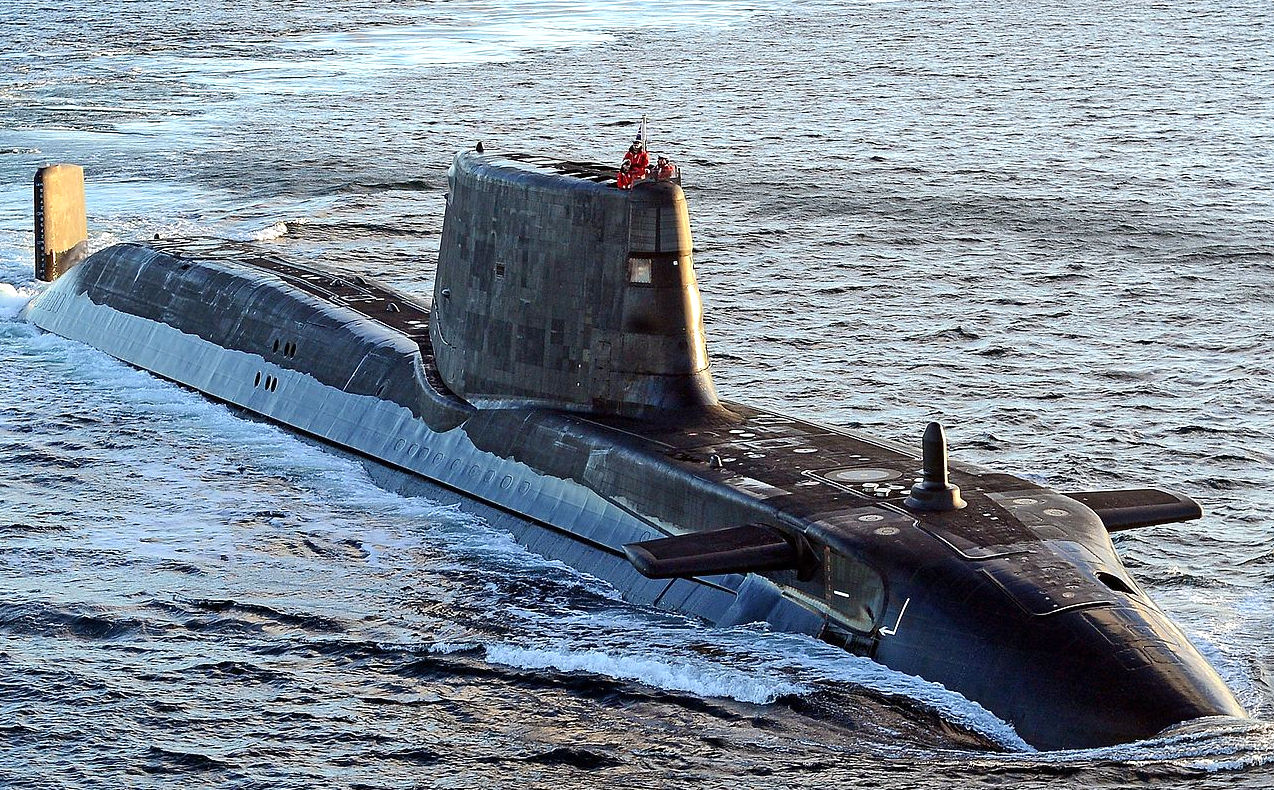 CHARACTERS | GOLD | MEDIA | MOVIES | SCREENPLAY | SUBMARINES
This website is Copyright © Cleaner Oceans Foundation Ltd., May 2023. Asserted as per the Berne Convention.
In this fictional story, the characters and events are the product of the author's imagination.