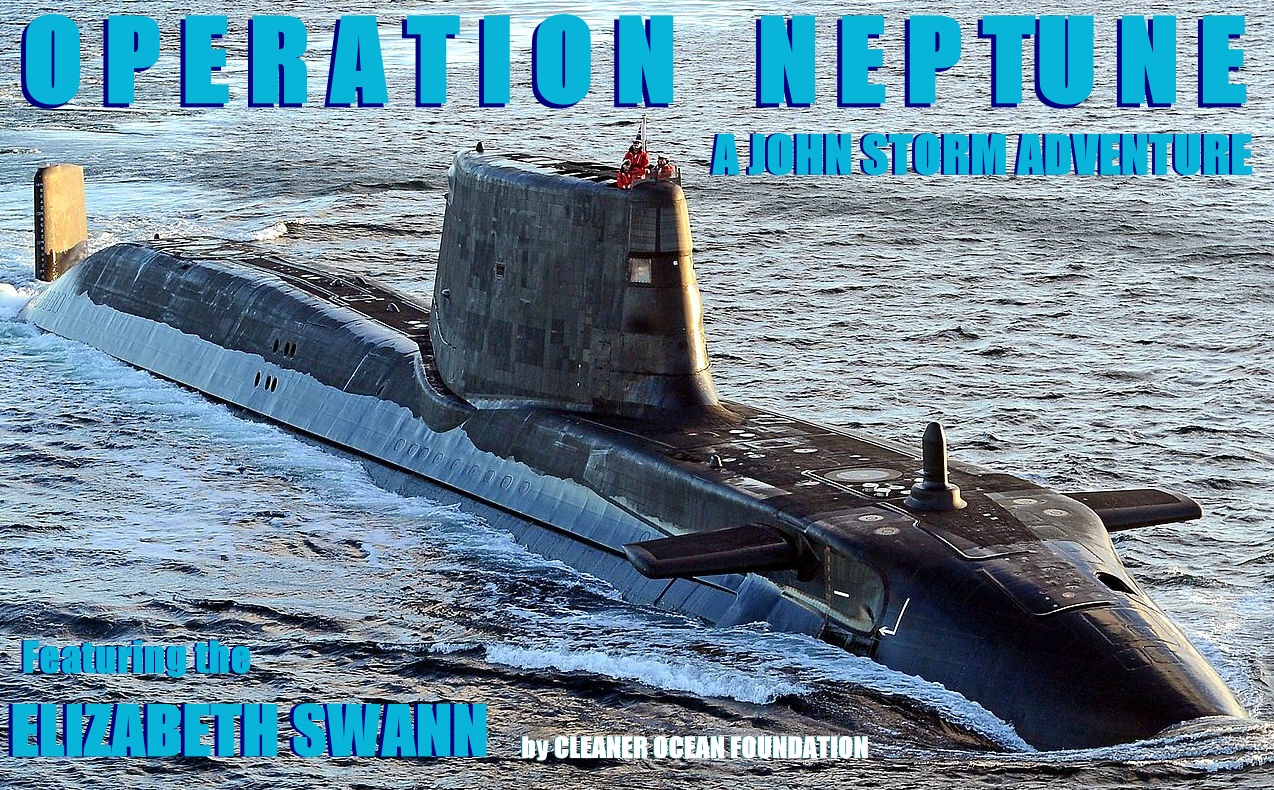 AGENT S-03 - OPERATION ATLANTIS
ATLANTIS STORY MAP & OPERATION HOMEPAGE
Agente S 03: Operazione Atlantide or Operation Atlantis is a 1965 Italian spy-fi film, adventure, directed by Domenico Paolella.

Italian film critic Marco Giusti refers to the film as "craziness" and describes it as a mixture of peplum, science fiction and Eurospy. See below.

The film is a run-of-the-mill slice of Italian spy hokum, with a few minor merry ingredients to distinguish it from the hundred or so others that came out in the mid-'60s as Italy's answer to the James Bond series. As part of the film supposedly takes place in the Sahara desert, once again Spanish locations are used giving the movie a hot, European look to it. This time our sweaty, disposable leading man is played by John Ericson, just one of the dozens of macho American types who travelled to Europe in the '60s and pretended to be James Bond in a series of increasingly tawdry spy thrillers.

AGENT S-03: OPERATION ATLANTIS is no exception, a shoddy, low-budget movie which really doesn't have the strength to pull off a convincing depiction of Atlantis - instead, all we get is a room with strange furniture. The supposed destruction of Atlantis lasts about three seconds of jiggling camera-work and is highly disappointing. Even Alfonso Brescia's tacky peplum epic THE CONQUEROR OF ATLANTIS was more convincing than this one!
As in all of these Euro-spy movies, the central ingredient to the plot is a hero who manages to get himself out of all sorts of scrapes. In this film, they include being strapped inside a chest and flown in the cargo hold of a plane (in fact, this happens to two people; I guess they forgot that there's no pressure in the cargo hold of an aeroplane and oxygen starvation is a likely possibily for anyone travelling inside one!) and strapped to a table in preparation for... radiation torture! Then there are the incompetent police force, who don't have a clue what's going on. Convention necessitates that at least ONE scene should take place in a hotel, and preferably involve a disappearing corpse, and this film has that. Then there are the expected car chases; these are the highlights of the film and are pretty snazzy, including one guy getting the wheel blown on his car - there's a helicopter that shows up too.

A spy film wouldn't be a spy film without cool gadgets and devices, and AGENT S-03: OPERATION ATLANTIS has a ton of these.
There's a cool x-ray machine; a guy who kills people with huge spiked pincers; a radioactive force-field; a ray that turns a man into a block of ice and disintegrates him (Despicable Me); rubber masks to disguise identity; and finally, the film's silliest plot device, a radio receiver in Ericson's ELBOW! Yep, no matter how implausible, you know these Italian films have always gotta top Bond in some crazy way. There are the expected fist-fights and shoot-outs, but these are done with a bare minimum of style and lack excitement. And even the babes aren't as good this time around - bad hairstyles reign supreme and even take the edge off the lovely Berna Rock (real name: Bernardina Sarrocco). Eagle-eyed viewers may spot Erika Blanc (THE DEVIL'S NIGHTMARE), that sexy succubus of Italian cult cinema, hiding somewhere down in the cast.

From the above, you may think this film sounds exciting, but you'd be disappointed. The plot elements listed above don't really apply for much of the movie, which is slow-paced and plodding. John Ericson's deeply wooden performance doesn't help much either. It's not the best spy film, nor the worst. Just averaging out somewhere in the middle. Only Euro-buffs are likely to get a thrill out of this one.
CAST

John Ericson ... George Steele
Bernardina Sarrocco ... Albia (as Berna Rock)
Cristina Gaioni (as Cristina Gajoni)
María Granada ... Fatma
Carlo Hinterman ... Prof. Reich
Beni Deus ... Ben Ullah
José Manuel Martín ... Nailawi
Erika Blanc ... Kate
Dario Michaelis
Dario De Grassi
Luigi Tosi
Mino Doro
Franco Ressel
Tullio Altamura
Tina Conte
Renato Terra
MY MOVIES

L'agente S O 3 scopre che gli atti di sabotaggio alla RIU, un'organizzazione di ricerche sull'uranio, mirano alla conquista di Atlantide, sede di una centrale nucleare.

Chiamato a Roma per indagare su una serie di sabotaggi messi a segno contro i laboratori "RIU" specializzati in ricerche sull'uranio, l'agente George Steel - nome in codice S03 - sventa il piano di un'organizzazione terroristica internazionale che, in Africa, progetta di conquistare la mitica cittŕ di Atlantide, segretamente trasformata dai cinesi in una avveniristica centrale atomica. Sgominata la banda con l'aiuto della bella spia russa Albia, Steel torna a Roma per smascherare l'insospettabile capo dei criminali.

Demenziale fantaspionistico all'italiana firmato da Domenico Paolella, confusamente scritto da quattro sceneggiatori che sembrano seguire ciascuno una storia diversa nell'affannosa ricerca di una trovata originale da incorniciare sullo sfondo dei soliti patinati paesaggi turistici. John Ericson (The Bamboo Saucer) che veste i panni del protagonista č surclassato dal bravo Carlo Hinterman (interprete di teatro e di televisione, molto noto al pubblico italiano) nel ruolo di un enigmatico scienziato tedesco.Altri titoli: Agente 003, operación Atlántida, Operation Atlantis.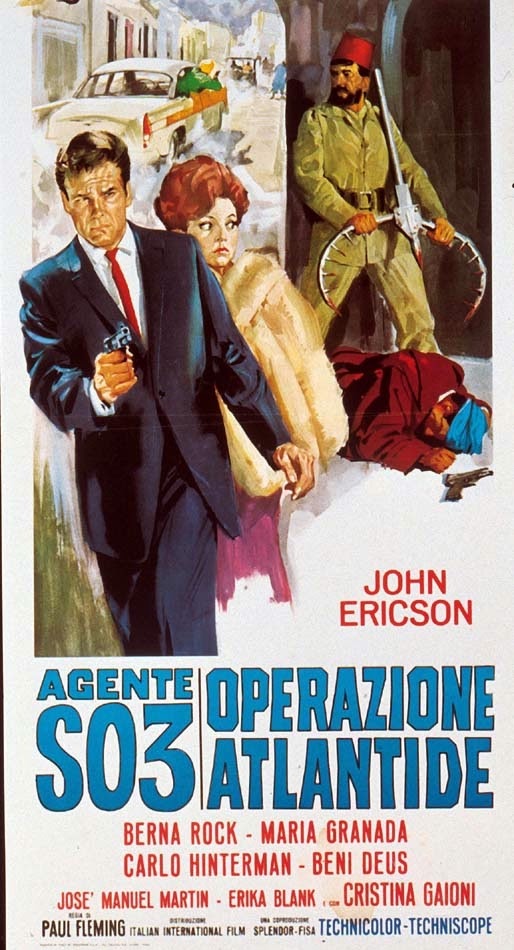 SWORD & SANDAL

Sword-and-sandal, also known as peplum (pepla plural), is a subgenre of largely Italian-made historical, mythological, or biblical epics mostly set in the Greco-Roman antiquity or the Middle Ages. These films attempted to emulate the big-budget Hollywood historical epics of the time, such as Samson and Delilah (1949), Quo Vadis (1951), The Robe (1953), The Ten Commandments (1956), Ben-Hur (1959), Spartacus (1960), and Cleopatra (1963). These films dominated the Italian film industry from 1958 to 1965, eventually being replaced in 1965 by spaghetti Western and Eurospy films.

The term "peplum" (a Latin word referring to the ancient Greek garment peplos), was introduced by French film critics in the 1960s. The terms "peplum" and "sword-and-sandal" were used in a condescending way by film critics. Later, the terms were embraced by fans of the films, similar to the terms "spaghetti Western" or "shoot-'em-ups". In their English versions, peplum films can be immediately differentiated from their Hollywood counterparts by their use of "clumsy and inadequate" English language dubbing. A 100-minute documentary on the history of Italy's peplum genre was produced and directed by Antonio Avati in 1977 entitled Kolossal: i magnifici Maciste (aka Kino Kolossal).
Sword-and-sandal films are a specific class of Italian adventure films that have subjects set in Biblical or classical antiquity, often with plots based more or less loosely on Greco-Roman history or the other contemporary cultures of the time, such as the Egyptians, Assyrians, and Etruscans, as well as medieval times. Not all of the films were fantasy-based by any means. Many of the plots featured actual historical personalities such as Julius Caesar, Cleopatra, and Hannibal, although great liberties were taken with the storylines. Gladiators and slaves rebelling against tyrannical rulers, pirates and swashbucklers were also popular subjects.

As Robert Rushing defines it, peplum, "in its most stereotypical form, [...] depicts muscle-bound heroes (professional bodybuilders, athletes, wrestlers, or brawny actors) in mythological antiquity, fighting fantastic monsters and saving scantily clad beauties. Rather than lavish epics set in the classical world, they are low-budget films that focus on the hero's extraordinary body." Thus, most sword-and-sandal films featured a superhumanly strong man as the protagonist, such as Hercules, Samson, Goliath, Ursus or Italy's own popular folk hero Maciste. In addition, the plots typically involved two women vying for the affection of the bodybuilder hero: the good love interest (a damsel in distress needing rescue), and an evil femme fatale queen who sought to dominate the hero.

Also, the films typically featured an ambitious ruler who would ascend the throne by murdering those who stood in his path, and often it was only the muscular hero who could depose him. Thus the hero's often political goal: "to restore a legitimate sovereign against an evil dictator."

Many of the peplum films involved a clash between two populations, one civilized and the other barbaric, which typically included a scene of a village or city being burned to the ground by invaders. For their musical content, most films contained a colorful dancing girls sequence, meant to underline pagan decadence.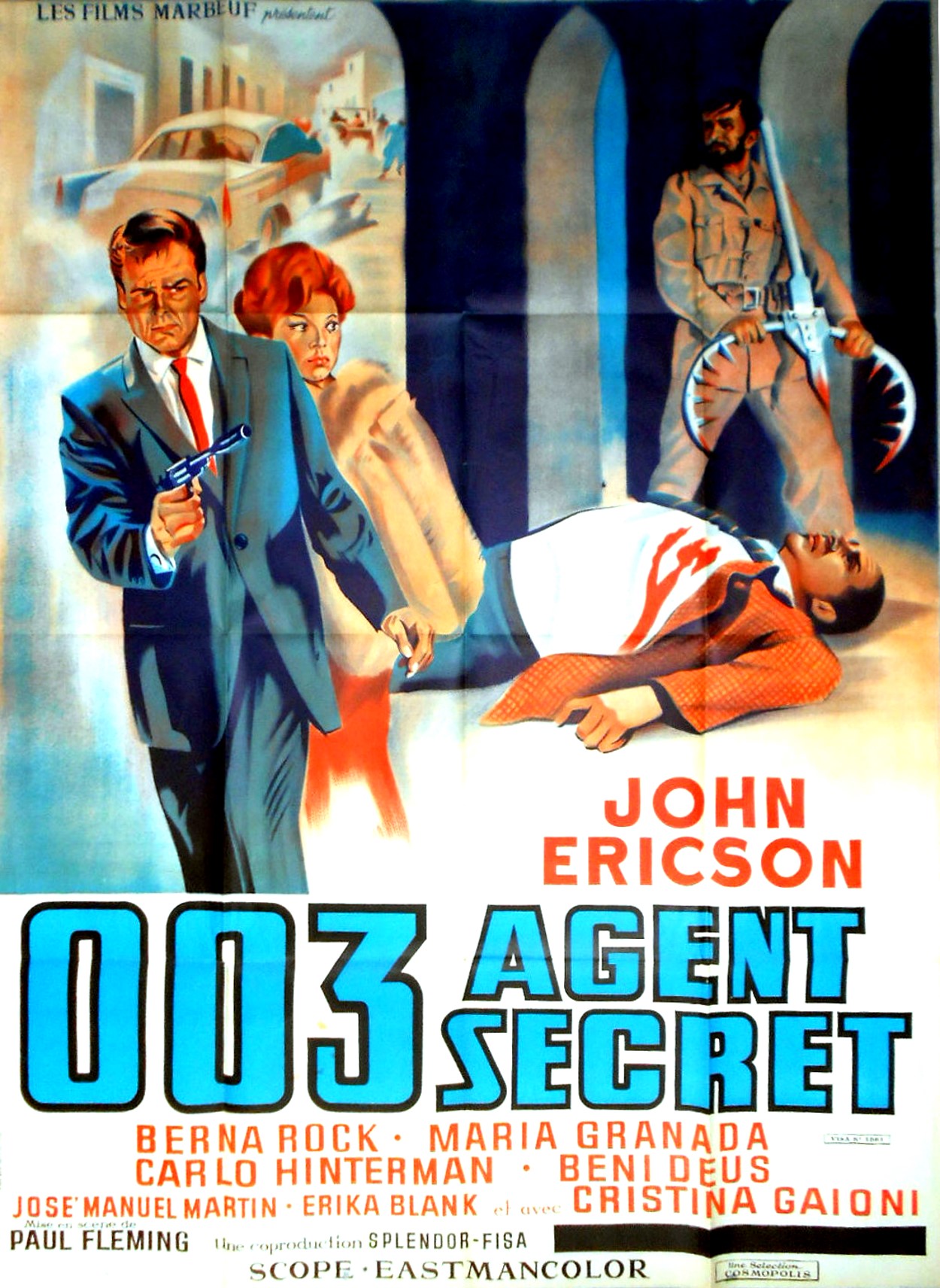 EUROSPY
Eurospy film, or Spaghetti spy film (when referring to Italian-produced films in the genre), is a genre of spy films produced in Europe, especially in Italy, France, and Spain, that either sincerely imitated or else parodied the British James Bond spy series feature films. The first wave of Eurospy films were released in 1964, two years after the first James Bond film, Dr. No, and in the same year as the premiere of what many consider to be the apotheosis of the Bond series, Goldfinger. For the most part, the Eurospy craze lasted until around 1967 or 1968. In Italy, where most of these films were produced, this trend replaced the declining sword and sandal genre.

Christopher Frayling, who estimated the number of Eurospy films at 50, felt that they passed on such traits to the Spaghetti Western as emphasis on the technology of death, such as special weapons, the anonymity of the protagonist, the "money = power" equation of the villains and humorous asides that released the audience's laughter after a violent sequence.

For additional verisimilitude, these films often featured American and British stars in the lead roles. The heroes of the films were secret agents who were often given a name similar to "James Bond" (including "Charles Bind", "Charles Vine" and "James Tont", where "Tont" is a pun on tonto which is Italian for "dumb", "stupid"), and/or a code name matching, or similar to, James Bond's "007". Unlike the Italian Eurospy films, most French, British and West German spy films made use of existing literary fictional spies, including Bulldog Drummond, Harry Palmer, Hubert Bonisseur de La Bath, AKA OSS 117 (who was not based on James Bond but rather had helped to inspire James Bond), Francis Coplan and Rolf Torring.

Examples

Some European stars and their films were renamed and retitled to cash in on the superspy craze. For example, Jesus Franco's or "Jess Frank"'s 1962 La Muerte silba un Blues was later retitled 077 Operation Jamaica or 077 Operation Sexy with star Conrado San Martín rechristened "Sean Martin" to evoke images of Sean Connery and Dean Martin (who played Matt Helm). Germany's fictional hero Rolf Torring's film Der Fluch des Schwarzen Rubin was retitled Agente S3S Operazione Uranio.

Continental Europe

So many French and Italian films used "007" that United Artists told the Italian film industry that only James Bond could be 007, and threatened legal action. Working around this restriction, many films were given similar, but legally acceptable, three-digit numbers in their titles such as the Italian-Spanish A 001, operazione Giamaica a.k.a. Our Man in Jamaica (1965) and the Secret Agent 077 trilogy starring Ken Clark (Agent 077 – Mission Bloody Mary, Agent 077 From the Orient with Fury, and Special Mission Lady Chaplin). 008: Operation Exterminate (1965) from director Umberto Lenzi features the first female Bond-type hero. Lenzi also made three films starring Roger Browne, Superseven chiama Cairo (1965), Last Man to Kill (1966), and The Spy Who Loved Flowers (1966). Browne was also in Password: Kill Agent Gordon (1966).

Director Bruno Corbucci's James Tont series starring Lando Buzzanca is the earliest Italian comedy series based on 007. James Tont operazione U.N.O. (1965) features a female character named "Goldsinger" and underwater sequences that echo Thunderball. This was quickly followed by the sequel James Tont operazione D.U.E. a.k.a. The Wacky World of James Tont (1965). Corbucci also wrote the screenplays for Kiss Kiss...Bang Bang (1966) and the Derek Flint parody Il vostro super agente Flit (1966). Another Bond spoof, Two Mafiosi Against Goldfinger, also known as The Amazing Dr. G (1965), features Fernando Rey as a criminal mastermind named Goldginger.

CIA agent Bob Fleming is featured in a trio of Italian films, Secret Agent Fireball also titled Da 077: le spie uccidono a Beirut (1965), Killers are Challenged a.k.a. A 077, sfida ai killers (1966), directed by Antonio Margheriti, and Fury in Marrakesh, a.k.a. Furia a Marrakech (1966). Margheriti made one other spy film, Lightning Bolt, a.k.a. Operazione Goldman (1966).

Other notable examples include Berlin, Appointment for the Spies, a.k.a. Spy in Your Eye (Italy, 1965), the French OSS 117 André Hunebelle series based on the Jean Bruce character and Claude Chabrol's Tiger trilogy (Le Tigre aime la chair fraiche, Le Tigre se parfume ŕ la dynamite, and Blue Panther, a.k.a. Marie-Chantal contre le docteur Kha), and the German Kommissar X and Jerry Cotton series. France's Eddie Constantine Nick Carter and Lemmy Caution series moved into espionage with several films, including Jean-Luc Godard's Alphaville (1965).

The French Francis Coplan novels resulted in six films including Coplan Saves His Skin (1968). Jean Marais starred in the French-Italian The Reluctant Spy (1963) and Pleins feux sur Stanislas (1965). Jean-Paul Belmondo was in the French spy spoof That Man From Rio (1964). American actor Ray Danton made two French films, Code Name: Jaguar (1965), Secret Agent Super Dragon (1966), and the Spanish-Italian 007 parody Lucky, el intrépido a.k.a. Lucky, the Inscrutable (1966) directed by Jesús Franco. Franco also made The Girl from Rio (1969) with Goldfinger's Shirley Eaton in the title role.

Dino De Laurentiis's international co-production Kiss the Girls and Make Them Die (1966) was filmed in Rio de Janeiro using an American director and an Anglo-American cast (Mike Connors, Terry-Thomas, et al.) and a higher budget than most Eurospy films. A touchstone of this series of films was OK Connery, a.k.a. Operation Kid Brother (1967) starring Neil Connery, brother of the then-James Bond actor Sean Connery, plus several actors from the official James Bond series. The director, Alberto De Martino, also made Special Mission Lady Chaplin (1966) and The Spy with Ten Faces (1966) with Karin Dor. She was the first German Bond girl, appearing in You Only Live Twice (1967).

British actor Stewart Granger starred in Red Dragon (1965), Target for Killing (1966) with Adolfo Celi from Thunderball, and Requiem for a Secret Agent (1966) in Italy along with Daniela Bianchi. In addition to the James Bond film From Russia with Love (1963), Bianchi made the Italian spy films Code Name: Tiger (1964), Special Mission Lady Chaplin (1966), and two 007 parodies: Balearic Caper (1966), and the previously mentioned O.K. Connery (1967). Sergio Sollima, who directed Requiem for a Secret Agent, also helmed two Bond-like films starring George Ardisson, Agent 3S3: Passport to Hell (1965), and Agent 3S3, Massacre in the Sun (1966). Ardisson made a third Italian spy film, Operation Counterspy (1965).

Marilů Tolo was in seven Italian/French-Italian productions: Espionage in Lisbon (1965), Balearic Caper (1966), Kiss the Girls and Make Them Die (1966), Perry Grant, agente di ferro, a.k.a. The Big Blackout (1966), To Skin a Spy (1966), Judoka-Secret Agent (1966), and Casse-tęte chinois pour le judoka (1967). And Luciana Paluzzi from Thunderball (1965) also made the French-Italian OSS 117 – Double Agent (1968).

Canadian-American actor Lang Jeffries played a secret agent in Agente X 1-7 operazione Oceano (Italy, 1965), Z7 Operation Rembrandt (Germany–Italy, 1966), Spies Strike Silently (Italy, 1966), The Beckett Affair (France-Italy, 1966), The Killer Lacks a Name (Spain–Italy, 1966), and Mexican Slayride (Spain–Italy, 1967).

A post 1960s pair of films based on French author Gérard de Villiers SAS series appeared in the 1980s, S.A.S. ŕ San Salvador (1982) starring Miles O'Keeffe as Malko and Eye of the Widow (1989) with Richard Young as Malko.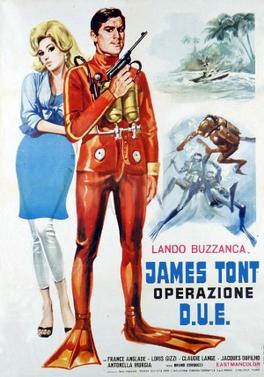 British films

Daliah Lavi, best known for her two American 007 spoofs The Silencers (1966) and Casino Royale (1967), was in Shots in Threequarter Time a.k.a. Spy Hunt in Vienna and Operation Solo (Germany, 1965) and British films The Spy with a Cold Nose (1966) and Some Girls Do (1969), starring Richard Johnson. He starred in Danger Route (1967) and Deadlier Than the Male (1967), the latter with Sylva Koscina. She made two other British films, Hot Enough for June, a.k.a. Agent 8+3⁄4 (1964), that featured a mention of Agent 007 and Our Man in Marrakesh a.k.a. Bang! Bang! You're Dead! (1966) and two Italian productions, That Man in Istanbul (1965) and Agent X-77 Orders to Kill (1966).

Other British-made films include Master Spy (1964), The Quiller Memorandum (1966) starring George Segal, and Subterfuge (1968) starring Gene Barry. Michael Caine played the spy Harry Palmer in The Ipcress File (1965), and four sequels. The semi-parody Licensed to Kill a.k.a. The Second Best Secret Agent in the Whole Wide World (1965), directed by Lindsay Shonteff, featured Bond-like agent Charles Vine. This was followed by two sequels: Where the Bullets Fly (1966), directed by John Gilling, and an obscure Spanish production O.K. Yevtushenko a.k.a. Somebody's Stolen Our Russian Spy (1968). Shonteff went on to direct three more films with a similar spy named "Charles Bind": Number One of the Secret Service (1970), Licensed to Love and Kill a.k.a. The Man from S.E.X. (1979), and Number One Gun (1990).

In the 21st century, Neal Purvis, Robert Wade, William Davies wrote the Johnny English franchise, a series of spy-action comedy films starring Rowan Atkinson parodying the James Bond secret agent genre.

American films

Arabesque, Our Man Flint, The Silencers, Murderers' Row (all 1966), The Ambushers, In Like Flint (both 1967), A Man Called Dagger (1968), and The Wrecking Crew (1969).

Post-sixties parodies

Two French films starring Jean Dujardin, 2006's OSS 117: Cairo, Nest of Spies (set in 1955) and 2009's OSS 117: Lost in Rio (set in 1967) both recreate the style of the period and parody the spy genre for a new audience.

The American Austin Powers series (1997–2002) of three comedies starring Mike Myers are set in the 1960s and 1970s. The trio parodies James Bond and other Eurospy films. Michael Caine, as a character similar to his Harry Palmer role (The Ipcress File, et al.), plays Powers' father in the third film, Austin Powers in Goldmember (2002).

The Spanish film Anacleto: agente secreto/Spy Time (2015) reimagines the 1964 comic hero for the screen.
https://www.mymovies.it/film/1966/agente-s-o-3-operazione-atlantide/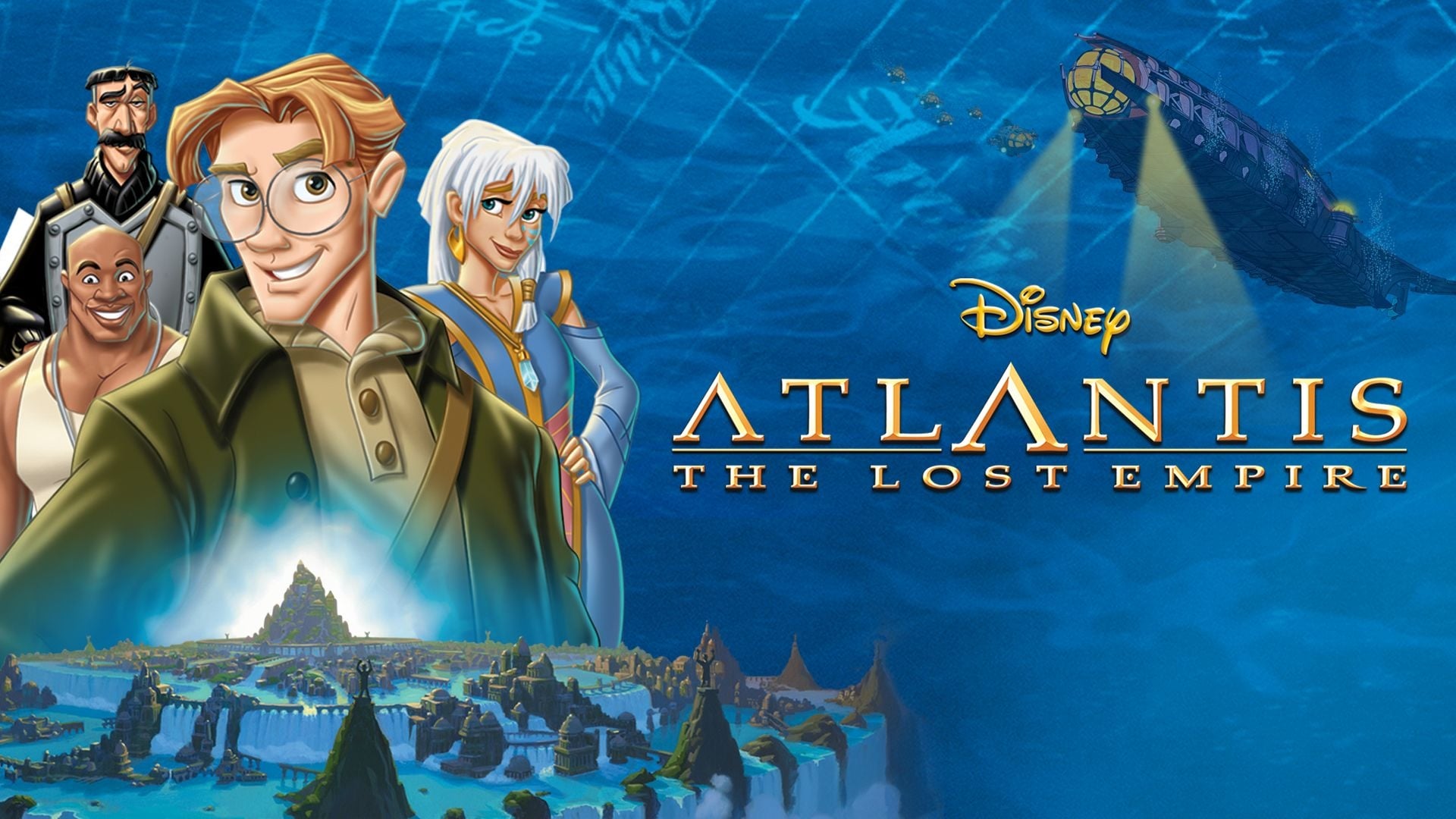 20,000 LEAGUES UNDER THE SEA - JULES VERNE, WALT DISNEY, KIRK DOUGLAS, JAMES MASON
AGENT S-03 OPERATION ATLANTIS, 1965 ITALIAN EURO SPY-FI, JOHN ERICSON
AQUAMAN - JASON MOMOA - WARNER BROS. DC STUDIOS 2018
ATLANTIS: THE LEGEND BEGINS (BBC) NETWORK TV SERIES 2013
ATLANTIS: THE LOST CITY OF
ATLANTIS: THE LOST CONTINENT - MGM 1961
ATLANTIS: THE LOST EMPIRE, 2001 LIVE ACTION FANTASY, DISNEY
BEAR ISLAND: ALISTAIR MACLEAN 1979 THRILLER, ARCTIC HUNT FOR NAZI U-BOAT GOLD
CLASSIC WWII & COLD WAR, BEST SUBMARINE MOVIES
CRIMSON TIDE - 1995, DENZEL WASHINGTON, GENE HACKMAN, BUENA VISTA
DEEPWATER HORIZON - BP OIL SPILL DISASTER BIOPIC 2016
GRAY LADY DOWN - 1978 SUBMARINE DEEP SEA RESCUE DRAMA, CHARLTON HESTON
HUNTER KILLER - 2018, GERARD BUTLER, GARY OLDMAN 2018
ICE STATION ZEBRA - ALISTAIR MACLEAN SUBMARINE ARCTIC THRILLER 1968 ROCK HUDSON, MGM
K19 - THE WIDOWMAKER, HARRISON FORD & LIAM NEESON, 2002, PARAMOUNT NAT. GEOGRAPHIC
LAW ABIDING CITIZEN - 2009 VIGILANTE ACTION THRILLER, GERARD BUTLER, JAMIE FOX
NORTH SEA HIJACK: ROGER MOORE, JAMES MASON 1980 ADVENTURE, CINEMA SEVEN & UNIVERSAL
THE HUNT FOR RED OCTOBER - 1990 US SPY THRILLER (SEAN CONNERY, ALEC BALDWIN) PARAMOUNT
THE SPY WHO LOVED ME - 1977, ROGER MOORE AS JAMES BOND 007, ALBERT R BROCCOLI
U571 - WWII U-BOAT SUBMARINE DRAMA, THE CAPTURE OF THE ENIGMA DECODING MACHINE
CHARACTERS | GOLD | MEDIA | MOVIES | SCREENPLAY | SUBMARINES
This website is Copyright © Cleaner Oceans Foundation Ltd., April 2023. Asserted as per the Berne Convention.
In this fictional story, the characters and events are the product of the author's imagination.