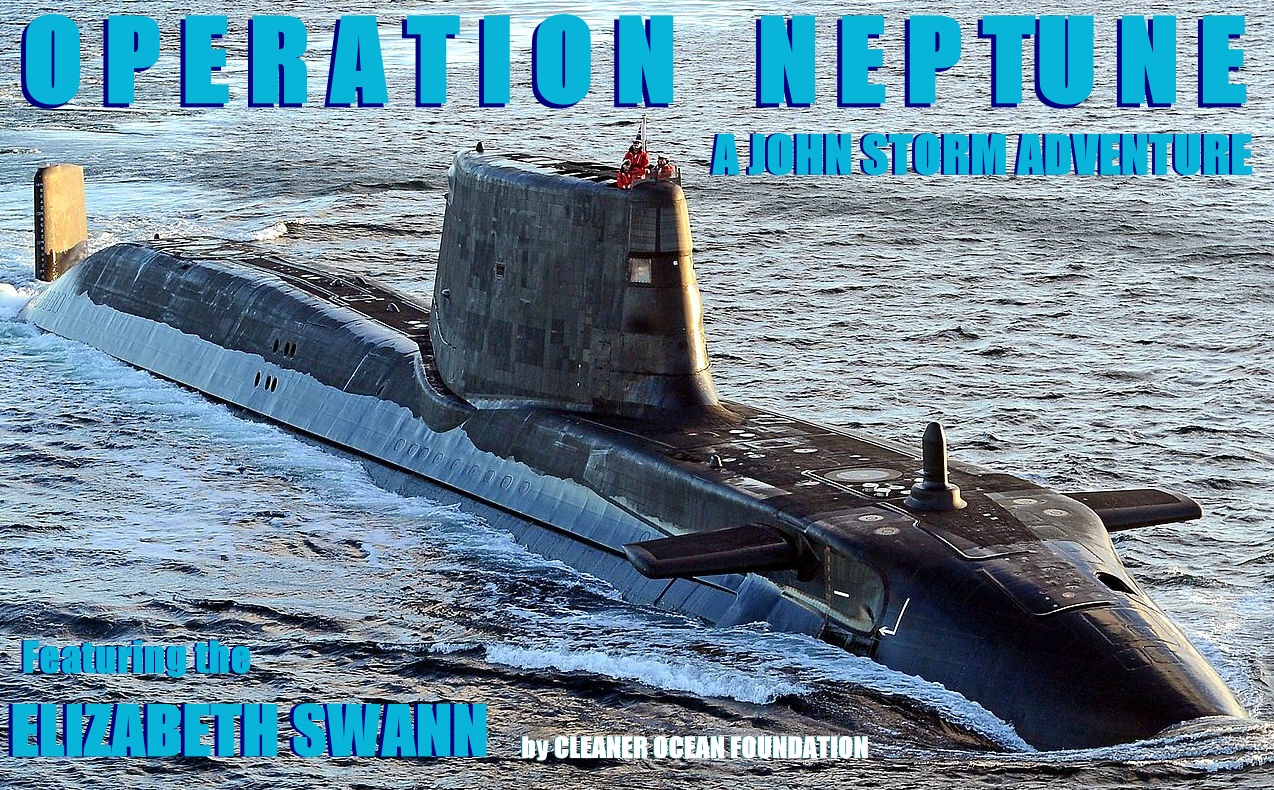 GRAY LADY DOWN 1978
ATLANTIS STORY MAP & OPERATION HOMEPAGE
GRAY LADY DOWN, UNIVERSAL 1978 - Based on David Lavallee's book Event 1000. An aging, respected commander Paul Blanchard, (Charlton Heston) on his final tour before promotion to squadron command. Surfaced just off the coast of Rhode Island, his boat, the USS Neptune (fictional), is struck by a freighter in heavy fog, and sinks to a depth of 1,450 feet, (442 meters) before coming to rest on a canyon ledge above an even deeper trench.

A US Navy rescue force, commanded by Captain Bennett (Stacy Keach), arrives on the scene, but a sub-sea landslide has rolled the Neptune to such an angle that is now inaccessible. A small but capable experimental submersible, the Snark, run by a nonconformist Navy misfit Captain Gates (David Carradine) is brought in to assist with the rescue. Submarine special-effect footage and the large-scale model originally used to portray the fictional submarine USS Tigerfish in the 1969 movie, Ice Station Zebra, is reused.
Gray Lady Down is the story about a fictional USS Neptune nuclear powered submarine that is hit by a tanker in fog, ripping the subs tail in half, causing the submarine to sink quickly and come to rest on an unstable ledge in the Atlantic ocean.
Where there is warning of a ship on a collision course, the Captain of the US submarine, played by Charlton Heston, seems almost unconcerned as to COLREGs Collision At Sea Regulations, to the point of lacking basic seamanship skills. Whereas, the Captain of the tanker, is blind to oncoming ships because their radar has malfunctioned.
Though the cast of characters is excellent, the film is let down by poor underwater submerged sequences, lighting and jerky model props. The direction is slow, taking the action level way down to drama level, instead of action-thriller. Something achieved rather well in Tony Scott's Crimson Tide.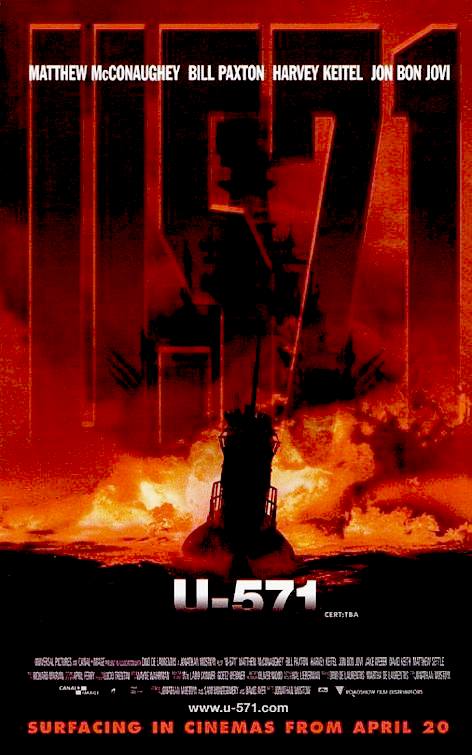 U-571, DINO DE LAURENTIS 2000 - The film was directed by Jonathan Mostow, starring Matthew McConaughey, Bill Paxton, Harvey Keitel, Thomas Kretschmann, Jon Bon Jovi, Jack Noseworthy, Will Estes and Tom Guiry. In the film, a World War II German submarine is boarded in 1942 by disguised United States Navy submariners seeking to capture her Enigma cipher machine. The film was financially successful and generally well-received by critics in the USA and won an Academy Award for sound editing. The fictitious plot attracted substantial criticism since, in reality, it was British personnel from HMS Bulldog who first captured a naval Enigma machine (from U-110 in the North Atlantic in May 1941), months before the United States had even entered the war. The anger over the inaccuracies even reached the British Parliament, where Prime Minister Tony Blair stated that the film was an "affront" to British sailors.
CAST

Charlton Heston as Captain Paul Blanchard
David Carradine as Captain Don Gates
Stacy Keach as Captain Hal Bennett
Ned Beatty as Mickey
Stephen McHattie as Lieutenant Danny Murphy
Ronny Cox as Commander David Samuelson
Dorian Harewood as Lieutenant Fowler
Rosemary Forsyth as Vickie Blanchard
Hilly Hicks as HM3 Page
Charles Cioffi as Vice Admiral Michael Barnes
William Jordan as Waters
Jack Rader as Chief Harkness
Michael O'Keefe as RM2 Harris
Charlie Robinson as McAllister
Christopher Reeve as Lieutenant (JG) Phillips
Melendy Britt as Liz Bennett
Lawrason Driscoll as Lieutenant Bloom
David Wilson as SK1 Hanson
Robert Symonds as Secretary of Navy
Ted Gehring as Admiral at Pentagon Meeting
Charles Cyphers as Larson
William Bryant as Admiral at Pentagon Meeting
Jeffrey Druce as Neptune Executive Officer
James Davidson as Lt. Commander at SACLANT
David Clennon as Neptune Crewmember
Michael Cavanaugh as P03 Peña (uncredited)
Bob Harks as Radio Operator (uncredited)
Robert Ito as Jim, Lieutenant at SACLANT (uncredited)
Sandra De Bruin as Irma Barnes (uncredited)
John Stuart West as Submariner (uncredited)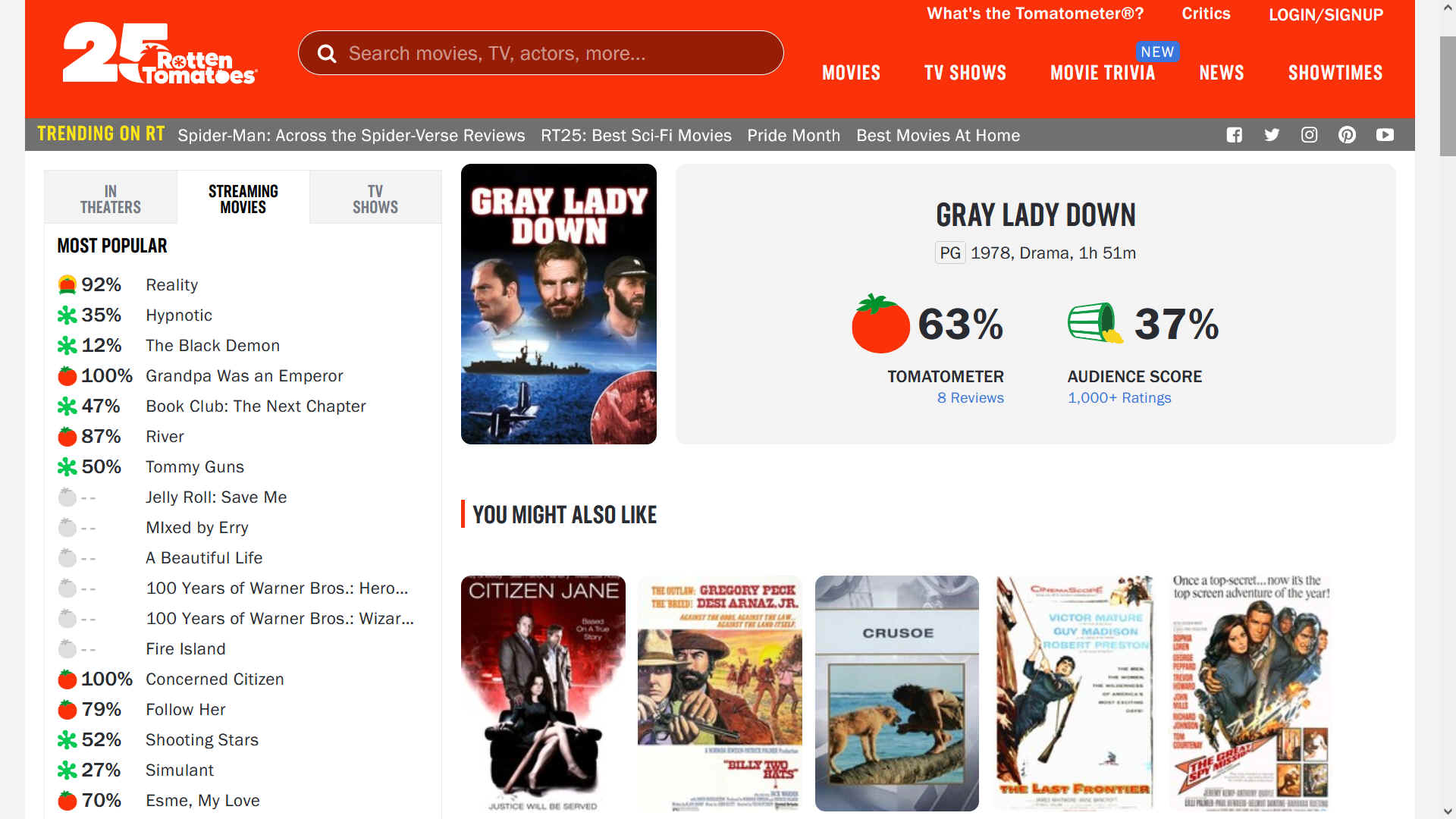 PRODUCTION

Even though the submarine depicted in the movie is a Skate-class submarine, in the opening credits, footage of the real-life submarine USS Trout (SS-566) was filmed specifically for Gray Lady Down, depicting the fictional USS Neptune. Gray Lady Down also re-used submarine special-effects footage and the large-scale submarine model originally used to portray the fictional submarine USS Tigerfish in the 1968 movie Ice Station Zebra to depict USS Neptune. The US Navy's USS Cayuga (LST-1186) appeared in the film as the fictional USS Nassau. The USS Pigeon (ASR-21) and her DSRV were prominently featured in the movie.
Reminiscent of Top Gun, there are embedded promotional elements of the US Navy, attesting to the everyday daring of sailors of the silent service, and the risks they face, that could be taken as a recruitment drive of sorts. Especially, advertising the DSRV, Deep Sea Rescue Vehicle, to assure potential naval candidates that if their submarine is crippled, they might still be rescued.
CHARLTON HESTON
With features chiseled in stone, and renowned for playing a long list of historical figures, particularly in Biblical epics, the tall, well-built and ruggedly handsome Charlton Heston was one of Hollywood's greatest leading men and remained active in front of movie cameras for over sixty years. As a Hollywood star, he appeared in 100 films over the course of 60 years. He played Moses in the epic film, The Ten Commandments (1956) , for which he received his first Golden Globe Award nomination. He also starred in Touch of Evil (1958) with Orson Welles; Ben-Hur, for which he won the Academy Award for Best Actor (1959); El Cid (1961); and Planet of the Apes (1968). He also starred in the films The Greatest Show on Earth (1952); Secret of the Incas (1954); The Big Country (1958); and The Agony and the Ecstasy (1965). A supporter of Democratic politicians and civil rights in the 1960s, Heston later became a Republican, founding a conservative political action committee and supporting Ronald Reagan. Heston's most famous role in politics came as the five-term president of the National Rifle Association, from 1998 to 2003.

Heston played 'Marc Antony' in Julius Caesar (1950), and firmly stamped himself as genuine leading man material with his performance as circus manager 'Brad Braden' in the Cecil B. DeMille spectacular The Greatest Show on Earth (1952), also starring James Stewart and Cornel Wilde. The now very popular actor remained perpetually busy during the 1950s, both on TV and on the silver screen with audience pleasing performances in the steamy thriller The Naked Jungle (1954), as a treasure hunter in Secret of the Incas (1954) and another barn storming performance for Cecil B. DeMille as "Moses" in the blockbuster The Ten Commandments (1956).

Heston delivered further dynamic performances in the oily film noir thriller Touch of Evil (1958), and then alongside Gregory Peck in the western The Big Country (1958) before scoring the role for which he is arguably best known, that of the wronged Jewish prince who seeks his freedom and revenge in the William Wyler directed Ben-Hur (1959). This mammoth Biblical epic running in excess of three and a half hours became the standard by which other large scale productions would be judged, and its superb cast also including Stephen Boyd as the villainous "Massala", English actor Jack Hawkins as the Roman officer "Quintus Arrius", and Australian actor Frank Thring as "Pontius Pilate", all contributed wonderful performances.
Never one to rest on his laurels, steely Heston remained the preferred choice of directors to lead the cast in major historical productions and during the 1960s he starred as Spanish legend "Rodrigo Diaz de Vivar" in El Cid (1961), as a US soldier battling hostile Chinese boxers during 55 Days at Peking (1963), played the ill-fated "John the Baptist" in The Greatest Story Ever Told (1965), the masterful painter "Michelangelo" battling Pope Julius II in The Agony and the Ecstasy (1965), and an English general in Khartoum (1966). In 1968, Heston filmed the unusual western Will Penny (1967) about an aging and lonely cowboy befriending a lost woman and her son, which Heston has often referred to as his favorite piece of work on screen. Interestingly, Heston was on the verge of acquiring an entirely new league of fans due to his appearance in four very topical science fiction films (all based on popular novels) painting bleak futures for mankind.

In 1968, Heston starred as time-traveling astronaut "George Taylor", in the terrific Planet of the Apes (1968) with its now legendary conclusion as Heston realizes the true horror of his destination. He returned to reprise the role, albeit primarily as a cameo, alongside fellow astronaut James Franciscus in the slightly inferior sequel Beneath the Planet of the Apes (1970). Next up, Heston again found himself facing the apocalypse in The Omega Man (1971) as the survivor of a germ plague that has wiped out humanity leaving only bands of psychotic lunatics roaming the cities who seek to kill the uninfected Heston. And fourthly, taking its inspiration from the Harry Harrison novel "Make Room!, Make Room!", Heston starred alongside screen legend Edward G. Robinson and Chuck Connors in Soylent Green (1973).
During the remainder of the 1970s, Heston appeared in two very popular "disaster movies" contributing lead roles in the far-fetched Airport 1975 (1974), plus in the star-laden Earthquake (1974), filmed in "Sensoround" (low-bass speakers were installed in selected theaters to simulate the earthquake rumblings on screen to movie audiences). He played an evil Cardinal in the lively The Four Musketeers (1974), a mythical US naval officer in the recreation of Battle of Midway (1976), also filmed in "Sensoround", an LA cop trying to stop a sniper in Two-Minute Warning (1976) and another US naval officer in the submarine thriller Gray Lady Down (1978). Heston appeared in numerous episodes of the high-rating TV series Dynasty (1981) and The Colbys (1985), before moving onto a mixed bag of projects including TV adaptations of Treasure Island (1990) and A Man for All Seasons (1988), hosting two episodes of the comedy show, Saturday Night Live (1975), starring as the "Good Actor" bringing love struck Mike Myers to tears in Wayne's World 2 (1993), and as the eye patch-wearing boss of intelligence agent Arnold Schwarzenegger in True Lies (1994). He also narrated numerous TV specials and lent his vocal talents to the animated movie Hercules (1997), the family comedy Cats & Dogs (2001) and an animated version of Ben Hur (2003). Heston made an uncredited appearance in the inferior remake of Planet of the Apes (2001), and his last film appearance to date was in the Holocaust-themed drama of My Father (2003).

Heston narrated for highly classified military and Department of Energy instructional films, particularly relating to nuclear weapons, and "for six years Heston [held] the nation's highest security clearance" or Q clearance. The Q clearance is similar to a DoD or Defense Intelligence Agency (DIA) clearance of Top Secret.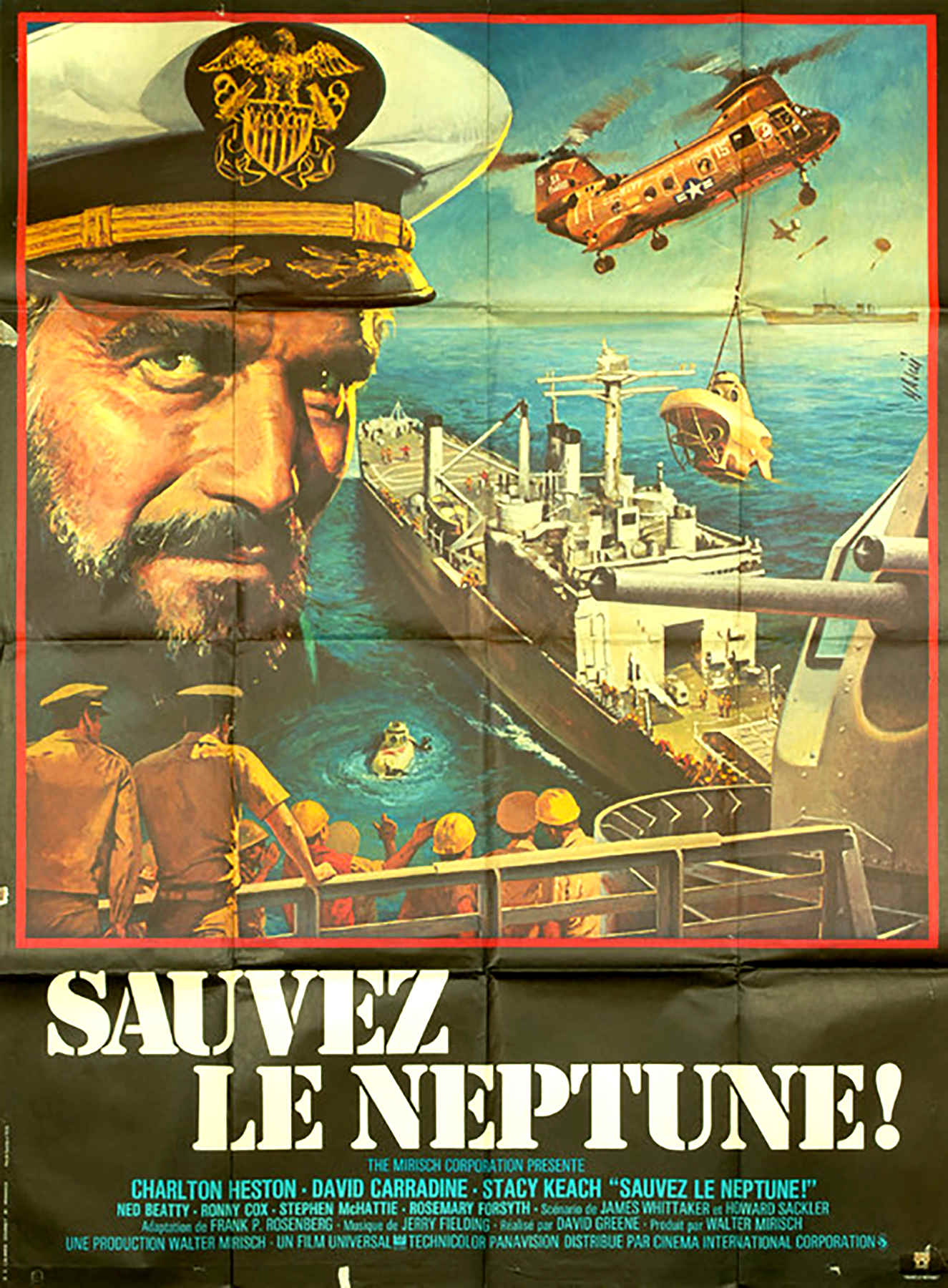 BERNARD DREW

'Grey Lady Down is just a remake of 'Airport 77'

"Gray Lady Down, "rated PG. By Gannett News Service An action movie should have action, right? So what is Universal doing with "Gray Lady Down" in which Charlton Heston's nuclear submarine, hit by a radarless vessel, surfaces and is sent catapulting down to a crag in the ocean while rescue missions led by Stacy Keach and David Carradine attempt to save the day? Three writers, no less James Whittaker and Howard Sackler working from Frank P. Rosenberg's adaptation are credited with the story, but what story? Only last year, Universal inade "Airport 77" in which Jack Lemmon's plane, filled with formerly starry passengers plummeted into the sea and sat there until it was rescued. "Gray Lady Down" is so similar to it in so many aspects, though this David Greene directed movie is even more boring than "Airport 77" that I kept waiting for last year's divers to jump in and help Heston and his loyal crew, who were beginning to become restive. Those divers never came. In their stead, Keach aboard an LST, arranges for a Deep Submergence Rescue Vessel to be sent below to effect a transfer of the hapless crew through the escape hatch, while Carradine, who invented and now pilots a new little craft called a snark floats about helpfully. If I remember "Alice in Wonderland" correctly, "the snark was a boojum," and I can only add that "Gray Lady Down" is a bore.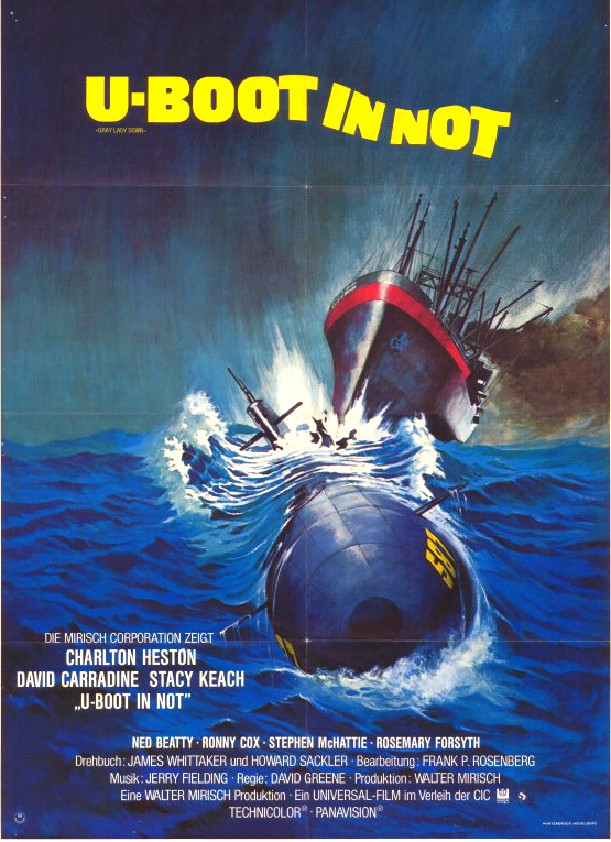 DONALD MACLEAN

Since producers discovered disaster flicks made big money. "Gray Lady Down" is no better or worse than most; this time we have Charlton Heston (who's looking much better than his past few films; maybe clever hands have been at work?) as a submarine commander fighting for surv1va1 after being struck by a German ship and forced to submerge 1500 feet in a narrow channel where earthslides occur every fifteen minutes (or so it seems).

David Carradine looking scruffy as usual and delivering his famous rebel performance that we've grown to love in every film he's ever in.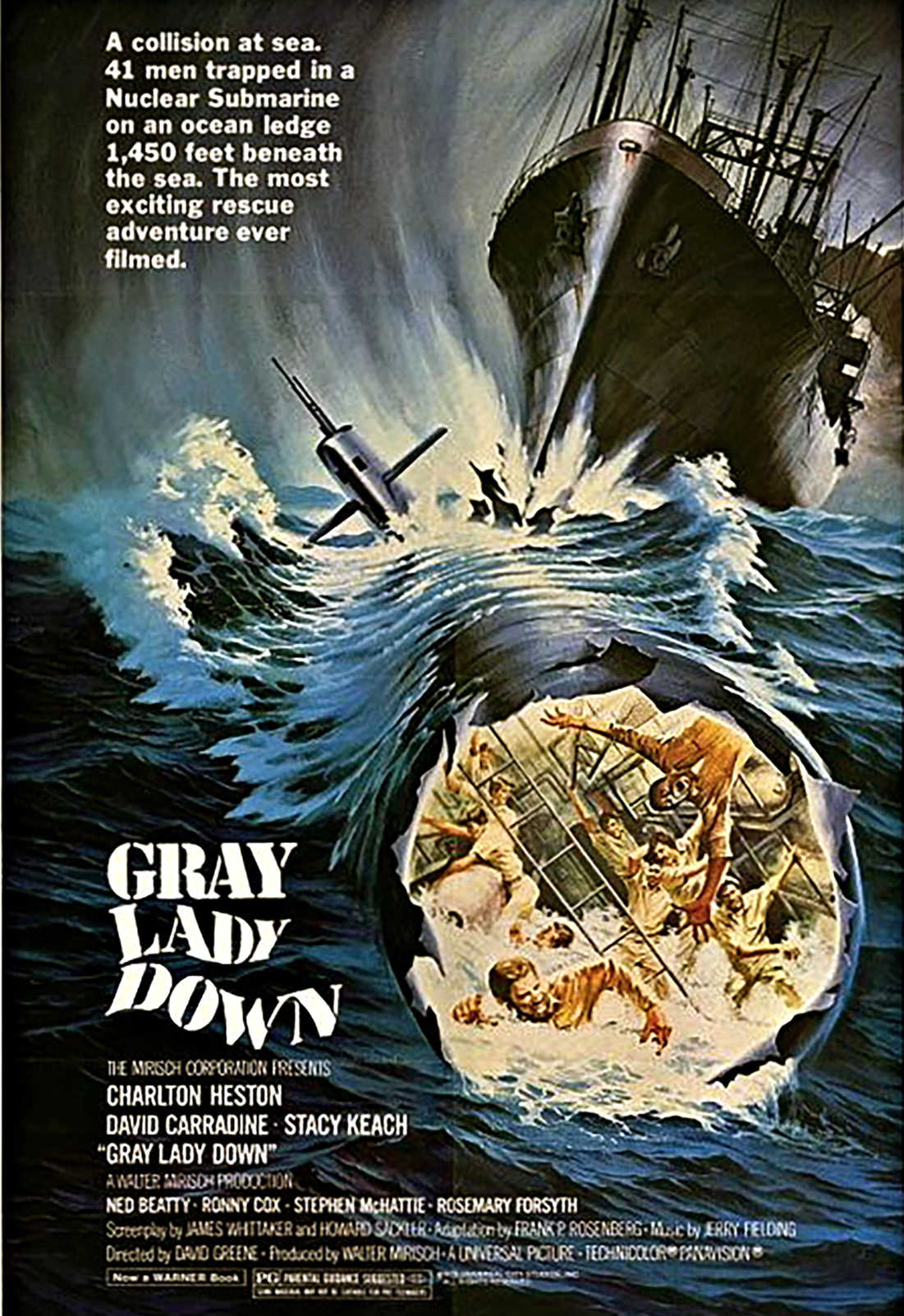 BOX OFFICE & CRITICAL RESPONSE

No information can be found as to the making cost and returns. Presuming then, the movie bombed.

20,000 LEAGUES UNDER THE SEA - JULES VERNE, WALT DISNEY, KIRK DOUGLAS, JAMES MASON
AGENT S-03 OPERATION ATLANTIS, 1965 ITALIAN EURO SPY-FI, JOHN ERICSON
AQUAMAN - JASON MOMOA - WARNER BROS. DC STUDIOS 2018
ATLANTIS: THE LEGEND BEGINS (BBC) NETWORK TV SERIES 2013
ATLANTIS: THE LOST CITY OF
ATLANTIS: THE LOST CONTINENT - MGM 1961
ATLANTIS: THE LOST EMPIRE, 2001 LIVE ACTION FANTASY, DISNEY
BEAR ISLAND: ALISTAIR MACLEAN 1979 THRILLER, ARCTIC HUNT FOR NAZI U-BOAT GOLD
CLASSIC WWII & COLD WAR, BEST SUBMARINE MOVIES
CRIMSON TIDE - 1995, DENZEL WASHINGTON, GENE HACKMAN, BUENA VISTA
DEEPWATER HORIZON - BP OIL SPILL DISASTER BIOPIC 2016
GRAY LADY DOWN - 1978 SUBMARINE DEEP SEA RESCUE DRAMA, CHARLTON HESTON
HUNTER KILLER - 2018, GERARD BUTLER, GARY OLDMAN 2018
ICE STATION ZEBRA - ALISTAIR MACLEAN SUBMARINE ARCTIC THRILLER 1968 ROCK HUDSON, MGM
K19 - THE WIDOWMAKER, HARRISON FORD & LIAM NEESON, 2002, PARAMOUNT NAT. GEOGRAPHIC
LAW ABIDING CITIZEN - 2009 VIGILANTE ACTION THRILLER, GERARD BUTLER, JAMIE FOX
NORTH SEA HIJACK: ROGER MOORE, JAMES MASON 1980 ADVENTURE, CINEMA SEVEN & UNIVERSAL
THE HUNT FOR RED OCTOBER - 1990 US SPY THRILLER (SEAN CONNERY, ALEC BALDWIN) PARAMOUNT
THE SPY WHO LOVED ME - 1977, ROGER MOORE AS JAMES BOND 007, ALBERT R BROCCOLI
U571 - WWII U-BOAT SUBMARINE DRAMA, THE CAPTURE OF THE ENIGMA DECODING MACHINE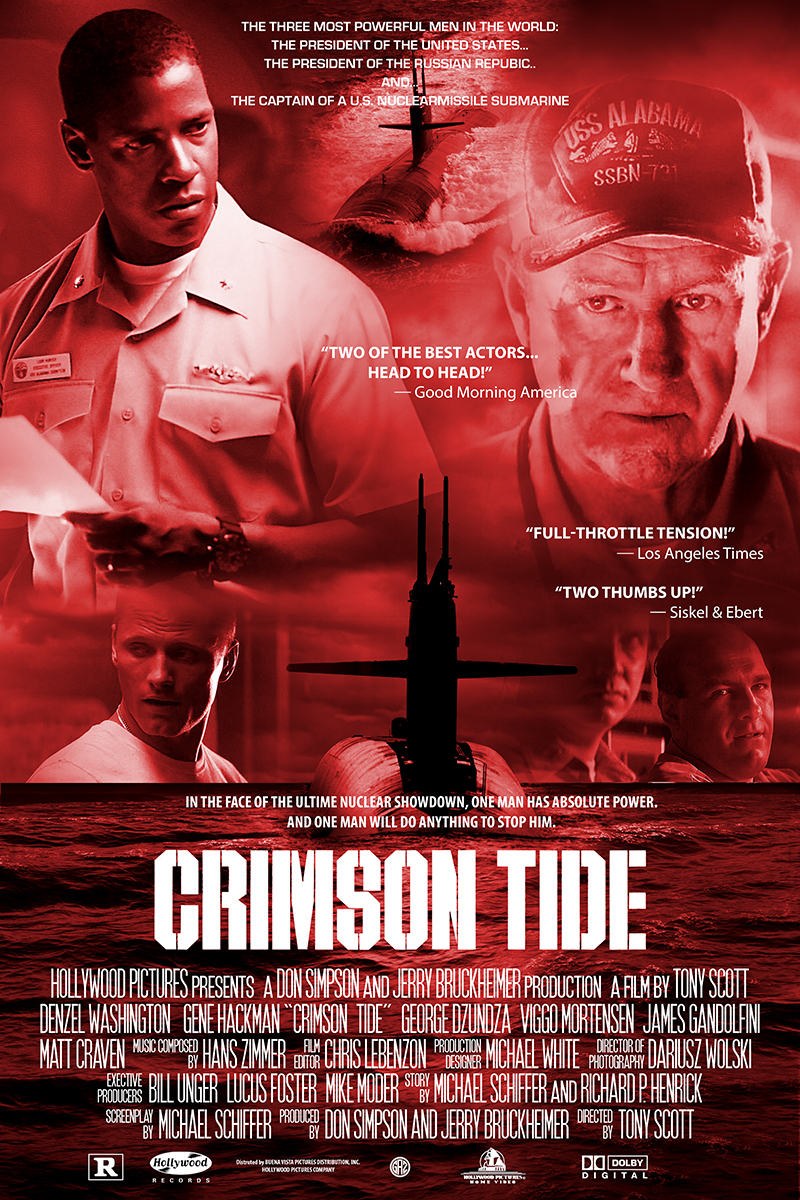 CRIMSON TIDE - Crimson Tide is a 1995 American action thriller film directed by Tony Scott and produced by Don Simpson and Jerry Bruckheimer. It takes place during a period of political turmoil in Russia, in which ultranationalists threaten to launch nuclear missiles at the United States and Japan.

The film focuses on a clash of wills between the seasoned commanding officer of a U.S. nuclear missile submarine (Gene Hackman) and his new executive officer (Denzel Washington), arising from conflicting interpretations of an order to launch their missiles. The story parallels a real incident during the Cuban Missile Crisis.

Hans Zimmer, who scored the film, won a Grammy Award for the main theme, which heavily uses synthesizers instead of traditional orchestral instruments. An extended cut, which incorporates seven minutes of deleted scenes, was released on DVD in 2006, while the 2008 Blu-ray release only includes the theatrical version.
CHARACTERS | GOLD | MEDIA | MOVIES | SCREENPLAY | SUBMARINES
This website is Copyright © Cleaner Oceans Foundation Ltd., April 2023. Asserted as per the Berne Convention.
In this fictional story, the characters and events are the product of the author's imagination.