BLUE GROWTH is the long term strategy to support sustainable growth in the marine and maritime sectors as a whole. The 'blue' economy represents roughly 5.4 million jobs and generates a gross added value of almost €500 billion a year in the European area alone. The ideal was adopted in part with reference to economics reflections by Gunter Pauli and the Blue Economy.
Blue growth is not operating nuclear powered anything, with the potential to contaminate our oceans and seas with radioactive waste. Power stations, submarines and aircraft carriers should not be powered by enriched uranium, because of the dangers of leaks. There are many examples where nuclear submarines have either sunk, or been deliberately dumped. Mostly, by the Russia, the Soviet Union. While it might seem like a good idea at the time, Chernobyl, Dounreay and Fukushima are testament to the rule of statistics, that: "if something can happen, it will happen." It's also called Murphy's Law. Any politician saying otherwise, is lying to you. Deliberately painting a false picture, typically for economic reasons, and frequently because of backhanders, bribes and procurement frauds. Such as suggesting that nuclear power is 'sustainable' is a blatant lie and deception. Every reasonably well read individual will tell you, it is not possible to safely dispose of spent radioactive material. Ever!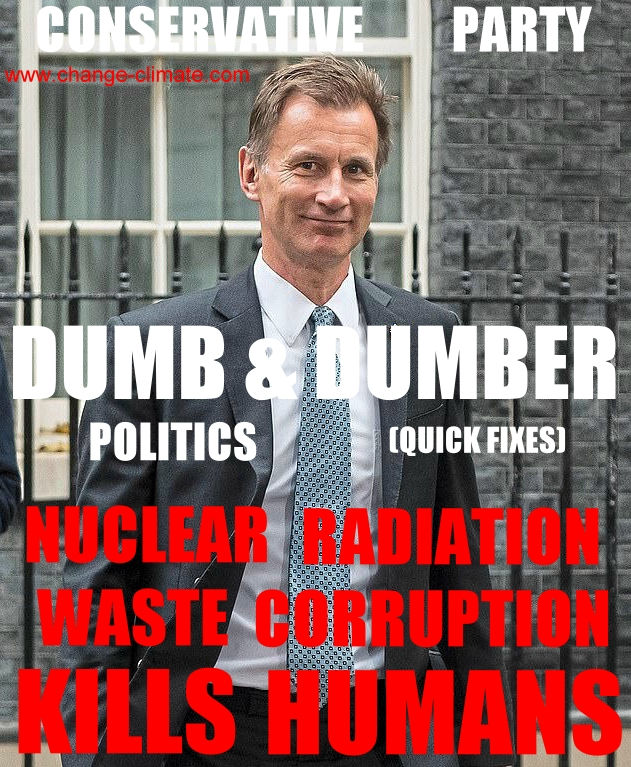 JEREMY HUNT - Mr uninformed, or simply nuclear dumb? This reminds us of PG&E, and Erin Brokovich, where the energy company was telling locals that carcinogenic chromium was good for them. But secretly knew they were killing them, and watched while cancer consumed many residents. We hear that Johnson and Hunt are being considered as the new leads in a remake of Dumb & Dumber. The bottom line is that politicians are not elected to feather their nests, but to represent the wishes and needs of the people. They are tasked with, and required by law to provide an effective administration. We are waiting for one that does - and it's not going to be the Tories anytime before the year 2050. So, don't hold your breath, and should you live that long.
NUCLEAR LEAKS IN JUST THE UK

Windscale, Cumbria, 1957: Fire at a military plutonium reactor spread radioactive contamination over large parts of England and Europe

Dounreay, Caithness, 1963-84: Tens of thousands of radioactive particles from old reactors contaminated the shoreline and the seabed

Sellafield, Cumbria, 1983: The government advised people not to swim or use beaches along 10 miles of coastline after a radioactive leak from a reprocessing plant

Chapelcross, Dumfriesshire, 2000-05: 126 radioactive particles from defunct reactors found on the shore of the Solway Firth

Sellafield, Cumbria, 2006-11: 1,233 radioactive particles and pebbles contaminated by historic leaks found and removed from nearby beaches

Dalgety Bay, Fife, 1990-2011: Hundreds of radioactive remnants from the luminous dials of second world war aircraft removed from foreshore
BLUE ECONOMY VALUE IN USA
In 2014, the ocean economy in the U.S., which included six economic sectors that depend on the ocean and Great Lakes, contributed more than $352 billion to their GDP and supported 3.1 million jobs.
Further growth is possible internationally in a number of identified area with the appropriate incentives.
Thanks to the efforts of the EU European Commission, UN Food and Agriculture Organization (FAO), Global Ocean Commission and others, the term "blue growth" is now accepted internationally with the objectives and criteria being acted on by almost all stakeholder nations who may benefit from embracing points 5-10 below.
The land based market economy, as it presently stands, is not capable of delivering to poor people as persistent rates of poverty and malnutrition demonstrate. The saying that "the rich get richer and poor people get poorer" is confirmed by the existence of poverty and unemployment. Poverty is spreading in absolute numbers mainly to our youth and more mature citizens. Governments accept this hardship and hide behind the need to pursue austerity while pursuing the impossible task to balance the budget. Proof of this is that the retirement age has been raised, an attempt to bridge the skills gap and milk those at both ends of the age spectrum - who are required to work even where there is no work.
ENEMY OF BLUE GROWTH
At the moment the common enemies of blue growth are: 1. Marine Plastic Pollution, 2. Climate Change, 2. Over or Pirate Fishing. These issues affect tourism and marine transport from fuel-burning pollution.
BLUE GROWTH STRATEGY
Blue growth strategy is the latest thinking to grow our ocean economy for a sustainable future world where there is food and energy security for every country and jobs for those who want to work on or in the sea. Hence, "blue" refers to water and "growth" refers to economics.
Generally, "Blue Growth" is not location specific and there is no international strategy where each player must do certain things as part of their piece in a jigsaw. There is no world plan, agreement or fund to work to this end. Instead, each region has its own local agenda and areas of effort and concentrates on making their patch better with pockets of funding available for specific projects - as relate to targeted geographical areas.
The good news is that the concept is spreading with the work of many organizations like the United Nations FAO and EU DG-MARE, getting the message across to many member administrations. The UN's FAO in particular and the World Bank support location specific projects. Though care should be taken not to over-lend, considering the staggering levels of international debt - much of which might never be repaid.
Ultimately, blue growth is about gains the world over. An example of this is where improvements in ocean chemistry will benefit all nations due to the currents that continuously stir up and distribute polluted acid water around the globe - so that non-polluting regions who are keeping their patch clean are now dirty for no fault of their own - and there is no compensation mechanism for the clean nations to make a claim on the dirty administrations - where pollution from the untidy culprits reaches the shores of another.
Rather than escalate the problem, the onus is on sharing knowledge and leading by example, such that other nations not yet at the stage where Blue Growth is high on their agendas, to help them to see the gains that raising the bar will bring for them in the long term.
MAIN BLOCKERS
We are facing four major problems that seriously hinder blue growth:
1. Ocean Pollution - poisons wild fish, also the source of feed for aquaculture
2. Over Fishing - depletes wild fish stocks, threatening food security & productive fisheries
3. Climate Change - ocean acidification & fish migration
4. Over Population - demands more fish than the oceans can at present provide
MAIN GROWTH AREAS
5. Ocean Regeneration - cleaning our oceans to preserve the resource and cleanse the toxic food chain
6. Aquaculture - now generates around 50% of world produce, mostly subject to wild fish feed
7. Ocean Energy - offshore wind and wave energy for clean power
8. Biotechnology - Identifying, harvesting and producing medicines
9. Coastal Tourism - To engage the public in ocean matters and reduce air travel
10. Green Ships - Cargo and cruise ships that are cleaner, preferably zero carbon
11. Green Ports - Ports and docks that are more efficient at handling passengers and cargo
Which one of these is the most important for you depends on your point of view, but all potential solutions that stand a chance of returning us to a sustainable society, depend on every one of us recognizing the problems and doing something about it, if that is within your grasp - and that is an Ocean Literacy issue - the problem being that most people on earth are not aware that this is a serious problem. Hence, the lack of awareness is a big stumbling block, triggering the Miss and Mister Ocean and World Aquariums: Our Ocean campaigns.
1. OCEAN POLLUTION
By loading up the oceans with plastics, oil and other pollutants we are harming the marine life that we rely on for food, where food security is vital to stability and there are more mouths to feed every day from diminishing agricultural and aqua-cultural resources.
Is it possible to clean the (global) ocean up?
At the moment deep sea trash deposits look as if they a there to stay, but there is hope that vehicles like SeaVax™ can make an impact on surface litter and gyre soups and so significantly slow deep sea deposits. At the moment this is just a dream for the team at the Cleaner Ocean Foundation, but with suitable funding to construct a prototype SeaVax™ the Foundation would be prepared to put theory into practice - and have already begun planning to build in the hope that support for this valuable research is forthcoming as part of the UN's Agenda 2030 sustainability drive.
There are 5 swirling ocean garbage patches called gyres. The largest gyre is the Great Pacific Garbage Patch, located between Hawaii and California, held to be about the size of France at the moment.
2. OVER FISHING
In an effort to feed the growing population we are plundering the ocean depths with giant trawler nets causing serious damage to ocean ecology and wild fish stocks. We must regulate industrial scale fishing by imposing serious financial penalties and boat confiscations if that is the only way to prevent unauthorized catches. Diesel subsidies for large trawlers should be banned and fines imposed for damage to the seabed.
Fisheries scientist Daniel Pauly and economist Ussif Rashid Sumaila have examined subsidies paid to bottom trawl fleets around the world. They found that US$152 million per year are paid to deep-sea fisheries. Without these subsidies, global deep-sea fisheries would operate at a loss of $50 million a year. A great deal of the subsidies paid to deep-sea trawlers is to subsidize the large amount of fuel required to travel beyond the 200-mile limit and drag weighted nets.
"There is surely a better way for governments to spend money than by paying subsidies to a fleet that burns 1.1 billion litres of fuel annually to maintain paltry catches of old growth fish from highly vulnerable stocks, while destroying their habitat in the process" – Pauly.

"Eliminating global subsidies would render these fleets economically unviable and would relieve tremendous pressure on over-fishing and vulnerable deep-sea ecosystems" – Sumaila.
The logical conclusion is that diesel fuel subsidies are counter to blue growth and fishery regeneration.
Is it possible to prevent over fishing?
It is almost impossible to prevent illegal catches even with the rules for offshore fisherman and the quota system, and shore catch limits for anglers. Trawlers present a huge problem and by-catch, but with persistent monitoring, a reduction in harmful subsidies and improved technology, progress can be made.
Source: Report of the Secretary-General, "Progress towards the Sustainable Development Goals", E/2017/66
Climate change is affecting the chemistry of our oceans, melting the ice caps and potentially placing the whole planet in a crisis 'burn out' situation with a sulfur build up that is reducing reflection of solar radiation creating a feedback loop that warms the earth more. We simply must change our energy usage patterns to do all we can to reduce harmful emissions.
What we need is greener vehicles for both land and sea transport. We also need green energy for our factories and homes, where air conditioning to cool houses and shops consumes large amounts of energy that should be offset with micro and macro generation schemes.
4. OVER POPULATION
There is not much anyone can do to prevent population increases where humans are biologically programmed to procreate, other than offer educational support and contraception advice or even free contraceptives, where 'Human Rights' freedoms take precedence. That is why points 1-3 are so very important. In effect, we need to recondition the planet to allow for human expansion in circular economy fashion in the hope of achieving population equilibrium that does not displace other life on earth or lead to World War Three annihilation; hence the militaristic term: Food Security.
IF IT'S NOT ON THIS PAGE, TRY USING A GOOD SEARCH ENGINE TO FIND WHAT YOU ARE LOOKING FOR.
A to Z listings of 'blue growth' media reviews, organizations and ocean projects that are about or designed to bring about economic adjustments that are sustainable for healthier oceans and a better future, known collectively as Blue Growth from the work of Gunter Pauli, UN and EU adoptions :-
4OCEAN - RECYCLED PLASTIC PAYS, ALEX SHULZE & ANDREW COOPER
ABS - ACRYLONITRILE BUTADIENE STYRENE
ABS - AMERICAN BUREAU SHIPPING
ACIDIFICATION - OCEANS
ADEN - 15TH CIRCUMNAVIGATION WAYPOINT
AFFORDABLE HOUSING - SUSTAINABLE LOW COST ECO HOMES
ALASKA - FISH FACTOR BACKING BLUE GROWTH SEPT 2017
ALGAE -
ALGALITA - CAPTAIN CHARLES MOORE
ALICAT - ALUMINIUM & STEEL WORK BOAT BUILDERS, GREAT YARMOUTH
AMERICAS CUP, PRADA 2020, 2021 AUCKLAND
AMPHIMAX - BLUE GROWTH ENABLING PLATFORM
- COMPUTER COLLISION AVOIDANCE SYSTEM
- SWIVEL TRACKS - 12v MOTORS - ACCESS IMPROVEMENTS
ANCHOVY, ANCHOVIES -
ANDROID - APPSTORE
ANGEL - OCEAN FIGUREHEAD
APPLE IOS - APPSTORE
ARABIAN SARGASSO SEA - COULD SARGASSUM MIGRATE FROM OCEAN TO OCEAN, TO SEAS - A DEVELOPING THESIS
AQUARIUMS AGAINST LITTER - OUR OCEAN CAMPAIGN
ARTICLES (charity)
ATLANTIC OCEAN - BLUE GROWTH AGENDA 2030
AUTONOMOUS UNMANNED NAVIGATION - MARINE
AUTONOMY, MARINE - INTERNATIONAL BUSINESS FESTIVAL, LIVERPOOL JUNE 2018
- MATS2018, NOC 13-15 NOVEMBER 2018
- SYMPOSIUM, MARITIME INDUSTRIES SOCIETY, NOVEMBER 2018
AZAMARA MEDITERRANEAN CRUISES -
BANDA SEA - INDONESIA
BANGLADESH - CENTRE FOR RESEARCH AND INFORMATION
BATTERIES - CHARGING STATION & POWER SUPPLIES - SEAVAX TEST TANKS EXPERIMENTS
BBC - EARTH - WHY MARINE ANIMALS CAN'T STOP EATING PLATIC
BIG BANG - YOUNG SCIENTISTS AND ENGINEERS FAIR & SCHOOL COMPETITION 2018
BIG DATA - SATELLITE SURVEY GULF MEXICO EXPLAINS HOW PLASTIC OCEAN GYRES FORM
BIOECONOMY - BLUE AQUATIC BIOLOGICAL RESOURCES
BIOLOGY - MARINE LABORATORY
BIOMAGNIFICATION - ACCUMULATION OF TOXINS IN MARINE LIFE
BIOTA - SPECIES SIZES
BIOTECHNOLOGY, BLUE - MEDICINES FROM OUR OCEANS
BLUE GROWTH - BLACK & MEDITERRANEAN SEAS - HGH SUPPLEMENT
BLUEMED - H2020 EUROPEAN COMMISSION BACKED ACCELERATOR
BLUE PLANET II - BBC TV SERIES ON OCEANS
BLUE RIBAND TROPHY - ZERO CARBON ATLANTIC CROSSINGS
BLUE SHIELD - PRESS RELEASE NOVEMBER 2021 - WITHDRAWN OCTOBER 2022 [PROGRAMME TO PREVENT ILLEGAL FISHING]
BLUE SHIELD INTERNATIONAL - ORGANIZATION FOR PROTECTION OF CULTURAL HERITAGE - UNESCO
BOARD OF LONGITUDE - JOHN HARRISON'S MARINE CHRONOMETER
BOC CHALLENGE - YACHT RACE
BOUND4BLUE - AVADA ELECTRICITAT, WING SAILS
BOYAN SLAT - OCEAN CLEANUP PROJECT
BREXIT - BRITISH EXIT FROM EU - NO DEAL UK UNDERPINNING - BLACKMAIL
BRITANNIA - HER MAJESTY'S ROYAL YACHT 1953-1997
BRITISH ANTARCTIC SURVEY - PLASTIC OCEAN CHALLENGES & SOLUTIONS - CAMBRIDGE UNIVERSITY, MARCH 2018
BRITTANY - FERRY SERVICES
BTCA - BLUE TECHNOLOGY CLUSTER ALLIANCE
BUREAU VERITAS - FRENCH SHIPPING CLASSIFICATION GROUP
CALEDONIAN MACBRAYNE - SCOTTISH ISLANDS FERRY OPERATOR
CANCER - CARCINOGENS
CANNIBALISM - HUMANS EATING EACH OTHER GASTRONOMICALLY AND POLITICALLY
CARIBBEAN SEA - THE INDEPENDENT 23 OCT 2017
CAPE YORK - 11TH CIRCUMNAVIGATION WAYPOINT
CATAPULT - SMES, MOD, BAE SATELLITES SPACE TECHNOLOGY
CEFAS - CENTRE FOR ENVIRONMENT FISHERIES AND AQUACULTURE SCIENCE
CHALLENGE - CLIMATE CHANGE, LONG RANGE MARINE TRANSPORT
CHARITABLE PURPOSES - 13 MAIN HEADINGS
CHRIS BURY SALES LTD, BLACKBURN, LANCASHIRE
CIRCULAR ECONOMY - WHAT IS IT
CIRCUMNAVIGATION - SPEED ESTIMATOR TABLES - COSTS ESTIMATES
CiWF - COMPASSION IN WORLD FARMING, LONDON 2017
CLASS NK - CLASSIFICATION SOCIETY A - Z INDEX
CLEANER OCEANS FOUNDATION - CONTACTS
CLEAN SEAS - MARINE PLASTICS INNOVATION CHALLENGE 2017
CLIMATE CHANGE - CHANGERS: GLOBAL WARMING SOLUTIONS
- CONSERVATIVE PLAN UNDER THERESA MAY - ACT 2008
CLIPPER ROUND THE WORLD RACE - SAILING YACHTS
CLS - SATELLITES FOR ENVIRONMENTAL OCEAN MONITORING
COASTLINK - PORTS CONFERENCE, ANTWERP, BELGIUM, 13-14 MAY 2020
COD -
CODING - COMPUTERS
COLOMBO - 14TH CIRCUMNAVIGATION WAYPOINT
COLREGS - COLLISION AT SEA PREVENTION REGULATIONS, IMO
COLUMBUS - KNOWLEDGE TRANSFER PROJECT FOR BLUE GROWTH
COMMONWEALTH CLEANER OCEANS ALLIANCE - CCOA
CONCRETE -
CONFERENCES OF THE PARTIES - COP, UNITED NATIONS
CONTAINER SHIPS - TOP TEN WORLD'S LARGEST (FOSSIL FUELED)
- BARZAN
- COSCO SHIPPING UNIVERSE, TAURUS
- MSC GULSUN (MEDITERRANEAN SHIPPING COMPANY)
- OOCL HONG KONG (ORIENT OVERSEAS CONTAINER LINE)
COP 23 - WORLD CLIMATE CHANGE CONFERENCE 2017
COP 24 - WORLD CLIMATE CHANGE CONFERENCE 2018, KATOWICE, POLAND
COP 26 - GLASGOW, SCOTLAND, NOVEMBER 2020 - A FLOP, SAVE FOR COAL GETTING A MENTION
COP 27 - SHARM EL-SHEIKH, EGYPT - WILL THIS BE ANOTHER COP OUT FLOP
CRABS -
CROSS CHANNEL FERRY OPERATORS A - Z
CROWDFUNDING - CAMPAIGNS
CROWDFUNDING - THE OCEAN CLEANUP PROJECT 2014 ABN-AMRO SEEDS
CRUISING - CRUISE SHIPS AND CARBON FOOTPRINTS
DARWIN - 12TH CIRCUMNAVIGATION WAYPOINT
DAVOS - WORLD ECONOMIC FORUM AGM, SIR DAVID, GRETA THUNBERG
DDT -
DESERTIFICATION - TURNING ARABLE LAND INTO WASTELAND, BY FAILING TO TACKLE CLIMATE CHANGE
DFDS - DANISH FERRY OPERATOR
DISCRIMINATION - EQUAL RIGHTS & EQUALITY, ANTI SLAVERY & JUSTICE
DNV - FUEL OF THE FUTURE, ONLINE CONFERENCE JANUARY 11 @ 11:30 - 14:30 hrs GMT
DNV GL - SHIPPING CLASSIFICATION SOCIETY
DOLPHINS -
DONATIONS - PLEASE HELP OUR RESEARCH
DRAKE, SIR FRANCIS - WORLD CIRCUMNAVIGATION IN THE GOLDEN HIND
DROWNING IN PLASTIC - BBC ONE LIZ BONNIN
DWT - DEADWEIGHT TONNAGE
EARTHWISE - ECO FRIENDLY ABSORBENT MATS FOR OIL SPILLS
EASTBOURNE - PLASTIC FREE 2018 - REFILL 2019 - COUNCIL CLIMATE EMERGENCY
ECONOMICS - THE BLUE ECONOMY
EDUCATION - STRUCTURED INFORMATION DISSEMINATION FOR PUBLIC BENEFIT
ELIZABETH SWAN, THE - ZERO CARBON SHIP OF THE FUTURE
ELLEN MACARTHUR PRINCE WALES - INNOVATION PRIZE
EMFF - EUROPEAN MARITIME & FISHERIES FUND BLUE GROWTH INFORMATION DAY 9-11-17
EMODnet - EUROPEAN MARINE OBSERVATION DATA NETWORK
ENERGY OBSERVER - SOLAR ELECTRIC HYDROGEN FUEL CELL POWERED CATAMARAN WORLD CIRCUMNAVIGATION
EUROMARINE - EUROPEAN MARINE RESEARCH NETWORK - BLUE SCIENCE FOR BLUE GROWTH
EQUATORIAL ATLANTIC SARGASSO BELT - THE NEW MACRO ALGAE GYRE
EUROPEAN MARITIME DAY - 2017, 2018 B2B, 2019
EUROPEAN PARLIAMENT - BAN ON SINGLE USE PLASTICS, OCT 2018
- OCEAN CONFERENCE 19 MARCH 2019
EUROPEAN SPACE AGENCY - ESA AGENCE SPATIALE EUROPEENNE ASE EUROPAISCHE WELTRAUMORGANISATION
EUROPEAN UNION - BLUE GROWTH AGENDA 2030
- Moscovici, Pierre
- Navracsics, Tibor
- Oettinger, Günther H.
- Šefčovič, Maroš
- Ursula von der Leyen
- Vella, Karmenu - Burgas welcome speech May 31 2018
- Vestager, Margrethe
EUROTUNNEL - CROSS CHANNEL TRAIN SERVICE
FAO - FOOD & AGRICULTURE ORGANIZATION
FERRIES - A - Z CROSS CHANNEL SERVICES - IRISH SEA - SCOTTISH ISLES
FERTILIZERS - WORLD SHORTAGES, AND COST OF LIVING INCREASES
FIJI - 9TH CIRCUMNAVIGATION WAYPOINT
FINANCIAL STABILITY BOARD - FSB - SLAVERY ABOLITION
FISH - GUIDE A TO Z INDEX
FISHING - BOATS, ZERO CARBON & NO PLASTIC NETS - GEAR
- NETS - OVER FISHING
FOOD - 2030 - CARLOS MOEDAS, BRUSSELS CONFERENCE
- CHAINS
FORD TRANSIT - CONVERSION TO MOBILE ENERGY GENERATOR
GALILEO - BREXIT BARS UK FROM ESA SATELLITES
G7 - GROUP OF SEVEN A - Z INDEX
- FUTURE SEAS & OCEANS MEETING TURIN SEPT 2017
G20 - WORLD OCEANS ANTI PLASTIC ALLIANCE
GAFSP - GLOBAL AGRICULTURE & FOOD SECURITY PROGRAM
GALAPAGOS ISLANDS - 6TH CIRCUMNAVIGATION WAYPOINT
GAMES - SMARTPHONE 2D OCEAN CLEANUP FOR ANDROID & IOS
GANGA, MOTHER - HOLY RIVER DIT INDIA, LONDON HILTON 21 FEB 2018
GDP - GROSS DOMESTIC PRODUCT PROJECTIONS 2018 - 2023
GHOST GEAR - ABANDONED FISHING NETS, HUFFINGTON POST
GIBRALTAR - 2ND CIRCUMNAVIGATION WAYPOINT
GLOBAL CHALLENGE - OCEAN RACE
- HOUSING
- INFRASTRUCTURE
- POLITICS
GOOD FISH GUIDE - SUSTAINABLE HARVESTING & SUGGESTED EATING A TO Z INDEX
GREEDY 20 A - Z - G20
GREEN FLAG POLITICS - FOR SUSTAINABLE DEVELOPMENT
GREENSEA - OPENSEA OPERATING SYSTEM FOR AUTONOMOUS UNDERWATER AND SURFACE VEHICLES
GRIPS - GLOBAL RESEARCH & INNOVATION IN PLASTICS SUSTAINABILITY
GRETA THUNBERG - SWEDISH CLIMATE CHANGE ACTIVIST, DAVOS
GUNTER PAULI - THE BLUE ECONOMY
HADDOCK -
HASTINGS - TIMES ONLINE AUG 2018
- TIMES ONLINE MAR 2016
HEAVY METALS - TOXICOLOGY OF OCEAN PLASTICS AS SPONGES FOR CADMIUM, COBALT, LEAD, NICKEL, ZINC
HERRING -
HOLLYWOOD - STUDIO POWERHOUSES TOP DOLLAR EARNERS
HORIZON 2020 - BRIEFING, LONDON 31 OCTOBER 2017
- BRIEFING, LONDON 26 SEPTEMBER 2018 - BLUE GROWTH, FOOD
SECURITY, KTN
- BRIEFING, LONDON 25 OCTOBER 2018 - ROBOTICS, TRANSPORT, KTN
- H2020-CE-FNR-09 MARINE LITTER PLASTIC PILOT ACTION
HORN OF AFRICA - SOMALI PENINSULA
HOUSING - SUSTAINABLE & AFFORDABLE
HOVERSPEED - FERRY SERVICES
HUMANS EXTINCTION - HOMO SAPIENS DEMISE
HUMAN RIGHTS COUNCIL - UN
- NORLED
HYDROGEN SULPHIDE - A POISONOUS GAS THAT SMELLS OF ROTTEN EGGS
IKEA - GIANT GARBAGE CLEANING BATH TOY ON THAMES GREENWICH
IMF - INTERNATIONAL MONETARY FUND
IMO - INTERNATIONAL MARITIME ORGANIZATION - BLUE GROWTH AGENDA 2030 (2018-2023)
- STAFF DIRECTORY A TO Z INDEX CONTACTS, SENIOR MANAGEMENT
INDIA - NEW DELHI BANS DISPOSABLE PLASTIC JAN 2017
INDIAN OCEAN - BLUE GROWTH AGENDA 2030
INNOVATION FUNDING SERVICE - OPEN GRANT FUNDING COMPETITIONS
INSOLATION - FREE ENERGY FROM THE SUN FOR A ZERO EMISSION LIFE
INTERREG - SOCIETAL INNOVATION PROGRAMME FRANCE LE MANCHE ENGLISH CHANNEL
IOC - INTERGOVERNMENTAL OCEAN COMMISSION OF UNESCO
IPR - INTELLECTUAL PROPERTY RIGHTS, H2020 STRATEGY
IXBLUE - NAVIGATION INSTRUMENTS, SONAR
JAKARTA - 13TH CIRCUMNAVIGATION WAYPOINT
JAVA SEA -
JAWS - BLOCKBUSTER SHARK MOVIE, STEVEN SPIELBERG 1975, UNIVERSAL PICTURES
JULES VERNE - PHILEAS FOGG, AROUND THE WORLD IN EIGHTY DAYS
JULES VERNE TROPHY - YACHT SAILING EVENT, NON STOP CIRCUMNAVIGATION
KELP - FORESTS OF LARGE BROWN MACRO ALGAE OR SEAWEEDS
KITACK LIM - DAVOS 2020, CLEAN SHIPPING
KRILL -
KULO LUNA - AGENTS
- T SHIRTS, MUGS, PENS, POSTERS
LAB ON A CHIP - Diagnostic seawater analysis using cost effective sensors
LABORATORIES - MARINE BIOLOGY
- ROBOTICS
LITERACY, OCEAN -
LIONS HOTELS - ABID GULZAR
LOBSTERS -
LONDON - RIVER THAMES CLIPPER FERRY
LLOYD'S REGISTER SHIPPING - CLASSIFICATION
MACKEREL -
MANTA SEA CLEANERS, YVAN BOURGNON
MARCH FOR THE OCEANS - JUNE 9 2018, WASHINGTON DC
MARINE CONSERVATION SOCIETY - GREAT BRITISH BEACH CLEAN
MARINE DEBRIS CONFERENCE - MARCH 12-16 2018
MARINE FACILITIES ADVISORY BOARD - MFAB
MARITIME 2050 - CHRIS GRAYLING, TRANSPORT MINISTER UK, POLICY
MAYFLOWER 400 MAS - PARTNERS - TEAM - AUTONOMOUS TRIMARAN, ATLANTIC 2021
MECAL - WORKBOAT CERTIFICATION AUTHORITY UK
MEDITERRANEAN - SEAPORTS SUSTAINABLE TOURISM
MEMORANDUM (charity)
METHYL MERCURY - MARINE TOXINS
MICHAEL GOVE - PLASTIC STRAWS
MICROBEADS - PLASTIC WASTE
MICROPLASTICS - PLASTIC POLLUTION
MINING - SEABED
MITIN - MARITIME INNOVATIVE TERRITORIES INTERNATIONAL NETWORK
MONACO - 1ST CIRCUMNAVIGATION WAYPOINT
- GUINNESS WORLD RECORD HOMECOMING
MSC MEDITERRANEAN CRUISES -
MSP - EUROPEAN MARINE SPATIAL PLANNING PLATFORM
MUCKY MERMAIDS - BEACH CLEANING PATROLS
MUGS - CERAMICS, POTTERY
MUSSELS -
NAPLES - 19TH CIRCUMNAVIGATION WAYPOINT
NASA - NATIONAL AERONAUTICS & SPACE ADMINISTRATION
- SATELLITE SURVEY SARGASSO SEAS
NAVIES - BRITISH ROYAL NAVY
NEPTUNE PROJECT - HORIZON 2020 BLUE GROWTH INNOVATION ACCELERATOR
NINESIGMA, NINESIGHTS - NEW PLASTICS ECONOMY CHALLENGE
NOC - NATIONAL OCEANOGRAPHY CENTRE - STAFF A - Z
NORTH KOREA - GHOST FISHING BOATS & FOOD SHORTAGES
NOR-SHIPPING - NEXT GENERATION AWARDS 2019
NOTTINGHAM DECLARATION - MEMORANDUM OF UNDERSTANDING
NOVARA - ONE PLANET CLIMATE AWARENESS EXPEDITIONS: DR. NIGEL JOLLANDS & VERONICA LYSAGHT
NUFFIELD - LORD WILLIAM MORRIS
NYLON -
OCEAN BUSINESS - NATIONAL OCEANOGRAPHY CENTRE, SOUTHAMPTON, APRIL 10-12 2019
OCEAN - DAY CONFERENCE COP23 11 NOVEMBER 2017
- WASTE
OCEANIA MEDITERRANEAN CRUISES -
OCEANOGRAPHY - THE STUDY OF THE OCEANS
OCEANOLOGY INTERNATIONAL - 2018 MARCH 13-15 LONDON, EXCEL
- 2019 FEBRUARY 25-27 SAN DIEGO CONVENTION CENTRE, CA
- 2020 MARCH 17-19 LONDON, EXCEL
- 2022 MARCH 15-17 LONDON, EXCEL Oi B2B NETWORKING
OCEANS CONFERENCES - KOBE MAY 2018
OMEGA 3 - FATTY ACIDS
OYSTERS -
PACIFIC OCEAN - BLUE GROWTH AGENDA 2030
- COALITION PACIFIC ISLANDS, MARSHALL, SAMOA, VANUATU, SOLOMON, TUVALU - ZERO CARBON SHIPPING 24-10-19
- GREAT PACIFIC GARBAGE PATCH 2018
PAINTING - RUST PROTECTION INHIBITORS, PRIMING, PRIMERS - EXPERIMENTAL FORD TRANSIT RIG MAY 2019
PALERMO - 18TH CIRCUMNAVIGATION WAYPOINT
PANAMA CANAL - 5TH CIRCUMNAVIGATION WAYPOINT
PHOTOSYNTHESIS - THE PROCESS WHERE PLANTS CONVERT LIGHT INTO CHEMICAL ENERGY TO GROW
PCBs - POLYCHLORINATED BIPHENYLS
PENS - LED LIGHT TORCHES
PEOPLE'S MARCH 2017 - NATURAL RESOURCES COUNCIL MAINE
PEPSI COLA - PEPSICO
PET - POLYETHYLENE TEREPHTHALATE
PETROLEUM - OIL CORPORATIONS
PHARMACEUTICALS - OCEAN POLLUTION
PHILIPPINE SEA - PACIFIC ISLANDS
PHOENIX - OCEAN CLEANUP PROJECT SHIP 360 & 120
PIERS - ABID GULZAR
PIRAEUS - BLUE GROWTH COMPETITION, BUSINESS INCUBATOR
PLAICE -
PLANETSOLAR - WORLD ELECTRIC BOAT CIRCUMNAVIGATION 2012
PLANKTON -
PLASTICS - A TO Z, AGE, PLASTICENE
- PLANET
- SOUP
- TACKLING OCEAN POLLUTION INTERNATIONAL TOUR
- SINGLE USE - CANADIAN PETITION TO BAN
- RECYCLED VALUES IN $DOLLARS & £POUNDS
PLUGBOAT - WORLD ELECTRIC & HYBRID BOAT SUMMIT, VENICE, ITALY, OCTOBER 2018
POLITICS - CAMPAIGNING IN SUPPORT OF AIMS & OBJECTIVES
POLLOCK -
POPs - PERSISTENT ORGANIC POLLUTANTS
PORTS - CARGO - CUSTOMS - DOCKS - HARBOURS - PASSENGERS
PORTS CONFERENCE, GREEN ENERGY, VIGO, SPAIN - JUNE 27-29
PORT MORESBY - 10TH CIRCUMNAVIGATION WAYPOINT
PORT SAID - 17TH CIRCUMNAVIGATION WAYPOINT
PRAWNS -
PRINCE CHARLES - URGES BUSINESSES TO REGENERATE, EVENING STANDARD FEB 17,
PRINCESS - MEDITERRANEAN CRUSES
PROCTOR & GAMBLE - FAIRY LIQUID & DREFT BOTTLES
PROFISH - GLOBAL FISHERIES PROGRAM & THE WORLD BANK
PROGRAMMING - COMPUTERS
PROTECT OUR WAVES - ALL PARTY PARLIAMENTARY GROUP
PVC - POLYVINYL CHLORIDE
RANMARINE - DFKI WASTE SHARK AUTONOMOUS HARBOUR CLEANING CATAMARAN
RAPHAEL DOMJAN - PLANETSOLAR WORLD RECORD AUTONOMOUS BOAT
RED FLAG POLITICS - LOCOMOTIVE ACT 1865
REFILL - WATER ON TAP AT A GROWING NUMBER OF LOCATIONS IN THE UK
RENEWABLE ENERGY AGENCY, INTERNATIONAL
RESEARCH - TANK TESTING FACILITIES - GIMBALS
RIBBON - THE BLUE RIBAND, ZERO CARBON ATLANTIC CHALLENGE
RIVERS - RIVERVAX FILTRATION BOAT
ROBOTICS - HEXAPOD STEM PROJECT
ROCKEFELLER FOUNDATION - INCLUSIVE BLUE GROWTH
ROYAL NAVY - BRITISH FAMILY TRADITION
ROVs - DEEP TREKKER Oi 2018
SAILDRONE SURVEYOR - AUTONOMOUS PACIFIC OCEAN CROSSING, SAN FRANCISCO TO HAWAII, JULY 2021
SAILING - YACHT OCEAN RACES AROUND THE WORLD EVENTS
SALMON - FARMED FISH ESCAPE INTO PACIFIC CBC NEWS 22-8-17
SALT, SEA - CONTAMINATED WITH MICRO PLASTICS
SARDINES -
SARGASSO SEA - TOP FIFTEEN FACTS ABOUT SARGASSUM
SARGASSUM - NIGHTMARE BROWN ALGAE, THREATENING CARIBBEAN ISLANDS & GULF OF MEXICO
- NASA SATELLITE TRACKING AND COMPUTER SIMULATIONS
- NEW SARGASSO SEAS, A POTENTIAL WORLD PLAGUE IN THE MAKING?
SATELLITES - MARINE LITTER SURVEYS, TARGETING & OPERATIONS, EARTH OBSERVATION, HORIZON 2020
SAVIOUR, OCEAN - £40 MILLION CATAMARAN YACHT PLASTIC SKIMMER
SCALLOPS -
SCANDLINES - ZERO EMISSION BALTIC FERRY
SDGS - 1 NO POVERTY, 2 ZERO HUNGER, 3 GOOD HEALTH WELL BEING, 4 QUALITY EDUCATION, 5 GENDER EQUALITY
- 6 CLEAN WATER SANITATION, 7 AFFORDABLE CLEAN ENERGY, 8 WORD ECONOMIC GROWTH, 9 INDUSTRIAL INNOVATION
- 10 REDUCED INEQUALITIES, 11 SUSTAINABLE CITIES COMMUNITIES, 12 RESPONSIBLE PRODUCTION CONSUMPTION
- 13 CLIMATE ACTION, 14 LIFE BELOW WATER, 15 LIFE ON LAND, 16 PEACE JUSTICE INSTITUTIONS, 17 GOAL PARTNERSHIPS
SEABIN - WARTSILA DONATION TO TURKU, FINLAND
SEA CHANGE PROJECT - H2020 FUNDED OCEAN LITERACY
SEA LEVELS - RISING & FLOODING OF ISLANDS
SEA MACHINES ROBOICS - AUTONOMOUS COMMAND & CONTROL FOR COMMERCIAL SHIPS
SEAFOOD - ALTERNATIVES, ALGAE, KRILL
- SIF, SEAFOOD INNOVATION FUND, DEFRA, UK
SEANET - SATELLITE GUIDANCE SYSTEM
SEAVAX - AUTONOMOUS UNMANNED SURFACE VESSELS
- 2020 COASTAL CLEANING TEST RIG
- 2019 WIND TURBINES & SOLAR PANELS (FORD TRANSIT) TEST RIG, FRAME WELDING, FURLING, MAST MECHANICS
- 2019 - PORTABLE ECO POWER SUPPLIES - MAST ENGINEERING, PAINTING, SOLAR ARRAYS
- 2018 POWERING UP FOR OUR EXPERIMENTS
- 2017 H2020 FUNDING BID FOR THE OCEAN CLEANING DRONE
- GAMES FREE DOWNLOADS - V2 - V3 - V4 - DEVELOPMENT - CROWDFUNDING
SEAWEED -
SEAWORK - SOUTHAMPTON JUNE 2019
- SOUTHAMPTON JUNE 2020 - ALAN CARTWRIGHT, ALEX LANGLEY, BRETT PHANEUF, DAN HOOK, GRAEME HAWKSLEY,
- JAMES WILLIAMS, KATRINA KEMP, NEIL TINMOUTH, PETER COLLINSON,
- ROBIN - SAUNDERS, - SIMON CHEESEMAN, TOM BINNS
SECURITY - FOOD - H2020 BRIEFING KTN -
SHARKS -
SHIPPING - GREEN SHIPS
SHOES - RECYCLING MARINE PLASTICS
SHRIMPS -
SILVERSEA - MEDITERRANEAN CRUISES
SIR DAVID ATTENBOROUGH - DAVOS 2019
SLAVERY - ABOLITION OF FINANCIAL SLAVERY
SMD - SOIL MACHINE DYNAMICS, TRENCHING, MINING
SMEs - UK & USA MARINE TECHNOLOGY BEST PRACTICE EXCHANGE, NOC, SOUTHAMPTON, APRIL 8 2019
SMM HAMBURG - INTERNATIONAL MARITIME FAIR 6-9 SEPTEMBER 2022
SMOKING & SMOKERS
SOLAR BOATS - WORLD'S FASTEST
SOLAR CARS - WORLD'S FASTEST
SOLAR IMPULSE 2 - BERTRAND PICCARD, WORLD AIRCRAFT CIRCUMNAVIGATION 2011
SONAR -
SOUPS - PLASTICS
SOUTHERN OCEAN - ANGEL
SQUID -
STARVATION & DEATH - FOOD INSECURITY
STEM PROJECTS - BOAT HULL LOW CARBON DESIGN
- ELECTRIC SPORTS CAR GULL WING DESIGN
STENALINE - FERRY OPERATOR
STRAWS -
SUEZ CANAL - 16TH CIRCUMNAVIGATION WAYPOINT
SUNGLASSES - SEA2SEA RECYCLED PLASTIC
SURFERS AGAINST SEWAGE - PLASTIC IN PARLIAMENT FEB 2018
SURVEY MONKEY - NATIONAL MARITIME & BLUE GROWTH
SUSTAINABILITY DEVELOPMENT GOALS (SDG) 14 - JULY 2017
SVENSSON, LISA DR -
SYAT - SHIP & YACHT ADVANCED TECHNOLOGY INNOVATION SHOWCASE, GRADO, ITALY, OCTOBER 2019
SYKE - FINNISH ENVIRONMENT INSTITUTE: PLAN 4 BLUE
SYMPOSIUM - AUTONOMY SHIPPING QUEST, LONDON 22 NOVEMBER 2018, SOCIETY MARITIME INDUSTRIES
- OCEANS, SEAS - HASTINGS, ST MARY IN THE CASTLE - SEPTEMBER 22 2018 UN ASSOCIATION UK
- BEXHILL ON SEA OBSERVER - HASTINGS ONLINE TIMES
TAHITI - 7TH CIRCUMNAVIGATION WAYPOINT
TANK - WATER MODEL BOAT TESTING FACILITIES
- GIMBALS
- SEALING G4 & EPOXY
- WINCH
- WIND
TECHNOLOGY READINESS LEVELS (TRL) TRL 1 - TRL 2 - TRL 3 - TRL 4 - TRL 5 - TRL 6 - TRL 7 - TRL 8 - TRL 9 - TRL 10
TENERIFE - 3RD CIRCUMNAVIGATION WAYPOINT
THERESA MAY - ANNOUNCES £61.4 MILLION POUND WARCHEST TO FIGHT OCEAN POLLUTION - APRIL 2018
TONGA - 8TH CIRCUMNAVIGATION WAYPOINT
TRANSPORT - DECARBONISING MARITIME WORKSHOP, PARIS 26 NOVEMBER 2018
TRASH, MR - BALTIMORE RIVER WHEEL POWERED SKIMMER, JOHN KELLET
TRINIDAD - WEST INDIES 4TH CIRCUMNAVIGATION WAYPOINT
TU DELFT UNIVERSITY - WORLD'S FASTEST SOLAR POWERED TRIMARAN BOAT 2019
TUNA -
UKRI - UNITED KINGDOM RESEARCH COUNCILS AND INNOVATION KNOWLEDGE TRANSFER
UK - SEAFOOD INNOVATION FUND
UNESCO -
UNA C&O - OCEAN SYMPOSIUM 2022, BEXHILL, SUSSEX, ENGLAND
U N UNITED NATIONS - AFRICA FAO 2017 - OCEAN CONFERENCES - JUNE 2017
- ASSOCIATION UK, OUR SUSTAINABLE PLANET 26 SEPTEMBER 2019
- ENVIRONMENT ASSEMBLY - UNAE3 NAIROBI DECEMBER 2017
- COP 1 - BERLIN
- COP 2 - GENEVA
- COP 3 - KYOTO PROTOCOL
- COP 4 - BUENOS AIRES
- COP 5 - BONN
- COP 6 - THE HAGUE
- COP 7 - MARRAKECH
- COP 8 - NEW DELHI
- COP 9 - MILAN
- COP 10 - BUENOS AIRES
- COP 11 - MONTREAL
- COP 12 - NAIROBI
- COP 13 - BALI
- COP 14 - POZNAN CMP
- COP 15 - DENMARK
- COP 16 - CANCUN
- COP 17 - DURBAN
- COP 18 - QATAR
- COP 19 - WARSAW
- COP 20 - LIMA
- COP 21 - PARIS AGREEMENT
- COP 22 - MARRAKECH
- COP 23 - BONN, GERMANY 2017
- COP 24 - KATOWICE
- COP 25 - SANTIAGO, CHILE 2019 - NOW MADRID, SPAIN
- COP 26 - UNITED KINGDOM v ITALY
- LISA SVENSSON ON PLASTIC OCEAN WASTE
- SUSTAINABILITY DEVELOPMENT GOALS (SDG) 14 - JULY 2017
USA - PRESIDENT DONALD TRUMP
VEGANS -
VIKING - HYDROGEN ZERO EMISSION CRUISE SHIP
VINCI ENERGIES - BARILLEC MARINE HYDROGEN FUEL CELL FERRY
VIRTUAL OCEAN - 3D REALITY EDUCATIONAL UNDERSEA EXPERIENCE & GAME
VOYAGES TO ANTIQUITY - MEDITERRANEAN CRUISES
WAITROSE - MARINE CONSERVATION SOCIETY - BEACH CLEAN 2017
WARTSILA & BOREAL SJO - HYDROGEN FERRY PARTNERSHIP, NORWAY
WASTE MANAGEMENT WORLD - UN WAR ON PLASTIC FEB 2017
WATER - DRINKING CONTAMINATION -
- TECHNOLOGY SUMMIT, FEB 2018 LONDON HILTON
WATO - WE ARE THE OCEANS
WEALDEN DISTRICT COUNCIL - CLIMATE CHANGE & WASTE
WHALES - STUDY GUARDIAN 22-8-17
WHITBREAD ROUND THE WORLD RACE
WIND MAKING MACHINE (TEST TANK)
WOAA - WORLD OCEAN ANTI-PLASTIC ALLIANCE
WORLD BANK - WORLD BANK (MEDIA)
WORLD ECONOMIC FORUM - DAVOS JANUARY 2019, ANNUAL MEETING
- DAVOS JANUARY 2020, KITACK LIM
WORLD HEALTH ORGANIZATION - (WHO)
WORLD OCEANS DAY - BRIGHTON UNIVERSITY, EASTBOURNE 8 JUNE 2018
WORLD WATER SPEED RECORDS - SOLAR & BATTERY ELECTRIC BOAT RECORDS
YOUTH EVENT - EUROPEAN PARLIAMENT JUNE 2018
YOUTH PARLIAMENT - BRUSSELS NOVEMBER 2018
ZERO - WORLD ELECTRIC AUTOMOTIVE CIRCUMNAVIGATION 2011
ZERO CARBON - FISHING BOATS
- SHIPPING COALITION SEPTEMBER 2019 - PACIFIC ISLANDS COALITION 24-10-2019
ZEWT - ZERO EMISSION WATERBORNE TRANSPORT, HYDROGEN FUEL CELL SHIP 4,000 NM RANGE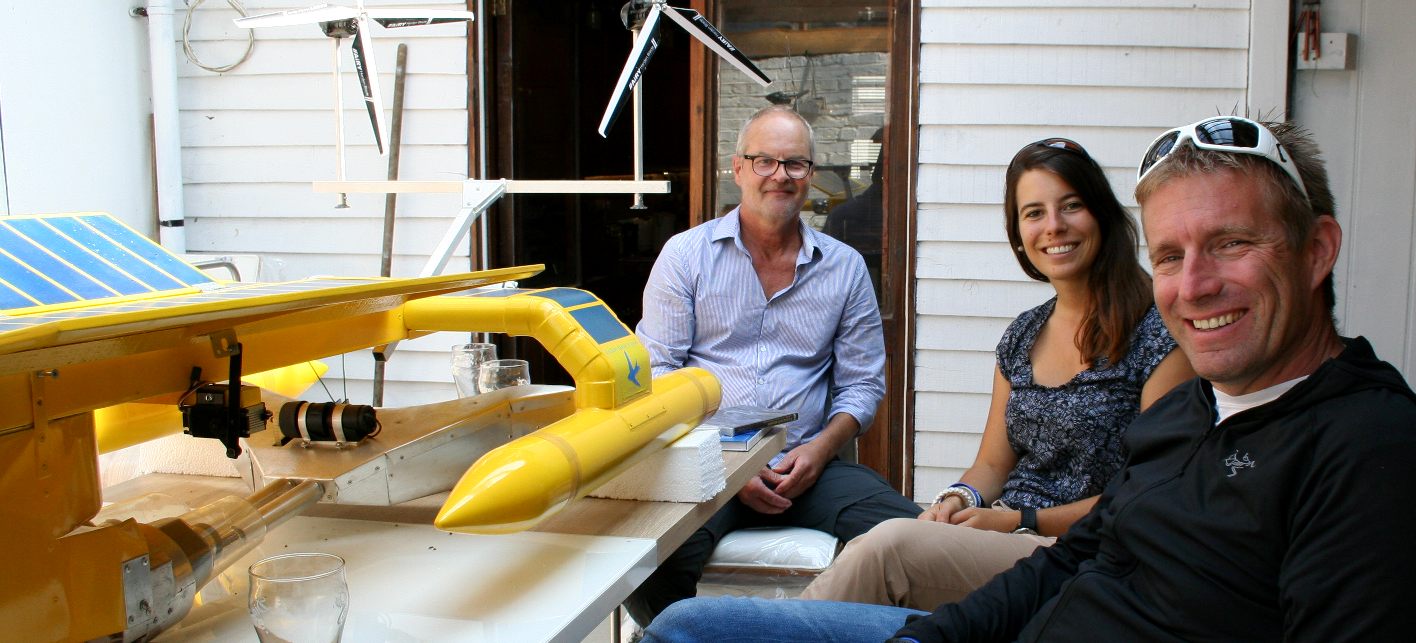 SOLAR PIONEERS - Stephane Chopard & Raphaelle Javet (communications) and Raphael Domjan (pilot) on a visit to the SeaVax solar powered project in the UK in August 2017. Raphael's PlanetSolar project set the benchmark when it comes to solar powered zero carbon transport.